Polaris rider wins big in Jackson Hole
Keith Curtis wins King of Kings title at Hill Climb championship
Story by Snowmobile.com Staff, Apr 11, 2008
Polaris rider Keith Curtis was the big winner at the 33rd annual World Championship Snowmobile Hill Climb, held March 27 to 30 in Jackson Hole, Wyo.

Curtis rode Polaris RMKs to three Stock titles – Stock 600, Stock 700 and Stock 800. He also won the Stock King of the Hill title, which allowed him to advance to the King of Kings competition. Curtis outpaced Improved Stock King Less Keller and Mod King Kyle Tapio, both with Arctic Cat, to take home the King of Kings crown.

Also earning Pro wins for Polaris were Trent Backus in Improved 700 Stock and Norm Hebert in Improved 800 Stock. None of those riders, however, could match the fastest time set by Polaris' Parker Brown. Brown fired up the mountain in the Mod 800 class in 56.41 seconds, setting a record for the quickest summit run in Jackson Hole history.

In addition to winning the Improved Stock King title on an Arctic Cat, Keller picked a win in Improved Stock 1000 and was fourth in Stock 800. Teammate Tapio won the Open Mod class and was second in Mod 800 before winning the Mod King event.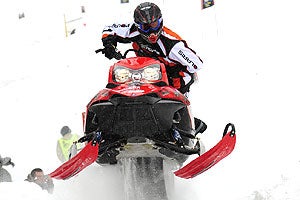 David McClure added to Arctic Cat's win total with a victory in Improved Stock 600, while Nels Tapio won Mod 600 and Tony Ottobre took home top spot in Pro Masters Mod.
Ski-Doo riders also managed to bring home some hardware. Luke Rainey earned the title of Semi-Pro King of Kings. Rainey picked up wins in Semi-Pro Stock and Semi-Pro Improved Stock. He also finished third in Semi-Pro Mod.
Ski-Doo also picked up some wins in the Pro classes. Vincent Clark won Stock 1000, David Sharp led a Ski-Doo podium sweep in Pro Masters Improved Stock, Steve Martin was victorious in Mod 700 and Tom Roby helped Ski-Doo to another podium sweep in Pro Masters Stock.
World Championship Hill Climb Results:
Non Pro Masters
1.
Norris Brown
Other
2.
Jim Marshall
Polaris
3.
Kelly Winters
Ski-Doo

Amateurs
1.
Matthew Pittmam
Polaris
2.
Bo Morss
Arctic Cat
3.
Bryan Pack
Polaris

Semi-Pro Stock
1.
Luke Rainey
Ski-Doo
2.
Levi Kilroy
Ski-Doo
3.
Kenny Thompson
Ski-Doo

Semi-Pro Improved Stock
1.
Luke Rainey
Ski-Doo
2.
Justin Sampson
Arctic Cat
3.
Kyler Stone
Arctic Cat

Semi-Pro Mod
1.
Braiden Coleman
Arctic-Cat
2.
Justin Smapson
Arctic-Cat
3.
Luke Rainey
Ski-Doo

Women's
1.
Amy Zollinger
Arctic-Cat
2.
Rachel Humphrey
Arctic Cat
3.
Christy Carlson
Arctic Cat

RHSHA Juniors
1.
David Sharp Jr.
Ski-Doo
2.
Hayden Ellingford
Ski-Doo
3.
Jake Kilroy
Ski-Doo

Pro Masters Stock
1.
Tom Roby
Ski-Doo
2.
Scott Barge
Ski-Doo
3.
Mark Thompson
Ski-Doo

Stock 600
1.
Keith Curtis
Polaris
2.
Chance Buckallew
Arctic-Cat
3.
Cole Willford
Polaris

Improved Stock 600
1.
David McClure
Arctic-Cat
2.
Dustin Haderlie
Polaris
3.
Michael Crockett
Polaris

Mod 600
1.
Nels Tapio
Arctic-Cat
2.
Russ Tapio
Arctic-Cat
3.
Jason Hughes
Arctic Cat

Stock 700
1.
Keith Curtis
Polaris
2.
Stott Cheeney
Arctic Cat
3.
Chance Buckallew
Arctic Cat

Improved Stock 700
1.
Trent Backus
Polaris
2.
Dolan Phelps
Polaris
3.
Erin Beukelman
Polaris

Mod 700
1.
Steve Martin
Ski-Doo
2.
Carson Ellingford
Ski-Doo
3.
Chris Burandt
Arctic Cat

Stock 800
1.
Keith Curtis
Polaris
2.
Dolan Phelps
Polaris
3.
David Sharp
Ski-Doo

Pro Masters Improved Stock
1.
David Sharp
Ski-Doo
2.
Tom Roby
Ski-Doo
3.
Scott Barge
Ski-Doo

Improved 800 Stock
1.
Norm Herbert
Polaris
2.
Tom Roby
Ski-Doo
3.
Jake Stickney
Polaris

Mod 800
1.
Parker Brown
Polaris
2.
Kyle Tapio
Arctic Cat
3.
Todd Tupper
Arctic Cat

Stock 1000
1.
Vincent Clark
Ski-Doo
2.
Brad Sharp
Ski-Doo
3.
Dolan Phelps
Polaris

Improved Stock 1000
1.
Les Keller
Arctic-Cat
2.
Jason Crane
Ski-Doo
3.
Trent Handsaker
Ski-Doo

Pro Masters Mod
1.
Tony Ottobre
Arctic-Cat
2.
Darin Gould
Polaris
3.
Charlie Lopeman
Polaris

Open Mod
1.
Kyle Tapio
Arctic-Cat
2.
Russ Tapio
Arctic Cat
3.
Charlie Lopeman
Polaris

Semi-Pro King of Knigs
1.
Luke Rainey
Ski-Doo

Stock King
1.
Keith Curtis
Polaris

Improved Stock King
1.
Les Keller
Arctic Cat

Mod King
1.
Kyle Tapio
Arctic Cat

King of Kings
1.
Keith Curtis
Polaris