2009 Jackson Hole Hill Climb Report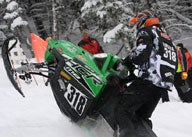 Kyle Tapio named King of Kings
The sun was in and out of the clouds with intermittent snow. In other words, it was a typical hillclimb weekend this past March 26-29th for Jackson Hole, Wyoming's 34th annual World Championship Snowmobile Hillclimb, which continues to draw as big as ever crowds to watch this action-packed spectacle.
Last year's Mod king of the hill, Kyle Tapio from Battle Ground, Wash. earned another title as he raced against the winners of the Stock, Improved, and Mod classes and became King of Kings. He again won the Mod king title.
"This is the best that the mountain has been since I have been racing here," said Tapio.  "I have raced when there has been more snow, but it held together better this year. We had great traction.
"We spent three days dialing in our suspensions prior to the hill climb. I felt pretty confident in our snowmobiles coming into the race."
With a reputation of being a tough and fast competitor, Kyle Tapio won the 800 mod  class on his highly modified Arctic Cat M8 that is equipped with a Boondocker Turbo.  He edged out his brother Russ by just over a second to win the class.
Kyle won again in the Open Mod category, this time narrowly bumping out his other brother, Nels, by two seconds for the win. This brotherly competition found Nels Tapio winning the 700 Mod class on an Arctic Cat M6 Turbo by beating his brother Russ by less than one second. The three Tapio brothers are a force at any mountain event as their father, John, stands behind them and helps them every step of the way.
But, it wasn't all Tapio scoring wins as Les Keller from Kalispell, Mont. repeated last year's win in the improved classification riding his Arctic Cat M 1000.
"The mountain was really fun this year, the course was straighter, and you had to avoid all of the trenches, and rocks", said Keller after winning Improved Stock King. "This is the same sled I won on last year. I am running the new Cat track, and I have improved the suspension. It has never run better."
Tom Roby from Thayne Wyoming claimed the stock class king title on his stock 800 Ski-doo Rev XP. "It has been a long time coming, I have won kings at other hillclimbs, but never at Jackson." said Roby. "I'm really excited."
Keith Curtis who was the King of Kings last year also had a great day. He won the 800 Stock, and the 1000 Stock classes. Although he had two opportunities to win the Stock King title, he fell victim to the obstacles on Jackson Hole's Snow King Mountain and did not win a king title.
X Games Gold medalist Chris Burandt created plenty of excitement during his climb up the hill. At gate 11 Chris lost the momentum necessary to continue climbing and turned out of the course. As he tried to clear the course, his sled turned on its side and started sliding straight downhill toward the crowd of spectators gathered at the bottom. Fans scattered in all directions as Burandt's snowmobile started taking out the fence that divided the course from the fans. The snowmobile came back up on its track after sliding about 100 feet. Burandt, who had continued to hang on, tried to steer the hillclimb sled away from the crowd. But, as the snowmobile continued downhill, it gathered more speed and started to roll again. At this point Burandt came off and the snowmobile tumbled end over end for a total of about three-hundred feet as it got entangled in the safety catch fence, knocking it down as it went. Seeing the sled heading their way, fans ran, jumped, dove, and did anything they could to get out of the way. While no one was injured, the runaway sled gave the fans plenty to talk and joke about for the next while. Many fans were seen giving Burandt "high fives" as he walked down the mountain toward his snowmobile, picking up pieces as he went.
For more than three decades the Jackson Hillclimb has been a crowd pleaser as spectators watch in awe as snowmobile riders push their sleds up and over a mountainside that is nearly impossible to hike up because it is so steep. Filled with action, this year's hillclimb again proved why winning a "King" title at Jackson Hole means so much to the best hillclimbers in the West.
World Championship Snowmobile Hillclimb Results:
| | | |
| --- | --- | --- |
| Class | Winner | Brand |
| King of Kings | Kyle Tapio | Arctic Cat |
| Stock King | Tom Roby | Ski-Doo |
| Improved King | Les Keller | Arctic Cat |
| Mod King | Kyle Tapio | Arctic Cat |
| 600 Stock | Carson Ellingford | Ski-Doo |
| 700 Stock | Chance Buckallew | Arctic Cat |
| 800 Stock | Keith Curtis | Polaris |
| 1000 Stock | Keith Curtis | Polaris |
| Pro Masters Stock | Tom Roby | Ski-Doo |
| 600 Improved | Jeremy Archibald | Arctic Cat |
| 700 Improved | Shad Free | Arctic Cat |
| 800 Improved | Kyle Tapio | Arctic Cat |
| 1000 Improved | Les Keller | Arctic Cat |
| Pro Masters Improved | Brad Sharp | Ski-Doo |
| 600 Mod | Nathan Zollinger | Arctic Cat |
| 700 Mod | Nels Tapio | Arctic Cat |
| 800 Mod | Kyle Tapio | Arctic Cat |
| Open Mod | Kyle Tapio | Arctic Cat |
| Pro Masters Mod | David Sharp | Ski-Doo |
| Womens Mod | Christy Frisby | Arctic Cat |