Bender earns first pro win at Valcourt
Polaris rider wins Pro Open
Story by Snowmobile.com Staff, Feb. 23, 2009
Email a friend
Print Friendly

RSS
Just weeks after finding the podium for the first time in Brainerd, Minn., Polaris' Brett Bender took it a step further by winning the Pro Open main event at the Grand Prix Ski-Doo de Valcourt in the Eastern Townships of Quebec on Feb. 22.
Bender emerged from the 16-sled field in second place with his teammate TJ Gulla in tow, both following crowd favorite Robbie Malinoski (Ski-Doo) who drilled the holeshot. For much of the 20-lap final, it appeared Malinoski had the race well in hand, as he flawlessly negotiated the long and blazingly fast Valcourt track. But suddenly Malinoski fell of the pace, later to be attributed to engine woes. That opened the door for Bender, who had been running consistent and equally as fast lap times as, to overtake Malinoski and the lead on lap 15. It was a position he would not relinquish.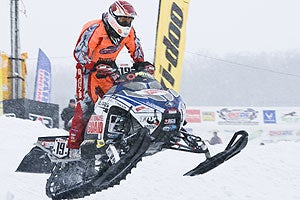 Malinoski managed to massage his wounded Ski-doo to a second place finish, holding off a charging Gulla, who now leads the year-end point battle in the premiere Pro Open class.
"My engine was going down," says Malinoski. "I wasn't sure I could hold on until the end, and I knew TJ was coming."
One day earlier it was Arctic Cat's Ryan Simons who would stand atop the podium in Pro Super Stock. At the green, Simons bolted out of the gate and quickly established himself as a strong leader after the first corner and through the long washboard section. On his heels, T.J Gulla rode a determined race all they way to the checkered but could not overtake Simons. Levi LaVallee (Polaris) finished a distant third.
"It was a fun race," says Simons. "I love to battle with TJ and I could feel he was right behind me the entire race. He gained ground on me in the corners but Arctic Cat was wicked fast in the straight sections and it was well suited for this track."
Arctic Cat Sweeps Semi-Pro Super Stock
In Semi-Pro Super Stock Team Arctic dominated the field as Arctic Cat sleds finished first, second and third.
Turn one was a sea of green as top qualifiers, Dan Ebert (Arctic Cat), Cory Davis (Arctic Cat) and Christian Salemark (Arctic Cat) all vied for the lead position as the field stampeded into the opening lap. It was an image which played out twice during the Semi-Pro final, as a red flag forced a restart to the race after Mike Bauer (Polaris) and Tim Tremblay (Ski-Doo) were involved in an opening lap tangle which saw Bauer unable to continue.
At the restart, the trio of Cats once again bolted to the front and this time it stuck. Meanwhile hometown favorite Tremblay suffered another get-off yet recovered albeit deep in the pack. At the checkered it was the Cat trio of Ebert, Davis and Salemark respectively, followed by crowd faves Justin Broberg (Ski-Doo) and Paul Bauerly (Ski-Doo).
"These fans here are crazy. They love their sport… I think I need to learn some French," says Ebert, who won the Semi-Pro Open in Valcourt a year ago.
In the Semi-Pro Open final, Tremblay left the gate just behind eventual winner Bobby LePage (Polaris) and never let him breath a second. Tremblay came close to pass the leader on at least four occasions, but was unable to make it stick. At mid-race, the challenger tangled with LePage and was forced off the track. Tremblay however, managed to get back on track keeping his second place position and one again put the heat on LePage.
AMSOIL Championship Snocross Series Standings:
Pro-Open Standings
Pro Super Stock Standings
Pos.
Rider
Sled
Points
Pos.
Rider
Sled
Points
1.
TJ Gulla
Polaris
174
1.
Levi LaVallee
Polaris
178
2.
Levi LaVallee
Polaris
174
2.
Garth Kaufman
Arctic Cat
161
3.
Tucker Hibbert
Arctic Cat
148
3.
Ryan Simons
Arctic Cat
156
4.
Brett Turcotte
Arctic Cat
145
4.
Tucker Hibbert
Arctic Cat
148
5.
Garth Kaufman
Arctic Cat
137
5.
TJ Gulla
Polaris
147