New snocross series in the works
ISOC Racing to replace WPSA
Story by Snowmobile.com Staff, May. 08, 2008
Email a friend
Print Friendly

RSS
Despite the fact that the World PowerSports Association (WPSA) shut down and pulled the plug on its ATV and snowmobile racing circuits, it appears we will have a national snocross racing series this winter.
After looking over several proposed business plans, a group of team owners, racers, sponsors and manufacturers have decided to work with John Daniels and ISOC Racing at a national and regional level.
ISOC says it will have an excellent television schedule, increased payouts and a full national and regional race schedule, replacing the WPSA.
A full press release from the ISOC is expected in the near future and a temporary website has been set up at http://www.isocracing.com/.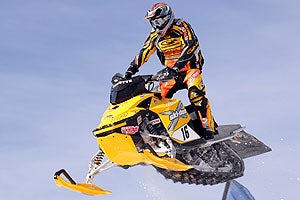 All of this has come together in a very short period of time. PowerSports Entertainment Inc. announced it was suspending corporate operations on May 1, cancelling the WPSA's ATV and snowmobile racing circuits.
Money was the biggest hurdle for PowerSports Entertainment Inc. and the company didn't see that changing anytime soon.
"We have been working diligently for many months to fundamentally improve our business model and acquire financing that would allow us to move forward, but we were not able to consummate the contemplated transactions and we foresee no significant increases in sponsorship or event revenue that would gap the projected deficits," says PowerSports Entertainment CEO Rick Murphy.