Ski-Doo to sponsor ISOC snocross series
Sponsorship also includes Sled Head 24/7 television show
Story by Snowmobile.com Staff, Jul. 25, 2008
Email a friend
Print Friendly

RSS
Bombardier Recreational Products (BRP) Inc. of Valcourt, Que. has reached a marketing agreement with the long-time snowmobile race circuit International Series of Champions (ISOC).
BRP, through its Ski-Doo snowmobile division, will sponsor the ISOC snocross race series and television show Sled Head 24/7.
Terms of the agreement won't be released but it encompasses an eight race National Sno-Cross series and 22 episodes of Sled Head 24/7 to be broadcast throughout North America this season and BRP says it has a vision to expand it in coming years.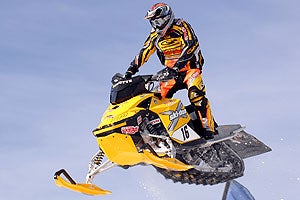 "We're extremely happy to see ISOC step in and take over National Snocross racing and look forward to them bringing the sport to new heights with new markets, better execution, better racer purses and more exposure," says Ski-Doo director of marketing Francois Tremblay.
The top race teams from Ski-Doo, Arctic Cat, Polaris and Yamaha will attend the ISOC events throughout North America this winter.
Visit the official ISOC site for more information.
2008-09 ISOC National Snocross Tour Schedule
November 28-30, 2008
Duluth, Minnesota
December 12-14, 2008
Ironwood, Michigan
January 2-4, 2009
Deadwood, SD or Elk River, Minnesota
or Canterbury, MN
January 9-11, 2009
Brainerd, Minnesota - on the drag strip
February 13-15, 2009
Seneca, New York
or Cedar Pine, New York
February 20-22, 2009
Valcourt, Quebec
March 6-8, 2009
Hayward, Wisconsin
March 20-22, 2009
Lake Geneva, Wisconsin
Related Reading:
Preparations continue for ISOC series