Minnick and Olstad Win Alaska Iron Dog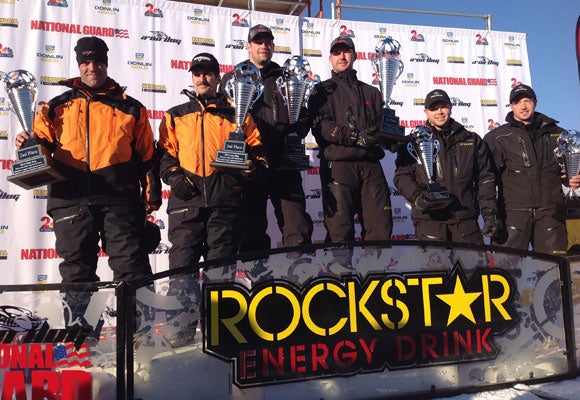 Polaris racers Todd Minnick and Nick Olstad won the grueling Iron Dog cross-country snowmobile race across Alaska on Saturday, Feb. 22, on a pair of 600 Switchback PRO-R snowmobiles. The pair completed the 2,031-mile race across punishing Alaskan landscapes.
The team of Mike Morgan and Chris Olds finished third, also on Polaris 600 Switchback PRO-R snowmobiles, to join the winners on the podium at the finish line in Fairbanks.
Five teams on Polaris sleds finished in the top 10. Along with the first- and third-place teams were: • Archie Agnes and Arnold Marks finished sixth, both on 600 Switchback PRO-R models. • Shane Barber and Ryan Sottosanti finished seventh, both on Polaris 600 Switchback PRO-R sleds. • Gabe Bunke and Scott Faeo finished 10th, both on 600 INDY sleds.
The win was the second Iron Dog victory on Polaris sleds for the team of Minnick and Olstad, who won together in 2009. Olstad was also on the winning team in 2005. Minnick, 34, and Olstad, 31, are both from Wasilla, Alaska. Minnick was racing in his 12th Iron Dog, while Olstad was racing in his 10th Iron Dog.
The 2014 Iron Dog victory is the 14th Polaris win in 30 Iron Dog races – the most of any manufacturer. It is also the fourth win in the past six years for Polaris. Chris Olds and Tyler Huntington won as teammates aboard Polaris sleds in 2010 and 2011, and Minnick and Olstad won in 2009.
The 2014 race started in Big Lake, Alaska, on Sunday, Feb. 16. The Pro teams raced to Nome, where the midway banquet was held on Feb. 19 before racing resumed Feb. 20 with the Pro teams charging for the finish line in Fairbanks.
Morgan and Olds were the race leaders at the midway point, and Minnick and Olstad arrived in Nome in third place. Minnick and Olstad proceeded to set an incredibly fast pace and ran trouble-free over the second half of the race to earn the victory.
"We passed the second place team at Unalakleet," the fourth checkpoint in the second half of the race, Minnick said. "Then we passed the first place team at Galena [the sixth second-half checkpoint]. As soon as we took the lead, we never looked back. We started the final day of racing with a 21-minute lead and won with a 23-minute lead, so we actually stretched it out just a bit.
"This was our second year on Switchbacks and we absolutely love them," he said. "It's an absolutely unbelievable sled for this particular race. They're extremely reliable and friendly to ride over all the different terrain conditions we experienced. They're by far the best sled available for this race."
Minnick said race conditions were as rough as most Iron Dog observers had ever seen. "There was zero snow for the most part," he said. "It was dirt, rocks, water, you name it – definitely the most grueling Iron Dog to date. Very marginal snow conditions."
Plus, racers had to traverse mile upon mile of frozen tussocks, large tufts of grass that, when frozen, can resemble boulder fields.
"It was hundreds of miles of straight dirt, ice, and tussocks," Minnick said. "I don't think there's anything worse than tussocks, just frozen hard. Honestly, you could be going 10 miles an hour and you're out of control, just waiting to get cartwheeled off your sled, which happened to some guys."
Minnick said he and Olstad plan to return for the 2015 Iron Dog on Polaris snowmobiles.
"Absolutely, without a doubt. We hope to run the same program – hopefully with the same results," he said. "Think of it: We logged over 2,000 miles, about 36 hours of running time, and the only thing we did was change the ski carbides. These Switchbacks were just phenomenal."