Snow Bike Racing Added to X Games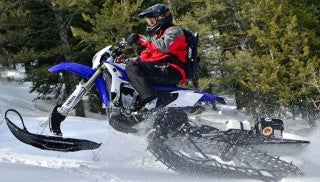 Snow Bike industry gets a major showcase
While we've been touting snow bikes for quite some time on Snowmobile.com, a lot of people still don't know much about them. That may be about to change as ESPN has added snow bike racing to the upcoming X Games Aspen 2017, which takes place January 26-29.
It will be interesting to see who ESPN invites to compete in the snow bike race. We're hoping some snowmobile racers will get the call, but it's possible ESPN will focus on two-wheel motocross and supercross racers.
ESPN says the first full round of invited athletes will be revealed on November 16.
Four snowmobile events will also be on the schedule for X Games, including snocross, adaptive snocross, freestyle and best trick.
Visit XGames.com for more information.