Mounties recover 28 stolen snowmobiles

One 2008 Ski-Doo Summit X still missing in truck yard theft
The Royal Canadian Mounted Police (RCMP) have recovered a stash of stolen snowmobiles near Sylvan Lake, Alta.
A total of 29 brand new Ski-Doos were stolen out of a CN Rail transfer yard in mid-November.
In addition to the sleds, the thieves stole a Kenworth truck, a flat-bed trailer and a 60-foot sea-can container. The total value of all the recovered property is approximately C$500,000.
"We have recovered 28 out of 29—these are 08 Summit X models," RCMP sergeant Duncan Babchuk told Snowmobile.com. "They may have damaged three or four of them, but the rest were in fine shape."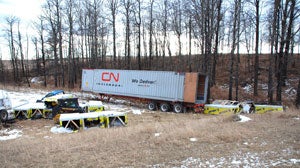 The RCMP have charged two Alberta men, 53 and 41, with four counts each of possession of property obtained by crime. The theft remains under investigation.
According to Babchuk, 19 of the snowmobiles were on their way to a dealer in Cochrane, Alta., while the other 10 were headed to an outlet in Olds, Alta. The recovered sleds will be sent to both dealers. The other items will be returned to a Calgary trucking company and CN Rail.