Students aim to build cleaner snowmobiles

Clean Snowmobile Challenge kicks off March 16
When the SAE Clean Snowmobile Challenge kicks off March 16 at Michigan Technological University, it will celebrate a milestone: a decade devoted to developing greener, quieter snow machines.
Set for March 16-21 at the University's Keweenaw Research Center, the Clean Snowmobile Challenge is the Society of Automotive Engineers' newest collegiate design competition. Teams of engineering students from participating schools take a stock snowmobile and re-engineer it to reduce emissions and noise while maintaining or improving performance.
A record 18 teams have registered – the most since the first Challenge was held in Wyoming. Thirteen will compete in the internal combustion division, with five in the zero-emissions division, formed in 2006 for electric sleds.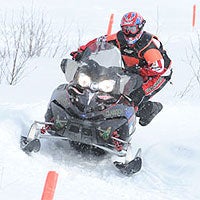 "That's a record for zero-emissions," says Jay Meldrum, director of the Keweenaw Research Center and co-organizer of the Challenge. Battery-powered snowmobiles are a rarity on the trails but are workhorses at remote polar research sites where any level of emissions can contaminate ice and air samples collected by scientists.
The 13 entries in the internal-combustion division will face a new hurdle. "None of the teams will know the ethanol content of their fuel," Meldrum said. "It could be E10 [10 percent ethanol, 90 percent gasoline] up to E85. I want them to be prepared for anything."
For more information on the Challenge and a list of participating teams, visit http://students.sae.org/competitions/snowmobile/.
Related Reading UW wins Clean Snowmobile Challenge