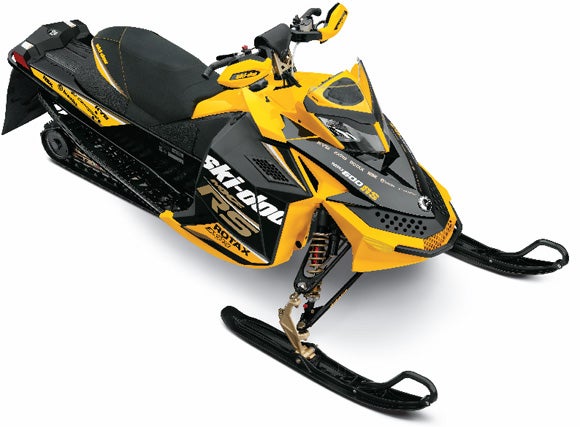 BRP's 2012 version of the Ski-Doo MX Zx 600 RS will see big improvements in engine and chassis performance with the goal of propelling Ski-Doo X-Team racers to even more wins this year. The engine, front and rear suspensions and drivetrain were all changed with snocross and cross country racers in mind.
Headlining the list of changes will be the new engine, which delivers an additional six horsepower and better throttle response across the entire operating range. The list of new components is lengthy but starts with a new crank case, a new patent pending crank shaft design and new cylinders – all directed to provide better flow and higher horsepower. The engine is designed to be very efficient from 8300 to 8800 rpm with a broad powerband. A new fuel pump and hose routing improves fuel, while new ECM calibrations will complete the power pack.
BRP says the front suspension was analyzed for ways to improve chassis performance and balance to better match up with the new skid frame introduced last year. The change to new, taller spindles is designed to improve ski pressure and cornering while the new powder coating should reduce any snow or ice buildup. According to BRP, a redesigned steering post and bushing further reduce any bump steer to non-existent. Finally a new upper A-arm is designed to create a new steeper caster angle rounds out the geometry package. The end result, says BRP, is that racers will notice much straighter tracking through the bumps and better chassis balance front to rear.
The rear suspension was introduced last year as "PCX" but that was only intended to disguise the rMotion name until the consumer version was introduced. For 2012 the rear suspension is named rMotion Racing. Both skid frames share the same basic geometry featuring a rising rate rear shock and long front arm, but each are optimized for their intended uses. The rMotion Racing has a new reinforced rear arm, improved coupling system, and new reinforced powder coated rails for reduced ice buildup.

Read more