A First Timer's Visit to Hay Days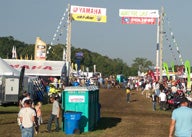 A long-time snowmobiler attends the unofficial start of winter
Most of my snowmobile life I've looked at the kick-off of the snowmobile season as being Hay Days in Minnesota. But living in Idaho, Hay Days was always that far away land that I would only read about — getting the information weeks later in a magazine. 
But in my mind, I always pictured being there for the unveiling of new products, seeing what's hot on the grass drags, visiting all of the vendor booths, making great deals on the necessities for the upcoming season. Fun stuff!  As the years progressed so did technology in the form of the internet which allowed for quicker access to the allure of Hay Days. Being in southeastern Idaho we are home to many vendors of snowmobile products such as Klim, Starting Line Products and BoonDockers, who make the annual trip to Minnesota to represent their product. I would generally place a phone call to these vendors to ask "How's it going? Good crowd? People buying?" To which they would reply "huge crowd, you need to be here and experience this place."
This was the year. I was able to attend by tagging along with our local vendors to Hay Days. First impression: Huge, bigger than any State Fair I've seen. With nonstop events going all day — freestyle show, grass drags, ATV, UTV test track and the list goes on and on.
Hay Days is now in its 45th year. The Sno Barons snowmobile club has sponsored Hay Days since the beginning and has plenty of experience putting on the world's biggest snowmobile event. Meshell Gorsegner, program director for the Sno Barons and a 27-year veteran of Hay Days, treated me with an all access VIP pass. Gorsegner along with other members of the Sno Barons took good care to answer questions and talk about the logistics of putting on an event of this magnitude. The Sno Barons work closely with state, county, law enforcement, health department and department of transportation to handle the large crowd that the local area gets slammed with.
This year was the second year in the club's new Sunrise Township location. Last year the Sno Barons admittedly experienced a few growing pains in their new location and a deluge of rain didn't help either. For the 2011 Hay Days weekend, the club focused on more routes, more parking and more entrances. Everyone expressed positively how well things went this year.  The Sno Barons organize up to 500 volunteers to help run the event. That includes the Andover, Minn. Sno-Dragons, who work continuously in hauling away the 30 tons of trash the event produces.
How big was this year's Hay Days? According to Gorsegner, this year's event included 300-plus vendor booths, 2100 swapper booths and 32 food vendor booths. Imagine 2100 swapper booths and 300 vendor booths all devoted to everything snowmobiling and you could imagine yourself browsing for hours — and I did.
The Sno Barons estimated the weekend attendance at 40,000. Aside from all the shopping, Hay Days is loaded with nonstop spectator events. The snowmobile drag race has always been a crowd pleaser. In the Sno Barons new 145-acre location they have included a freestyle course where you could watch all the snowmobile, dirt bike and quad freestyle action. The Sno Barons secured an appearance from the Moore Brothers, Caleb and Colten, who performed the impromptu two-up back flip at the 2011 Winter X games. Caleb and Colten successfully completed the trick Sunday afternoon before a screaming crowd at Hay Days.
The Sno Barons have also built an ATV and UTV test track where you could test all the latest models the manufacturers have to offer in that area.
Arctic Cat, Polaris, BRP/Ski-Doo and Yamaha were on location in full force as they unveiled new products at Hay Days. BRP in a press release announced it was expanding its avalanche courses throughout the West. BRP is taking a pro-active response to avalanche training by teaming up with BCA to teach these courses. Being a mountain rider, I appreciate BRP for its proactive approach and encourage anyone who rides in the mountains to participate in this course by contacting BRP. Also the BRP/Ski-Doo camp announced changes to its race sled, increasing peak horsepower the 600cc twin develops between 8300 and 8800 rpm.
Arctic Cat used the event to unveil its new race sled, which was "hidden" in a crate marked Top Secret. After the countdown the crate unfolded before a large and very eager cheering crowd that was everything you'd expect from a show this size.
Gorsegner also noted other interesting tid bits about this event. By noon Saturday they had sold out of 23 pallets of bottled water and gone through 135 kegs of beer. To accommodate the effects of that liquid intake, there were 215 porta potties stationed around site.
Conducting a quick unscientific poll asking how much you expect to spend at Hay Days, the Snow Baron staff says the average response was 400 to 600 dollars. People come here looking for good deals. I found there to be many show specials to look at.
Though Gorsegner and the Sno Barons generally cater to the traditional snowmobile vendor, they are open to new vendors. This year they let the Allure Beauty Salon set up a booth where they waxed men's noses, that's the wax job that pulls out nose hair, ouch. Gorsegner said there was a steady line all day.
My 1,220 mile one-way ride to Hay Days marked one of those things accomplished on my personal "bucket" list. It was worth the trip. There were things I learned. Among lessons learned: book early for close proximity motels as they are all booked early in the year. Also I learned to study the program. All the vendors are listed with a map as to their location. It helps as there is much to see and do. The biggest lesson learned: Yes, I would do it again, I enjoyed being with my own kind.
Related Reading Snowmobile Events of Interest Heard at Hay Days 2009: Polaris Rushing Ahead Heard At Hay Days 2008 Hay Days Help Kick Off Season in Minnesota