Cardo Systems updates Scala Rider G4 Powerset

Cardo Systems updates Scala Rider G4 Powerset
Cardo Systems' updated scala rider G4 PowerSet for Snowmobiles is now available from the manufacturer. Having introduced Bluetooth sled-to-sled communication via small and light headsets that easily clamp to snowmobile helmets, Cardo is introducing new features and upgrades for the new season. The system retails for $489.95.
Cardo's scala rider communication systems come with ultra-thin microphones especially designed to fit snowmobile helmets comfortably. Users can enjoy easy communication with their group via the hands-free wireless communication system.
Software Version 3.1 introduces multiple new features for riders including a click-to-link feature enabling calls between the rider and any other snowmobile G4 PowerSet user within the product's range. Also, the scala rider G4 PowerSet for Snowmobiles now features parallel connectivity to a MP3 device and mobile phone devices, giving users additional freedom to place phone calls or listen to music while riding.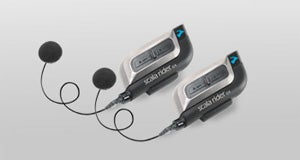 Other features in addition to the intercom include streaming wireless music from your smartphone, talking on your Bluetooth phone and listening to GPS directions. For users who prefer to listen to the radio while riding, the new Version 3.1 includes Automatic Radio Tuning that will help capture available signals, even in remote terrain. Users can now press one button to set up to six station presets, and use a new station scanning feature for safer hands-free operation.
The new scala rider headset also offers added versatility. The Version 3.1 software upgrade includes an innovative microphone feature that gives users the ability to adjust the gain of the microphone to switch between snowmobile and motorcycle usage. In addition to the gain control, users can also move the VOX sensitivity levels to match their need. Adjustments can be made either through the PC software or the device's own Voice Configuration Menu.
"This upgrade marks a significant enhancement for our industry-leading scala rider G4 PowerSet for Snowmobiles," says Abraham Glezerman, CEO of Cardo Systems, Inc. "With our new click-to-link, users can now talk to any other G4 PowerSet within range, allowing groups of riders an additional layer of meeting up and security. The several audio-related upgrades enhancements allow connectivity to other devices, and increased control over the audio quality of conversations and the radio. The product is the right choice for snowmobilers who demand a wireless communication solution that is comfortable and intuitive to use and enhances the enjoyment and security of riders."
The scala rider G4 PowerSet for Snowmobiles is available through select distributors, retail outlets, specialty snowmobile shops, and directly from the Cardo Systems web site at http://www.cardosystems.com/ .
Related Reading Cardo Systems releases new snowmobile communication system Polaris to carry Cardo Scala Rider headset