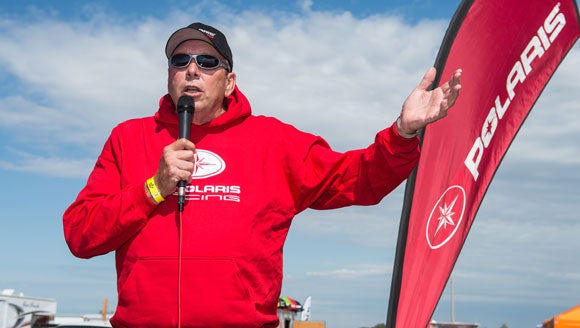 The Polaris snowmobile racing paddock is going to look a lot different after this season as Polaris Racing Manager Tom Rager Sr. is preparing to retire at season's end.
Rager, who joined Polaris in August 2000 and has directed the racing program ever since, will be succeeded by his son, Tom Rager, Jr., who currently serves as Polaris Race Coordinator.
"It's been a great career," says the elder Rager. "I've watched my son grow and develop and he's ready to take this thing on. He has worked hard."
Rager Sr. joined Polaris after spending over 15 years with the Ski-Doo snowmobile racing program, including the final seven years as race manager.
"I think he's the best race director in the business, hands down, no question about it," says Scott Judnick, co-owner with his wife Colleen of Judnick Motorsports, a Polaris racing team for the past 11 years. "[Former Polaris CEO Tom] Tiller and [former GM Snowmobiles] Bob Nygaard knew what they were doing getting Tom Sr., to come on board. They wanted to win and they wanted the best and knew what Sr. could bring to the table. Look at how the program has dominated for such a long time."
Rager Sr. joined Polaris along with his team of Racing Coordinator Bill Rader and Tom Rager Jr., who originally focused on race sled technology and has remained a race team crew chief until this winter. The three formed a highly successful team known for treating teams fairly, successfully recruited young racers and helping to develop outstanding race sleds.
"We got involved with quality people like the Judnick and Hentges teams and Tim Bender, and we started building the program," says Rager Sr. "Then [the Polaris snowmobiling engineering team in] Roseau came through and built pretty much everything we wanted. The problem initially was that we were fighting with the [Ski-Doo] REV [sled], which had just come out, but boy the guys in Roseau came through and built us a sled. Holy buckets, it's still a good sled."
Getting young terrain racers on Polaris sleds helped build a feeder program of future Pro racers.
"We just kept feeding the program and we knew in three, four years we were going to have a good crop," says Rager Sr. "It's fun to see success throughout the whole program, including terrain, ovals and hillclimb.
"The whole thing that leads to success is surrounding yourself with the right people. We've got a tremendous team, in my mind. The race teams are the heart and soul of the whole program. We're very careful about bringing a new race team on with Polaris, and they usually don't leave."
Among the highlights Rager Sr., recalled from his years with Polaris was Carl Schibutzke scoring the first Pro victory for Polaris in a National snocross event in 2002 at Canterbury Park in Shakopee, Minnesota. He also cherishes the first snocross points title ever won by a Polaris racer, TJ Gulla's 2004-2005 Pro Stock championship.
Among the few low points during Rager's dozen years with Polaris was Bill Rader's battle with cancer and his passing away in February 2012. The two had been best friends for nearly 20 years, and coming to work without Rader around changed the landscape for the elder Rager.
"It hasn't been the same for Sr. since Bill got sick and Bill passed away," says Rager Jr. "It's not the same vibe for him."
Rager Jr. has seen his father's leadership and accomplishments from up close.
"It's going to be different without Sr.," said his son. "The sport is going to miss him. I'm going to miss him. I'm lucky that I have such a legend in the sport that I can always go to for advice. I certainly plan on seeing him and spending a lot of time with him, even when he's retired. The goal is to make this transition as smooth as possible."