Castle X EXO-CX950 Modular Helmet Unveiled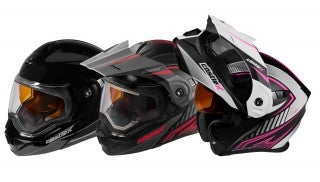 Modular helmet available in eight color options and with or without electric shield
Castle X has unveiled its latest snowmobile helmet design. The EXO-CX950 is a modular helmet that comes with either a standard shield or an electric shield.
Here's what Castle X has to say about its new helmet:
"A modular snowmobile helmet like no other! This "All-In-One" helmet can be transformed to meet your needs no matter the ride. The versatile EXO-CX950 can be configured to be 3 distinct styles of helmet: (1) A Modular Dual-Sport Snow helmet when the visor and shield are installed (2) An Aerodynamic Sport Touring Snow helmet when the visor is removed (3) A functional Off-Road helmet when the shield is removed to allow use of goggles."
The Castle X EXO-CX950 is available in eight color options: Solid Black, Matte Black, Apex Flat Flo Orange, Apex Flat Pink, Apex Flat White, Apex Flat Red, Apex Flat Hi Vis and Apex Flat Black.
Prices start at $269.99 for the standard helmet and $339.99 for helmets equipped with an electric shield. Click here for more information.