To help keep snowmobilers warm this winter, BRP has updated its base layer line of winter wear to offer everyone the right clothing for their style of riding, from an ultra active mountain rider to the long distance touring rider.
The new BRP base layers are offered in three segments to fit a wide spectrum of riders and temperatures, from spring mountain riding to cold January mornings; the Active Base Layer is geared toward the Mountain and Race segment of riders, the Ultralight Base Layer towards Recreational riders and the Thermal Base Layer is designed for the Touring style rider. These base layers combine with a mid layer of fleece wear and an outer shell to help give a rider the most comfortable experience possible.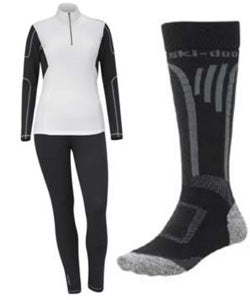 The Thermal Base Layer is constructed of high filament polyester with slight brushing for a soft feel and Spandex for easy movement. These products are Ideal for the touring rider and those experiencing the coldest climate conditions.
Top $64.99 US/$79.99 CAD
Bottom $49.99 US/$59.99 CAD
Sock $19.99 US/$24.99 CAD

Read more