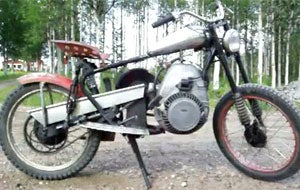 The modern-day inventor strikes again!
One industrious individual built himself a motorcycle that is powered by a snowmobile engine taken from an old Ski-Doo Elan. According to the builder, the engine is a Sachs 293 and the bike has a top speed of more than 100 km/h (about 60 mph).
The left side of the bike shows the engine in action. One warning to the rider: there are some fast-moving parts (belt, fan) very close to your leg. Getting your pants caught in there could cause quite a problem.
Check out a video of the bike in action below the jump.


Read more