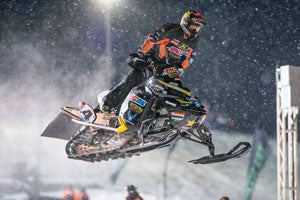 Scheuring Speed Sports' Robbie Malinoski (Ski-Doo), who swept the Pro snocross classes at the season-opening Duluth National, chatted with the ISOC ahead of this weekend's Blackjack National in Bessemer, Mich.
ISOC: You scored a second and a third last year at Blackjack – AMSOIL Championship Snocross' first venture to the upper Michigan ski area. What are your memories of the venue?
Malinoski: Blackjack's a great landscape with a lot of snow. It's the ideal spot for a snocross track and I'm pumped to get back there.
ISOC: From a spectator's standpoint the face of Blackjack's ski hill looked to be the most rugged and challenging terrain you guys faced all last season on the AMSOIL Championship Snocross circuit. Would you agree with that?
Malinoski: Yeah, for sure. The downhill section they had was the gnarliest section we faced all year – definitely a spot for crashes, race passes and whatnot. It's the signature area of the course for sure and I sure hope they bring it back for this weekend.

Read more