Go Snowmobiling helps kick off season in Ontario
OEMs show off new sleds at regional show
Story by Snowmobile.com Staff, Oct 02, 2007
Get the Flash Player to see this player.
It's time to gear up for the 2007-08 snowmobile season and Snowmobile.com had a great opportunity to kick things off recently at the Ontario Federation of Snowmobile Clubs (OFSC) Go Snowmobiling Show in Toronto.
All four original equipment manufacturers–Arctic Cat, Polaris, Ski-Doo and Yamaha–were at the show, providing consumers a chance to see what they were bringing to the table, er, the trails, for 2008.
One popular phrase heard at the show was 'four-stroke', but Ski-Doo was all about weight savings from its new Rev-XP chassis.
"The Rev-XP chassis is the biggest revolution in our snowmobile history," Ski-Doo district sales manager Scott MacWilliam told Snowmobile.com. "The big news is the weight savings. On average we've reduced 50 pounds on all of our Rev-XP chassis."
MacWilliam says that experts told Ski-Doo's that knocking 20 pounds off its sleds would be a historic achievement.
"Please remember that this is 50 pounds versus our 2007 sleds. If we are talking about us versus the competition, we're talking about a difference of over 100 pounds," says MacWilliam. "That's like having an extra rider on the back with you."
The crown jewel of Ski-Doo's weight loss program is the MX Z TNT.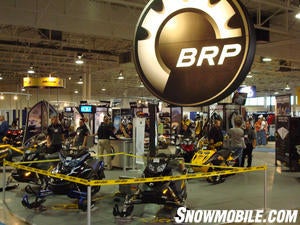 "For the first time in snowmobiling, we've cracked the 400-pound barrier," says MacWilliam. This sled, the TNT, is 399 pounds. It is the lightest sled ever built."
Ski-Doo's goal for cutting all this weight was to reduce rider fatigue and help produce a more enjoyable ride.
"With such weight savings, you are going to be less fatigued, use less fuel and have better performance," says MacWilliam.
Along with its record weight, Ski-Doo has added an extra eight inches of leg room to the TNT, which gives riders the option of kicking back and enjoying a more comfortable ride if they don't want to stay in an aggressive riding position.
Ski-Doo was also keen on its MX Z 800 Power TEK, which shares the Rev-XP platform. Ski-Doo claims that this is the most powerful sled in the 800 and 900cc category. MacWilliam says the fuel consumption is equal to that of a four-stroke engine.
Opposite the streamlined and lightweight Ski-Doos, Arctic Cat was talking about luxury and creature comforts. No sled fits that mold more than the T Z1 LXR.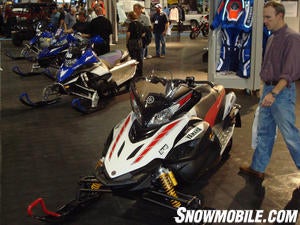 "If you want to give this a label, this is really the Lincoln Navigator or Cadillac Escalade of snowmobiles," Arctic Cat product manager Joel Hallstrom told Snowmobile.com. "Our T Z1 LXR is a touring machine and is not for the cheap at heart. This is an upper end machine and it's got every bell and whistle you can imagine."
The machine was designed for two passengers, but the rear seat can be detached and taken out to create a one-up machine with a loads of storage space. Arctic Cat designed all its luggage bags so that they can accordion out when they are filled up–perfect for a touring rider who goes on long trips and has a lot of cargo.
For rider comfort, Arctic Cat has included its Infinite Rider Positioning (IRP) system on the handlebars.
"Not only do they tilt, but they twist so you can adjust to any position that you like," says Hallstrom.
Just so nobody loses contact with other riders in their group, the T Z1 LXR comes equipped with CatComm, which can be plugged into the Crosstec VRE helmet.
"It has a microphone and a headset and you can communicate with your passenger if they have that setup," says Hallstrom. "Or if someone else in your group has CatComm you can hit your push-to-talk switch and you can talk to that rider."
CatComm also allows the rider to listen to the radio or even an MP3 player.
Arctic did not forget one of your most important assets when designing the T Z1 LXR.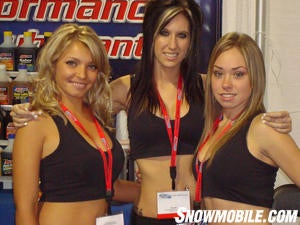 "We are the only snowmobile manufacturer that offers a heated seat," says Hallstrom. "Once you ride it, it's a feature that you don't want to leave."
At the other end of the spectrum, Arctic Cat has improved its entry-level sled–the F570. The sled is designed for comfort and ride, not to be a big, intimidating machine.
Hallstrom says Arctic Cat received a lot of requests for an entry-level snowmobile that looks like a more expensive sled and has the same type of handling.
"And that's what we've offered. It's the same body, the same chassis, the same basic suspension–it's just got a tamer engine."
No manufacturer was more excited about four-stroke engines than Yamaha, which is celebrating its 40th anniversary in the snowmobile business.
"We are an engine manufacturing company at heart," Yamaha national product manager Jon Blaicher told Snowmobile.com. "We've been building four-strokes in every other genre for many years. Snowmobiling is almost the last area where you find four-strokes penetrating."
Blaicher says the reason why Yamaha is behind the four-stroke movement is reliability and durability.
"It is a lot less maintenance," says Blaicher. "The first valve inspection on these engines is scheduled at 40,000 kilometers. For most snowmobilers, that's 10 years before they even look at the engine. The durability is beyond any expectation for snowmobiling."
Yamaha is eager to push the four-stroke and Blaicher says the Phazer makes it more affordable.
"We had a goal to build a more affordable four-stroke that is fun for a little bit of a different generation," he says. "Being so affordable, this Phazer hit a very wide demographic. You could almost buy two Phazers for the price of one very high end snowmobile."
The FX Nytro was another interesting option from Yamaha. Blaicher says this sled is Yamaha's rough-trail, snocross snowmobile.
"We've got some snowmobiles designed to make the bumps disappear, but this one's designed for you to play in the big bumps. Think of a snocross sled for the trails–detuned a little bit and not as harsh.
Yamaha was introducing its sleds to the general public at the show with a test track, where anybody with a driver's license could take a 2008 Yamaha for a spin.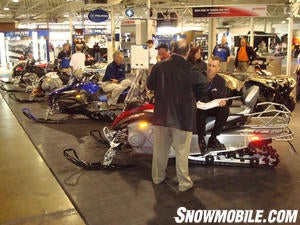 "The best way to understand the product is to experience it," says Blaicher. "What better way than to come out here when the weather's warm and try out a snowmobile?"
Polaris was also showing off a four-stroke with their 2008 Turbo Dragon. The powerful sled is 750cc and pumps out 140hp.
"It's good on fuel, is nice and quiet and very reliable," Polaris district sales manager Doug Decent told Snowmobile.com. "The Dragon has an electronic reverse. It's a clean, well-organized sled and it's a great ride."
Decent says Polaris is looking for families to get back into snowmobiling and those families are looking for a reliable and simple sled that is light on maintenance.
Unlike Yamaha, Polaris' entry-level snowmobile, the IQ Shift, is a two-stroke.
The IQ Shift gives riders an opportunity to customize the look right away. The machine is all black with no decals. Polaris has three decal packages available for purchase.
"There is one that has skulls on it, another has flames, there's even one that has a bit of pink in it for the ladies," says Decent.
Despite the minimalist look of the Shift, it still provides a good amount of power of the trails with its 600cc engine that provides 120hp.
"It's got electronic reverse and is just a great all-around machine for a great price," says Decent.