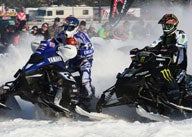 Evolutionary changes in this season's 600 stock class snocross racers
Evolution rather than revolution aptly describes the 600 stock class race sleds that Arctic Cat, Polaris and Ski-Doo introduced at the Hay Days grass drags Sept. 5-6 in Lino Lakes, Minn.
As in years past, Hay Days, the single largest event in snowmobiling, served as the stage for new production race sled introductions. Although no radically advanced technology was unveiled, each OEM made significant refinements to its sleds in order to gain a performance advantage over the competition. While the new 2009 Arctic Cat Sno Pro and Polaris IQ 600 were in attendance for close scrutiny, the 2009 Ski-Doo MX Zx 600RS did not make an appearance because of vendor delays in production of parts for the sled.
Arctic Cat Sno Pro 600
Last season Arctic Cat released an all-new Sno Pro 600 stock race sled, and it was indeed a new sled from the ground up. Briefly, the 2008 Sno Pro 600 featured a new chassis and carried a revamped version of the F–Series 600 engine with a lightweight crankshaft, ceramic-coated pipe, an adjustable timing module and other high-end race equipment. Chassis rigidity took a big step up with the Sno Pro 600's new pyramidal design, which featured chromoloy tubing and extruded aluminum subframe components. Instead of going with a conventional ski spindle housing design, the front suspension featured a new ball joint design with long extruded aluminum spindle. It not only saved weight, it increased suspension travel ground clearance by two inches and also provided more efficient geometry. In the back, track and rear suspension width increased to 15 inches and the rear skid was mounted two inches farther forward in the tunnel for sharper handling and stability.
Last year's sled had some teething problems, such as ski spindle durability and some front arm bending in the rear suspension, but Cat gained valuable setup and machinery knowledge. And the brand certainly enjoyed some success. The phenomenally talented Tucker Hibbert piloted his factory-prepared Sno Pro 600 to the 2008 WPSA National Pro Stock Championship. With accumulated data of a full race season under the belt, the Sno Pro 600 returns with the same suspension and chassis platform, but the package has some key upgrades. In the never-ending quest for more power, the engine builders have developed a brand new engine with new crankcases, lighter cylinders, revised port timing and many other new components. According to Team Arctic Race Director Mike Kloety, the engine produces "5 per cent more mid-range to peak horsepower, and it's definitely different than the consumer 600."
But Arctic Cat didn't stop there and instituted a number of changes to improve the breathing of the engine. These changes include an improved air intake that features a new screen design to help minimize snow ingestion and an underhood secondary screen provides another level of defense to prevent icing. The track features a milder attack angle for more top-end speed and better deep snow performance. A laterally sliding ski system reduces steering effort and rider fatigue and also provides more precise handling. The new rail profile reduces drag and increases top-speed performance, improves cornering and improves track tensioning.
Polaris 600 IQ
The IQ chassis platform first introduced in 2004 is the stalwart of the snocross series. Since its debut, team Polaris riders have demonstrated consistent competitive performance. TJ Gulla rode an IQ 440 to the Pro Stock Championships in 2005 and 2007 while Ross Martin aboard an IQ mod sled won the Pro Open Championship in 2007 and 2008. Over the past five years, Polaris has developed and refined the chassis, suspension, and drivetrain package to keep it in winning form. In this past season's WPSA National Snocross racing, Polaris riders aboard the 600 IQ took more Pro Stock podium finishes than any other manufacturer. When final points were tallied in WPSA Pro Stock competition, Polaris racers on the IQ 600 took 7 positions in the top 10.
The IQ architecture returns for a fifth year of service and its second year with the 600 drivetrain package. In its efforts to maintain its competitive form, Polaris made some crucial changes to the engine and steering package. According to Polaris officials, the sled is lighter but they wouldn't tell us just how much. Perhaps the most significant changes were made to the front end, where several pounds were saved and important upgrades to the steering system were made. Last year's steel steering rack arms have been replaced with aluminum arms, and the ski spindles are a new extruded aluminum design. According to Sr. Project Engineer David Borowicz, "Racers will notice the weight difference of the new front end right away, and will be happy that we have not compromised the durability to lower the weight. The new geometry allows the rider to feel far less feedback through the bars, and the sled is lighter overall, too. '"
In addition to suspension changes, the sled features a new heat exchanger arrangement. The flow pattern is now a parallel rather than a series configuration, so engine temps remain consistent through long heat races. A new master cylinder design has been added to the dual-piston caliper system for enhanced braking power. Like much of the competition, Polaris extracted more horsepower from its 600cc mill. Borowicz, said, "We focused on the low- and mid-range to continue to improve on our holeshots." The sled is said to deliver a 6% increase in mid-range horsepower and another 3% increase in top-end horsepower.
Ski-Doo MX Zx 600RS
The 2008 Ski-Doo MX Zx 600RS, based on the new XP chassis, followed the hugely innovative and hailed first-generation MX Z REV, a sled that carried many riders to numerous WPSA national championships. Obviously, it was no easy feat to build a follow up to the original REV chassis. In fact, the XP was a radical departure from the first-generation REV and it shared virtually nothing with the previous generation sled. In 2008 its first year of competition, the XP-chassis MX Zx 600RS experienced a myriad of machinery issues, including a faulty throttle cable design, brake fade, rear suspension calibration challenges, and component durability issues. But Ski-Doo has made sweeping changes to address the durability, handling and performance issues racers dealt with last year. According to Ski-Doo Director of Marketing Francois Tremblay, "Our goal was to make the snowmobile easier to race – for both the driver and their mechanics. The changes reflect our priorities of easier handling, better cornering and better suspension at race speeds – along with the need for extreme durability to keep racing costs lower."
The 2009 sled features a host of chassis and suspension upgrades aimed at improving durability while producing high standards of performance. Last year's rear skid geometry made it difficult to find the ideal shock and spring calibration at many racetracks. According to Ski-Doo, the SC-5 rear suspension features new rear arm geometry and a shock linkage to help remedy the issue. In addition, the rear skid also has stronger rail design for improved durability, new stronger coupling system, and four rear idler wheels to maintain track alignment. A new track is said to deliver improved durability and traction as well. Up front, the A-arm suspension features new geometry and a new steering ratio, stronger A-arms, ski spindles with adjustable caster feature, so the rider can adjust the aggressiveness of the steering.
To withstand the punishment of snocross racing at the highest levels, the sled carries new reinforced castings throughout the chassis, new stronger engine mounts and supports, new wider and stronger running boards among other changes. A new multi-function gauge features exhaust gas temperature record mode, so racers can review exhaust temperature after a race. In the brake department, the Brembo caliper has a stronger casting and its design has improved resistance to heat transfer through the piston. A better welding process is said to produce a stronger drive axle and jackshaft.
Yamaha Nytro XTX Pro Open
Although Yamaha doesn't offer a stock race sled, Yamaha does build and race a factory-supported Pro Open sled. As Snowmobile Marketing Manager Wade West said, "It's an R&D sled that's constantly under development and it's exploratory for consumer pieces." In other words, it's a test bed for Yamaha technology and it's in a constant state of evolution. And while we don't have a photo to accompany this section, we do have an idea about the basic makeup of the sled.
The sled will be similar in appearance to the current production Nytro RTX SE, and will be powered by the three-cylinder 4-stroke 1,050cc engine. West added, "It [the engine] will be legitimately based on the consumer engine, and it will not have a crazy exotic engine." Over the course of the season, the chassis will change through testing, racing and development. But according to West, "It uses a lot of stock fame pieces." In addition, we are told it will have a double A-arm front suspension and torsion spring rear suspension.
In the recent past, Yamaha has used its Pro Open racers to develop chassis, engine and suspension components that have made their way into production models. Check out the 2009 RTX SE and XTX models and you will note some direct crossover from racing to trail models.
The Season Opener
Each and every year, new race sleds are rolled out before the snowmobile press and curious fans. The upgrades, improvements, and new equipment are trumpeted and touted. In reality, the changes are almost always an improvement. But how much of improvement and how competitive is the sled? That's the ultimate question. And it cannot be answered until the new hardware is actually put to the test on the racetrack in full-fledged competition. The ISOC National Snocross at Spirit Mountain in Duluth, Minn. on Thanksgiving weekend will be that first major test of the new production race sleds and Yamaha's Pro Open snocrosser. At this season opening snocross race, the entire snowmobile community finds out if each sled lives up to its billing and truly delivers the goods.