Interview: Polaris Racing's Tom Rager, Sr.
Talking to snowmobile racingís turn-around specialist
Story by Paul Johnson, Photography by Paul Johnson, Sep 02, 2008
No one in modern day snowmobile racing can match Tom Rager, Sr.ís achievements.
As race director for Ski-Doo in the 1990s and Polaris in the 2000s, Rager led both factory race teams from the bottom of the leader board to championship winning form. Rager is perhaps snowmobile racingís most gifted turn-around specialist. Affable and engaging, he is quick to give credit to others on his team. But, Rager admits, he likes ďtaking something that wasnít very good and turning it into something special.Ē Indeed, Rager knows how to build relationships, identify rider talent, and turn a complex organization of Polaris personnel and factory-supported race teams into a well-oiled machine.
During the mid 1990s, as race director for Ski-Doo, Rager helped FAST and Toni Haikonen win multiple snocross and cross country races. Rager was also instrumental in Todd Wolffís two consecutive ISOC-500 victories. But more importantly, by 2000, he and Ski-Doo race personnel collaborated to build highly competitive equipment. Ski-Doo was a consistent podium finisher and winner, transforming itself from also-ran to the brand to be on.
Rager has pulled off a similar feat at Polaris. In 2000, his first year as Polaris race director, only two Polaris riders finished in the top 10 in the WSA National Pro Stock championship standings. Since those times, he has assembled one of best talent pools in snowmobile racing, which include racers, mechanics, factory-supported teams, and team coordinators.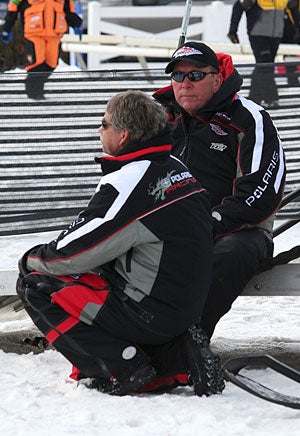 Under Ragerís guidance, T.J. Gulla won Pro Stock championships in 2005 and 2007. In 2006, second-year Pro Ross Martin came up just short of winning both Pro Stock and Pro Open championships. But Martin rebounded and won the Pro Open championship in 2007 and 2008. Last year, the Polaris race team won more WSA snocross podiums across all classes than any other manufacturer in competition.
Snowmobile.com caught up with Rager at the Polaris race department in Wausau, Wis., as he and his team prepare for another year of competition.
Snowmobile.com: What year did you take over the Polaris race program?
Tom Rager: I came on board in August 2000.
SC: What was your first priority when you became race director at Polaris?
TR: I spent a lot of time thinking about it before I took the job. From where I was sitting, the first thing we had to do was put some credibility back into the Polaris program. Polaris has always been a great company, but they had lost some credibility in the late 1990s. We felt that we needed to get credibility back into the program and start building the program from the bottom up.
SC: Why was there a lack of credibility? Was it a lack of race results?
TR: There were no results. Other than hillclimbing, there were no results. I am not sure why? I donít know if it was because they were flip-flopping race managers every year or couple years. The sled was not a sled that a good snocross or cross-country guy could go out and win on. And thatís where they [Polaris racing] had lost their credibility. When I say that, I mean with the racers. There wasnít any confidence with the core racer group that they could get on a Polaris and go do well. At Ski-Doo, we could see that pretty clearly. When racers called here, if we didnít talk to them, weíd return the phone calls. Basically start all over, and start building relationships with racers of all brand colors, just to let them know that Polaris is back and weíre here to stay. Weíre going to turn this thing around. Itís going to take a while but we are going to get this thing turned around.
SC: After you had accepted the race director position, what was the most challenging part of the job?
TR: It was very difficult to go to race after race and not win anything. But we knew that this [transition in Polarisí race program] wasnít a one or two year project, this was a four- or five-year project. We have to keep plugging away and communicating with [Polaris] Roseau engineering and thatís exactly what we did.
SC: What were your goals for those first two seasons and when did you expect to win your first Pro snocross race?
TR: I figured it [first Pro snocross win] was going to take at least three years before we could win a race. Podiums were great; we got a few of them. But the focus was to always win races and to always be a threat every time we pulled to the starting line in a final.
SC: From a corporate standpoint, whatís more important - race wins or championships?
TR: I think for me and corporate, race wins are important. When we go to Canterbury (Minn.), which is our hometown, itís important to show all the people that are there, that we can win a race. One of the things (Polaris president) Tom Tiller told me and why I took this job. I said to him, ĎYou expect me to help you sell snowmobiles.í He said, ĎNo, thatís not it all. We want to show the loyal Polaris customers weíre involved in racing and we can do well in racing. Itís my job to sell snowmobiles, and itís your job to get us back on track and winning races.í I think thatís the attitude that made me go home and think about it some more and finally take the job [of Polaris race director].
SC: What elements have to come together to build a successful team and what did you put together to get the Polaris race team where it is today?
TR: I give all the credit to my people. Itís one thing to go out and find the best racers when theyíre young and know within a few years theyíre going to be able to win races, itís another thing to put them in the right atmosphere with mechanics, teams, houses, transportation. Itís certainly not me. Itís the team owners that we brought onboard, itís the crew thatís worked their butt off all summer building mod sleds, itís the guys in Roseau who get tired of us whining to them but have always been good to work with and pretty much given us what we wanted. This is not a one-man show; itís everybody.
SC: But someone has to steer the ship. Do you consider yourself an administrative and logistics expert?
TR: I try to be a people person. Itís important for the racers to know I am straightforward. If I tell them, I am going to do something. By God, I am going to do it. I am probably more like the guy who stands in front of an orchestra, a conductor.
SC: What role has Bill Rader played in the success of the Polaris racing program?
TR: Bill Rader has been absolutely huge. Bill has been with me for 15 years, and heís the poor guy who sits on the phone all day long and directs these kids in terms of setup and if theyíre having a problem -- what to do and how to diagnose it. I canít tell you how important Bill Rader is to this program. He goes to the track on the weekend and he sits in that trailer all weekend working his tail off, rebuilding shocks, rebuilding clutches, helping kids with motors.
SC: Who has been instrumental in building the IQ 440 and 600 sleds?
TR: Rick Bates. We didnít tell Rick Bates what to build. We told Rick Bates what we needed, which he already knew. He and a handful of people in Roseau built that sled from the ground floor on up. Back in the day [when Polaris built the first IQ 440 racer], when you called up there day or night, he or one of the team were working. I didnít know when the guy slept.
SC: What are the main ingredients for consistent success in the Pro classes in recent years?
TR: TJ Gulla bounced around with Ski-Doo and Arctic Cat. I knew TJ when he was a Junior and I knew that he was very special. But he wasnít ever given the full package Ö to race on a team headed by Tim Bender who can put him on some of the best equipment out there, you put him in a training program, and heís got the commitment to follow through, and no pressure. We never put pressure on these kids that youíve got to win this weekend. We win with them and we lose with them, and they just develop. Itís got to be a full package: great equipment, great teammates, super mechanics, and a good environment. And if you donít have that, it wonít work. It will not work consistently.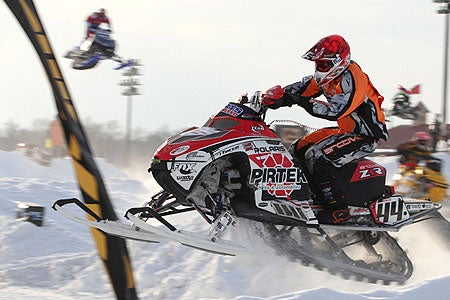 SC: What makes TJ Gulla a special rider?
TR: TJ Gullaís drive. He wants to win every single time he pulls it onto the racetrack. Along with that, he works harder, in my opinion, than anybody in terms of physical conditioning. He knows how hard heís worked and he feels that no one out there should be able to beat him. Itís a great attitude.
SC: He is also one of the most consistent riders. What makes him so consistent?
TR: I think itís because of the laps he pounds out week in and week out. We will be gone for two or three days racing. We get back to the shop on Monday and by Tuesday morning heís back out on the practice track pounding out laps, Tuesday, Wednesday, Thursday. I think that has helped his consistency big time. He wears out two three sleds a year, just practicing.
SC: Levi LaValle has shown the speed and ability to win races. What will it take for LaValle to consistently win races and challenge for a championship?
TR: I donít think weíve seen the best of Levi LaValle yet. I think as Levi puts these years under his beltÖobviously he ran better last year than the year before. Thereís absolutely no doubt in my mind that he will run better next year than he did this past year. And I think itís a matter of experience and laps. Heís going to be a contender. Thereís no doubt in my mind.
SC: Do you expect Ross Martin to get faster or has he reached his peak as a rider?
TR: He does it strictly with raw talent. Him, Tucker Hibbert and Blair Morgan are probably the most talented racers out there. He happens to be one of those kids who is full of talent. He will be faster this coming year than he was this last year. I donít think he has reached the peak out point as a rider and I think heís two or three years away from doing that.
SC: The IQ race chassis was four years old last year. You had done a lot of testing and development time on that sled while Arctic Cat and Ski-Doo raced new sleds. Was this well-developed sled an integral part of Polarisí success last year?
TR: No question about it. Anytime you have a brand new product thereís some risk involved. Both the green camp and yellow camp tasted that last fall. We didnít have a new sled, but we continued to refine what we had, and the sled has gotten better each year. We made some changes for it for í09 and it will be a significantly better sled for í09. Itís an advantage not to change unless you can find something better. Itís difficult to start out with a brand new platform. We are testing new product. And when we do come with it, hopefully, we wonít have the problems with it like the competition had last year.
SC: Did you expect the current IQ race chassis to have such a long lifespan?
TR: We did because of the kind of refinements we made on it the last five years. When you see it at Haydays this year, you will see some significant refinements on it.
SC: Would you say that the basis of sled, the suspension geometry and drivetrain package, had a lot of development potential?
TR: Thereís no question about. Itís the toughest sled Iíve ever worked with. The structure of the chassis is the strongest of any chassis Iíve ever worked with. It allowed us to do different things and you will see it at Haydays. It allowed us to take some weight off of it because of the durability. But keep in mind, itís not overbuilt.
SC: The Polaris factory-supported teams have become very familiar with the current IQ chassis. Has that been a factor in the success?
TR: We have them [the teams] involved in validation and testing. Whatís going to work and whatís not going to work. The racers have had a lot of input on the sled. Weíre not giving them something totally new every two or three years, and theyíve become accustomed to it. They know exactly how itís going to react on every hole.
SC: What will it take for snowmobile racing to enjoy long-term success in the current economic environment and weather pattern?
TR: Thatís a good question. In terms of snowmobile racing in general, we need to continue to put on really good shows. There isnít enough room out there to come in with two or three different organizations and expect the fans to pour in. If we have a national association thatís going to bring all the best to that venue, to keep it healthy, we have to put on great shows. I think the shows last year were pretty good. We even got to step that up. I think we have to make the shows bigger, better, and probably shorter. We can get the people to come up out there for a good four-hour show, but I think the days of (fans) coming for three days and watching the pros run are over. I think we have to shorten up the shows. We have to go to the areas that are getting snow, we got to promote it, and again, we have to put on good shows.
SC: How important is TV to long-term success and growth of snowmobile racing?
TR: We have to have TV to keep sponsors on these big haulers. We have to have TV. This year we are going to get through this thing with a lot of regional TV and I think thatís okay for year one, but as we go forward we have to get this thing back on national TV.
SC: Whoís going to be your strongest competition in the Pro snocross?
TR: I think Tucker Hibbert.
SC: Anyone from Ski-Doo?
TR: I think Robbie [Malinoski] is going to step up. I think [Mathieu] Morin is going to step up. If they get the deal done with Blair Morgan, thereís not a race that you can go to where Blair Morgan cannot win the race.
SC: Do you think Blair Morgan is past his prime?
TR: I donít think he is past his prime. I think there was a time that he will never be as fast as he was once, but there is not a racetrack that the wily veteran cannot win on today. He can win anywhere.
SC: Do you think Yamaha can win a race next year?
TR: Sure, I do. I think theyíve made some progress. I am a little surprised because I thought they would be a little further along than they are today. I canít say I hope they win a race, but I think the potential is there for them to win a race. I am little disappointed Yamaha isnít stock racing. I think they could grow their racer base if they could participate in both classes.
SC: What are goals for your team next year?
TR: Itís the same as theyíve always been. When we have our pep rally at the beginning of the year, we want to finish with more podiums than the year before. We want to have the same effort as we always had. Weíll let the chips fall where they may.
SC: What are your expectations for the new ISOC snocross circuit?
TR: [Former Team Arctic Cat race director] Joey Hallstrom and I worked very closely with John Daniels [owner of ISOC] during [cross country] ISOC days, so I have a lot of confidence in John Daniels. Heís got good tech people, good race director, and I have a tremendous amount of confidence that we are going to grow this thing bigger and better than itís ever been.