Carlson Motorsports Race Report: Canterbury Snocross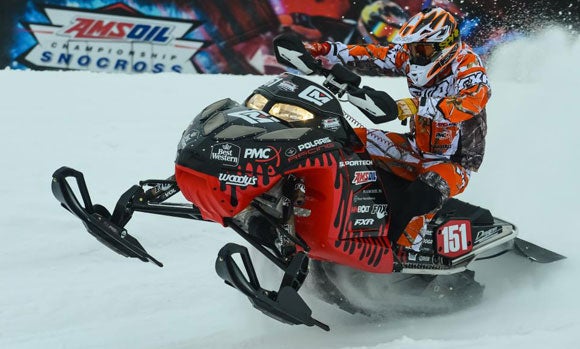 Pro Lite points leader Andrew Carlson of Carlson Motorsports continued his championship pace this past weekend in Shakopee, Minn., with a perfect Saturday performance for the overall win. The clean sweep was followed by another strong run on Sunday further bolstering his championship lead in the International AMSOIL Championship Snocross standings and extending his Pro Lite podium streak to seven dating back to last season.
Racing at one of the biggest and most well attended snocross venues on tour, the Carlson Motorsports team descended upon the famed Canterbury Park horse racing facility, which first hosted snowmobile racing in 1997, with a bevy or well-prepped and blistering fast Polaris snowmobiles. With both racers backed by hometown fans, the team looked to change their Sport class luck, where Ryan Springer has been hampered by gremlins through the first four rounds.
The tough streak continued on Friday when Springer damaged his belly-pan while running second in the Sport final, leading to snow ingestion. Fortunately Springer was able to hang-on for a fourth place finish.
Saturday however, the tough-luck streak came to an abrupt halt as Springer literally flung his FXR Polaris around the track like a rag doll, dominating the holeshot, going perfect on the day and capturing the win and much needed points in the year-end chase.
"The kid (Springer) can break an anvil," joked team owner Chris Carlson. "He's a strong, aggressive rider and we've been encouraging him to work on being a bit smoother. He's showing great progress and I'm sure we'll see more of him on the box in the future."
With Winter X Games on the horizon, the Carlson Motorsports crew is putting the finishing touches on Andrew's X-Games open sled. Andrew will be putting in laps this week and next, getting comfortable with the mod-set-up before Winter X on January 26th.
The AMSOIL Championship Snocross tour resumes January 31st in Deadwood, SD.