LaVallee shines in Brainerd
Polaris rider earns two wins and four podiums in WPSA doubleheader
Story by Lucas Cooney, Mar 11, 2008
Levi LaVallee excelled throughout a tough weekend of racing in Brainerd, Minn., winning two races and landing on the podium four times in four races in the World PowerSports Association (WPSA) doubleheader, which took place March 7 to 9.
"That was probably the best weekend of racing in my racing career," LaVallee told Snowmobile.com. "I was pretty revved just being in Brainerd. It's kind of close to my home town of Longville (Minn.), so I had a lot of local fans there. It's pretty much my hometown race. Things were really clicking this weekend."
LaVallee got the weekend off to great start with Friday's Pro Super Stock. After riding his Polaris to top finishes in all three heats, LaVallee cruised to victory in the final, holding off snocross legends Tucker Hibbert and Blair Morgan. Hibbert and his Arctic Cat managed out duel Morgan and his Ski-Doo for a second-place finish.
In the second Pro Super Stock final, LaVallee and Hibbert again finished 1-2, this time with Hibbert taking the checkered flag. Ross Martin, TJ Gulla and Mike Schultz followed LaVallee across the finish line, all riding Polaris sleds.
Robbie Malinoski broke a Ski-Doo drought in the first Pro Open final. The win was his first this season and the first for Ski-Doo in 14 races. Hibbert nabbed his third podium of the weekend with his second-place finish, while LaVallee was third.
"I feel pretty good about the weekend overall," says Hibbert. "We had three podiums, but compared to what we've done all year and I how I felt on the sled and track, I'm a little disappointed in my performance."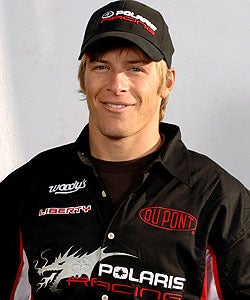 Hoping to end the weekend the way he started it, LaVallee was looking very strong heading into the second Pro Open final after again winning all three of his heats. LaVallee lost two key competitors when Gulla and Hibbert crashed, knocking them both out of the race.
"I was coming out a corner and squared up for the back section of the track and TJ Gulla must have squared up the previous corner and drove straight into me," says Hibbert. "I was pretty shook up and knew there was no chance of getting to the front again so I pulled off to get out of the way and to let racing continue."
Also, Malinoski, who was leading at one point, had to pull out due to a mechanical issue.
"I just got in the lead and was leading it for probably two or three laps and then had a rear shock failure and I was forced to drop out," Malinoski told Snowmobile.com. I was sitting in a pretty good position. I probably had a two or three second lead."
Ski-Doo's Mathieu Morin would prove to be LaVallee's biggest challenge, but the Polaris rider held off the challenge and picked up his second win of the weekend. Ryan Simons rode his Arctic Cat to third.
Beyond the thrill of racing in front of his fans, LaVallee says some changes were made to his sled since his last race that contributed to his success.
"We did a little bit of a suspension change in the off time from Valcourt to Brainerd and I think that had something to do with it," says LaVallee.
With his impressive performance in Brainerd, LaVallee closed the gap on Ross Martin in the Pro Open and Pro Super Stock standings. He's obviously running well and he's hoping for a good performance in the season finale in Lake Geneva, Wis.
"The last two years I've started out at Duluth pretty well and then we get into the midseason and I drop a little and I always seem to finish the season pretty strong," says LaVallee. "I'm hoping that holds true here at our next race in Geneva. Hopefully I can have a good run and maybe give Ross a little run for his money."
Like Brainerd, Lake Geneva is another doubleheader, which means the pros will have four races to deal with instead of the usual two.
"It's definitely going to be tough on the competitors," says LaVallee. "We rode our sleds a lot this last weekend. There's definitely a lot of pounding, but it's the same for all of us. We all went through it and we're all going to have to go through this next doubleheader, so it's not as though anyone's going to have the advantage that way. If anything, I would say the guys that are a little more fit will hold up better with the back to back doubleheaders.
"With the Open points chase being so tight between Ross, TJ and myself, I think its going to add to the drama and excitement of the race. It's going to be a fun one for sure."
The Pro Super Stock points chase should also be interesting, as Tucker Hibbert has decided return for the grand finale in Lake Geneva. Hibbert, who will only compete in the Pro Super Stock class, was supposed to be finished with snocross for the season as he prepares for motocross.
Hibbert currently sits third in the Pro Super Stock standings, just 11 points behind Martin. Dennis Eckstrom is just four points behind Martin in second. With six rounds of qualifying and two finals there are 110 points up for grabs and Hibbert feels he can make a charge.
"I didn't expect to be in this situation," says Hibbert. "Our plans were to be done after the New York race but with it being canceled and going to Brainerd, things changed and here we are fighting for another championship.
"I want to win and it's hard to stay away from racing when the opportunity is there and everything is in place. I have a lot of experience with pressure situations like this and know how to stay focused. Lake Geneva is the perfect track to end my season on—it's rough, long and technical so being smooth is so important. It fits my riding style. Endurance will be a major factor this weekend and I think all these factors will play into my hands."
WPSA Pro Open Standings:
| | | | |
| --- | --- | --- | --- |
| Pos. | Rider | Manufacturer | Points |
| 1. | Ross Martin | Polaris | 391 |
| 2. | TJ Gulla | Polaris | 379 |
| 3. | Levi LaVallee | Polaris | 377 |
| 4. | Blair Morgan | Ski-Doo | 334 |
| 5. | Ryan Simons | Arctic Cat | 332 |
WPSA Pro Super Stock Standings:
| | | | |
| --- | --- | --- | --- |
| Pos. | Rider | Manufacturer | Points |
| 1. | Ross Martin | Polaris | 375 |
| 2. | Dennis Eckstrom | Polaris | 371 |
| 3. | Tucker Hibbert | Arctic Cat | 364 |
| 4. | TJ Gulla | Polaris | 358 |
| 5. | Levi LaVallee | Polaris | 348 |