Profile: "Launchin' Levi" Lavallee
Snowmobile hero in a league of his own
Story by Paul Johnson, Photography by Paul Johnson, Feb 18, 2010
Levi Lavallee is the Renaissance man of snowmobile competition and, at the same time, constantly pushing the edge of the envelope in both snocross and freestyle. The 27-year-old, Longville, Minnesota native is a successful hillcross racer and the only top-ranked snocross racer establishing new frontiers in freestyle competition. And this season, he became a snocross team owner.
"Launchin' Levi," a moniker he has earned for huge air in snocross racing and spectacular freestyle tricks, competes on pure passion and across multiple disciplines, much like racers of yesteryear, such as Bob Eastman, Tim Bender and Kirk Hibbert. But it would be hard to imagine any of these past champions even attempting what Lavallee is actually accomplishing. Last season, he won the Pro Super Stock points title in ISOC national snocross racing and pulled off a mind-bending double back flip at the Speed and Style event of the ESPN Winter X Games 13 in Aspen, Colorado. In fact, Lavallee entered all three events of Winter X Games 12, earning gold in both Speed and Style and Freestyle. For his amazing performance, he was awarded athlete of the games.
Passionate Showman
Lavallee is the consummate showman and his larger-than-life personality is matched by a passion for riding sleds and a burning competitive spirit. His affable and gregarious personality combined with his spectacular riding has won over legions of fans and made him one of the most popular snocrossers and freestyle riders. In snocross, he often throws tricks during big double and triple jumps. If he doesn't throw a trick over the finish line tabletop at the end of a heat, it's unusual. Early in his career, Lavallee said, "We're out there to put on a show. That's what the fans pay their money for, so why not give it to them?"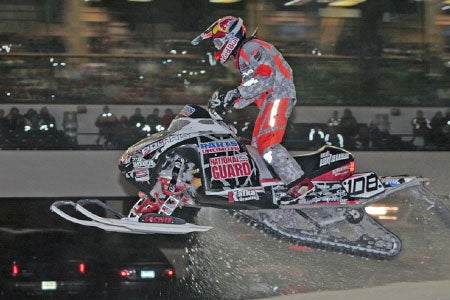 Levi Lavallee's ascension to the top of the sport didn't happen overnight. A pro rider since the 2002 season, he has shown blinding speed and flashes of brilliance, but the long-time Polaris-mounted rider has been hampered by injuries and inconsistent race finishes. In 2004, he was leading the Winter X Games snocross final by a massive margin when he ejected himself from the sled and lost out on capturing the gold medal. He got up and carried on to capture the silver medal, but it was a bitter disappointment. However, he did capture a gold medal in hillcross at Winter X that year. Launchin' Levi had to sit out the 2004-2005 season when he tore the ACL in his left knee while qualifying at the season opening Duluth Snocross.
Maturing Racer
Starting in the 2006-2007 season, Lavallee's approach to racing matured and his race craft evolved. He started to show more consistent and stronger form during races. He grabbed five podium finishes during that season and won Pro Stock in Gaylord, Michigan, as well as won Pro Open at Lambeau Field in Green Bay, Wisconsin. In the 2007-2008 season, he racked up a total of six podiums and took a pro win at the Canterbury II race.
For the 2008-2009 season, all the training, hard work and lessons of the past culminated into his best season to date. Before the season started, Polaris Race Director Tom Rager Sr. prophetically stated in an interview, "I don't think we've seen the best of Levi LaValle yet. There's absolutely no doubt in my mind that he will run better next year than he did this past year. And I think it's a matter of experience and laps. He's going to be a contender."
Lavallee came out of the gates strong at the season opening ISOC national snocross held in Duluth Minnesota. He won a qualifier and took second in the Pro Super Stock final behind Arctic Cat phenom Tucker Hibbert. With a strong start to the season, Lavallee kept up the momentum, riding smooth and controlled in following races. He racked up four third place finishes in Pro Super Stock finals and had a slew of Pro Open podium finishes. But at the second to last race of the ISOC national tour in Hayward, Wisconsin, the championship charge was put into jeopardy. Lavallee was in command of the points lead and he was on the verge of claiming his first pro championship when a mechanical problem took him out of contention of the Pro Super Stock final and he finished 14th. Arctic Cat's Garth Kaufman was on a tear and won the Pro Super Stock final. After the snow dust settled, Lavallee and Kaufman were tied at 195 points heading into the final race of the season at Lake Geneva, Wisconsin.
Focused and Ready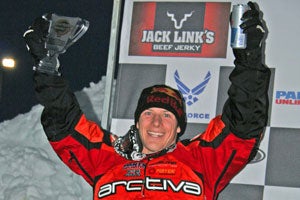 With the championship hanging in the balance, Lavallee had to put the heartbreak of Hayward behind him and focus on the job at hand. He reminded himself why he got into snowmobile racing in the first place.
"So I went into Geneva and told myself, 'Just go out there and have fun, like you always do," recalled Lavallee. "From day one, it's been about having fun and doing your best. I went out there trying to focus on getting good holeshots and staying smooth, but have fun. It ended up working out awesome. I won the final and ended up winning the points championship, so I couldn't be more happy."
In the Pro Super Stock final at Lake Geneva, Lavallee and Kaufman lined up side-by-side. Levi grabbed the holeshot when the green flag dropped and had his hands full fending off Hentges teammate TJ Gulla throughout the final. Kaufman couldn't match the pace while Lavallee rode a smart consistent fast race to win his first Pro Super Stock final and the points title along with it.
Looking back at his breakout season, Lavallee explained what made the difference. "Last year, I trained real hard and came into the season. And I think it was just a matter of riding a lot and staying consistent and staying motivated the whole way through. I felt like I was riding the sled a lot better."
Winter X Games
But Lavallee's ultimate triumph in Pro Super Stock wasn't the only highlight of his season. Far from it. He showed up at the ESPN Winter X Games and attempted the double back flip, a trick that few thought would be even possible a few short years before. For Lavallee, it required a lot of jump training with a ramp and a foam-landing pit. One month before the X Games the tireless preparation kicked into high gear. "I started [training for the double back flip] on the 20th of December," he said. "I had about one month to figure it out. I certainly didn't go out there and say, 'Let's try this double flip, and there it is.' It took many ramp changes, many sled changes, where I stand, how I pull, how I tuck. It took a lot of stuff to get it figured out. It was: How do we get high enough? If you can do a single flip, you can do a double flip. But it's just a matter of going higher and further to have more time in the air. So it was more or less trying to figure out how to get more air in order to do that. Our standard setup is 70-foot gap, and you can rotate 1 ¼ for sure. You don't have to quite double the distance for double back flip but you have to get pretty close." In the ESPN X Games event, Lavallee made two full rotations in the air but wasn't able to stick the landing. But the extraordinary trick made snowmobile and X Games history and cemented Lavallee's place in the history book of the sport.
For the 2009-2010 season, he continues to carve his own unique piece of history within the sport of snowmobile competition. He and partner/crew chief Glen Kafka started Team Lavallee. "Starting our own team, it was something I was looking at," he said. "Hey, I am going to be able to do this for a limited amount of years and I love this sport so much. I thought, 'How can I do something where I can stay involved with it.' That was my main motivation. If we can get this team established while I am racing and get to the point where I am starting to fade off thinking about retiring from racing, I can bring in younger riders. That's the ultimate goal. It's a way for me to do things a little differently and I have my own ideas for different events and things. It's a way for me to pursue that. We've had three awesome years with Hentges Racing. We still have an alliance with them. We share tech info and we run the same sleds as them. But it allows me to do a little bit more on my own to help promote the sport and my sponsors, and myself."
The Injury
Always a fanatic for training and riding hard, Lavallee suffered an injury riding motocross in the off-season. He said, "It was the end of May. I kicked the bike into neutral off a jump and I had to jump off the bike in the air and I landed on my feet on the backside of the landing. I blew it [the heal] apart. It was a compound [fracture] and it went through the bottom of my foot. I took my boot off right away. The first guy comes over and says, 'What happened?' I said, 'I think I broke my foot.' I had my foot up in the air and he walked around the back of me. And the bone was sticking out of the sock. He said, 'I am pretty sure you broke your foot.'"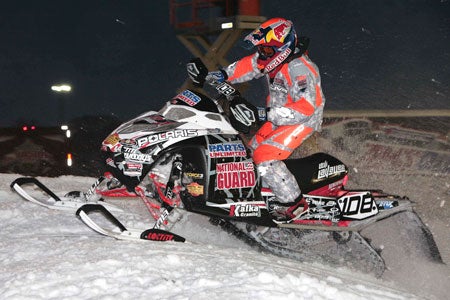 For snocross racers, racing motocross bikes is a double-edged sword because racers need to maintain racing skills in the off-season, but it's easy to get injured on a motocross bike. When asked whether racing motocross bikes in the summer is worth the risk, Lavallee responded, "You don't want to get hurt, but if you don't ride the bike in the summer, it just hurts you in the snocross season. It's good cross training, you keep your rhythm and helps you get used to the speed. I've talked to the Polaris race director [Tom Rager Sr.]. He says, 'Absolutely, ride the bike in the summer. The guys that are doing it are going fast. It's worth the risk to me to have you guys out there riding the bikes in the summer.' There's a better chance of getting hurt, but at the same time if you take a full summer off [of riding motocross] you're going to be that much farther behind when the snocross season starts."
Of course, it begs the question when will Lavallee be fully healed, he said, "I don't have the answer to that. It all depends on what my foot says. I just went and got a cortisone shot a day before the race [Canterbury snocross]. So things aren't healed. I am just excited to be out here, to get top five makes me happy." The injury has dampened both the snocross racing and freestyle program. And for fans wanting Lavallee to top the double flip, it just isn't possible this year. He said, "This year I am not going to top the double flip. I was a little disappointed this year with my injury. I just physically wouldn't be able to take that kind of a landing, so I had to alter my X-Games training for freestyle. We got some tricks with some foot variations and stuff that I've been working on. You're definitely not going to see a double. I will certainly be more conservative this year in hopes that next year, I will be 100 percent again, and then I will try some more fun like the double flip."
Winter X 2010
At Winter X 2010, Lavallee entered all four snowmobile events. In freestyle competition, he came off his sled trying to do a grab and got under his sled but landed uninjured on the landing ramp as his sled narrowly missed him. However, in the Best Trick final, he captured the bronze metal. In the snocross final, Lavallee was stuck back in the pack, and in effort to make up a few places he crashed out. In the Knock Out final, which is a snowmobile long jump, Launchin' Levi lived up to his name. He nailed a huge 166-foot 9-inch jump to take the gold medal over Chris Brandt, whose silver metal jump was 157 feet 2 inches.
Lavallee will be returning to the ISOC national circuit shortly. Although it has dampened his season so far, Lavallee's goal is to put in consistent top-five finishes. At the X-Games break, Lavallee is seventh in ISOC National Pro Open and sixth in Pro Super Stock points, an amazing achievement considering the nature of his injury.
With all that Lavallee has achieved so far, he remains humble and grateful. With an ear-to-ear smile, he said, "It's all just a big dream come true. When I was a little kid, I remember writing reports in school of what you want to be when you grow up and that was in fourth grade. I want to be a snowmobile racer. Now I am looking at my snowmobile magazines. There's Kirk Hibbert, Brad Pake, and Toni Haikonen and Jack Struthers and all of those guys. I'm looking at that and thinking that would be so cool. They would get their sleds for free and racing all the time. That was always a dream for me. To finally get here, and be able to do it, and then when I got into the freestyle stuff, that kind of fell in my lap. It wasn't like I had planned on that. I got a ramp and started doing freestyle and I started picking it up real quick. And before long, I did a back flip and stuff. I've never taken the freestyle stuff real serious because I've always been a snocross racer. I always say I do freestyle for fun. Racing is my main gig. At the end of the day, I still consider myself a snocross racer. As far as the fans go, I never thought I would have any fans. To me it's like, every time a kid comes up to me and says, 'Can I have your autograph?' It's like, 'Yes, sir.' It's like the biggest high five."
Lavallee appreciates the people who helped him along his way. He said, "I'd like to thank Polaris and Red Bull, the two of them have been awesome. Parts Unlimited, Arctiva, National Guard, Team Woody, Pure Polaris lubricants, Rick Strobel at Fox Shocks and Fox shocks. He does so much getting my shocks dialed in, all the guys on the team. They work their tails off day and night…everyone who has supported me over the years, Oakley. The success isn't me alone bombing around out there; it's because there is so many people who have helped. My buddies have been at my place for a month helping me training at the foam pit. Without all the help, there's no way we'd be able to do any of this."
Related Reading
Levi LaVallee starts race team
2010 Polaris Racing Preview
Gulla, LaVallee win Pro championships
Profile: Tucker Hibbert