Snocross phenom becomes a two-sport athlete—and succeeds
Tucker Hibbert has accomplished a lot in his 23 years, but it's on a sled where the snocross champion really stands out.
Snowmobile racing is more or less engrained in the Hibbert family genes. Tucker's father, Kirk Hibbert, is a legendary racer with numerous titles in snocross, cross-country and hillclimb. The elder Hibbert didn't waste any time getting his son on a sled.
"I was riding around with my dad when I was about six months old," Hibbert told Snowmobile.com. "As far as the first time I rode, I started out on a little Arctic Cat Kitty Cat when I was probably two years old."
Hibbert raced Kitty Cats for a while, but he says he didn't get serious about racing until he was about 12 or 13.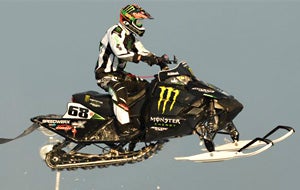 After racing junior classes for a couple of years, Hibbert exploded onto the national scene at the 2000 Winter X Games at Mount Snow, Vt. At the ripe old age of 15, Hibbert blew past the field to win the snocross championship, becoming the youngest gold medalist in Winter X Games history.
Hibbert didn't just beat the field at Mount Snow—he also beat his dad. In fact, Kirk Hibbert nearly reached the podium himself, finishing fifth.
"He was still racing a lot in the pro classes and nationals so we would have occasional battles and race against each other. It was kind of fun," Tucker Hibbert says. "He was pretty fast then, but I had a bit of an advantage on him, I think."
Despite besting his dad at the X Games, Hibbert didn't spend too much time bragging about it around the house.
"He has probably won more races in his career than I have, so I can't brag too much," says Hibbert of his father. "He goes pretty fast still. It's kind of surprising."
Success was ongoing for Hibbert after the X Games. He wrapped up his semi-pro career with an incredible 19 wins in 24 starts on the World PowerSports Association (WPSA) tour and got off to a strong start in the pro classes.
As a 16-year-old in 2001, Hibbert topped the point standings in the WPSA Pro Open class, besting the biggest names in the sport. The windfall continued in 2002 as Hibbert won both pro classes and took home a silver medal at the Winter X Games. Still just 17, he was undeniably the hottest rider on the snocross circuit.
The 2003 season proved a little more challenging for Hibbert. He finished second in both the Pro Open and Pro Stock classes, edged out by snocross superstar Blair Morgan both times. Still, Hibbert was enjoying tremendous success and his future on the snocross circuit couldn't have looked any brighter.
While a lot of people in his position would have simply enjoyed the ride and continued to rack up wins, Hibbert decided he needed another challenge. Before turning 20, he retired from the WPSA snocross circuit.
"Basically, I was just focused on motocross and supercross and wanted to take some time to try and improve in that sport and reach some of the goals I had," says Hibbert. "I took some time away from snocross just to focus and make those improvements that I needed to make."
From 2004 to 2006, the only snocross event he competed in each year was the X Games. By the time the 2007 season rolled around, however, Hibbert decided it was time to return on a part-time basis.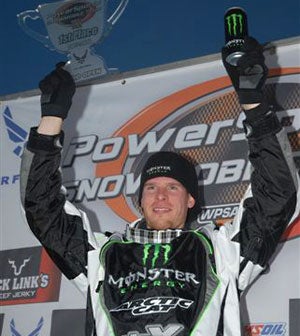 "I just wanted to do a little more racing. I had fun racing at X Games and I wanted to add a few more races," he says. "I'm definitely still focused on motocross and supercross and that's the reason I only do half the snocross schedule, instead of the full tour.
His time away from snocross didn't seem to affect his skills on a sled. He won four pro finals in 2007 and took home another gold medal at the X Games before hopping back on his bike.
Racing both snowmobiles and dirt bikes is a lot of work, and Hibbert doesn't get a lot of time away from racing.
"It's definitely challenging. It takes a lot of time to try and balance both sports and keep improving in both sports. To be where I want to be, it takes a lot of time and a lot of hard work. It's stressful at times, but it's what I love to do so I make it work."
With his full schedule, the recently married Hibbert cherishes what little time off that he has.
"I just try to take a deep breath and sit on the couch for a while," says Hibbert. "We travel so much and are never home, so it's just nice to sit on the couch for a little while and relax."
If Hibbert ever decides to slow down enough to have a family, his kids shouldn't have much trouble finding a sled. He still has the old Arctic Cat Kitty Cat he was riding when he was two years old.
"I started working on it about five years ago," he says. "I took it all apart and lost most of the pieces, but it's all here somewhere."
Related Reading