2009 Polaris Dragon SP
Choose your 800cc flavor and dare Polaris to miss its delivery promise
Story by Jerry Bassett, Photography by Jerry Bassett, Polaris, Apr 01, 2008
Time's running out to guarantee that you'll get a 2009 800 or 600 Polaris Dragon SP. If you ordered during the month-long Snow Check timeframe of March 7 to April 7, Polaris would guarantee delivery by November 15th of your 800 Dragon SP - or you would get a $1,000 rebate (US offer). We would guess that should overcome some wary consumers who may have heard that some Polaris 800cc powered sleds were held back this past season. Simple marketing applies here. Order early. Take delivery by November 15th or Polaris rebates you a thousand bucks.

There's really little risk for you if an 800 Dragon SP is on your 'must-have' list for next season. If you are a long time Polaris fan and haven't given up your Indy, this might be the time to reconsider. The 2009 Dragon SP - with 800 or 600 power - should get you pumped about Polaris once again. If you get or got a chance to test ride an SP during the rapidly closing 'demo ride' season, you will notice that the SP has a certain familiarity. It may not look like your Indy, but if you were to push it hard on a groomed trail or bounce it off a rough berm or two, you'd swear it was an Indy - only better.

Polaris may have caused you to lose a bit of faith in its engineering credibility with the best-forgotten Fusion, but faith is restored with the top line Dragon SP. In test rides of the Dragon SP in both northern Minnesota and Grand Lake, Colorado, we couldn't help but appreciate the rebirth of Polaris' highly regarded ride and handling. Of course, Polaris marketing types claim, "…Since 1980, Polaris is the recognized leader in ride and handling." Well, that's a nice claim, but the other three snowmobile manufacturers might want to dispute that, especially in recent years.

We will give the 2009 Dragon SP models a big thumbs up for handling performance. As big fans of the Indy series, we are finding ourselves again trusting this new line of IQ-based models. When we rode the Dragon SP in direct comparison of its major competitors we found them all to be good in different ways.

What we liked best about the Dragon SP was its trustworthy feel when pushing it hard into and around turns. It felt very Indy-like as the front-end bit the snow and seemed to be nearly neutral as you worked your way through groomed corners. In the rough the Dragon SP exhibited an Indy-like tendency to stay flat and stable, giving you the feeling that even if you did something a bit stupid, the sled wouldn't make you pay for it. There was a trust riders had when aboard an Indy and it has returned in the Dragon SP.

We know that Polaris engineering has worked diligently to make the 10-inches of front suspension travel work for you in the rough and on groomed trails. The SP series uses the latest in Walker Evans shock absorber designs to maximize control. The piggyback reservoir will keep the internal shock fluids cooler to reduce shock fade. Along with the latest shock package comes a revised suspension set up that includes a lower control arm and torsion bar system to better control roll and instill flatter cornering capability. The rear suspension dropped six pounds in overall weight but gained more consistent action thanks to the addition of bronze bushings, which reduce 'stiction'. The rear suspension's front arm is elongated to slow down weight transfer. You'll really appreciate this change if you opt for the 154-horsepower 800 Dragon SP. It won't matter as much with the 600cc twin, but the change should make both sleds more rider-friendly when riding hard in tight trails.

We found ourselves liking the Dragon SP riding position and weren't really sure why. The Freestyle racing-inspired seat comes with a nice lip at the rear to keep you positioned. Maybe it was how you sat and gripped the hooked handlebar set. The SP's 5.25-inch riser bar is three inches taller than on a standard IQ Dragon. This impacts your control, especially when you hit a line of deep moguls. You can rise quickly from the seat, plant your boots on the gripper running boards and grip the hand controls. Your movement is easy. Thank the seat and the use of the more narrow fuel tank that was borrowed from the RMK series.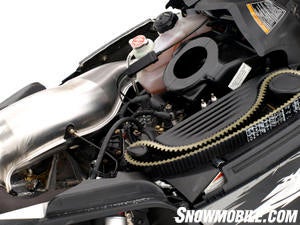 Under the Dragon-logoed matte white hood you'll notice Polaris'
understanding that high performance is not just straightaway speed. There is a new lightweight racing-style brake system that consists of a magnesium chain case cover and use of heat dissipating 'wave' brake rotor. Of course the system is hydraulic. Polaris has used hydraulic braking systems for decades - even before they were 'de rigueur' with other manufacturers. Heck it was Polaris that conceived of liquid-cooled braking for racing and brought it to production sleds. Polaris understands stop-and-go performance better than just about anyone in the powersports world.

Whoa-power is essential when your thumb can tap into more than 150-hp. The latest Liberty big twin measures 795cc with a bore and stroke of 85mm by 70mm. Pushing the fuel and oil mix into this twin is Polaris' own Cleanfire injection technology. The engine features an exhaust valve setup to maximize low-end performance and assure peak top end for wide-open running. Exhaust exits via a two-into-one header and tuned muffler.

Common to both the 800cc and 600cc SP versions, the new Polaris P2 driven clutch was designed to run cooler than previous versions and to provide more of an overdrive or overwind capability. Since the design is expected to reduce under hood temperatures, Polaris expects the change to result in better overall belt life.

The 600 Dragon SP gets the more powerful Cleanfire-4 599cc twin. This Polaris-engineered and built Liberty design delivers five more horsepower than the base 600 used in the Shift. Polaris claims that its 125-hp output makes the 600 Dragon SP the power leader in this category. On the trail, we would agree.

Of course, when on the trail at 11,000 feet in the Colorado Rockies, the 800 twin begins to feel like a very good 600 would at sea level. Still, we give the seat of the pants power edge to Polaris in both cases. Well, not if you figure the Cat's 177-hp 4-stroke turbo into the mix. But for 2-stroke high-performance runners, we go with Polaris. Not by a lot, though.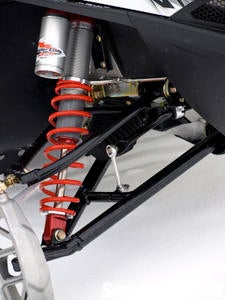 For running on mountain trails, we are comfortable with the 800 Dragon SP, but it may be major overkill in the flatlands of Minnesota or Ontario. When you can have the same performance chassis, shocks and ergonomics with a nicely tuned 600 twin - and save US$1000 - we have to seriously consider the 600 Dragon SP.
We also admit that we didn't care for the matte white finish of the SP when we first saw it. That was in Minnesota during a typical gray, wintry day. By the time we reached Colorado and the bright mountain sunshine, we began to change our minds. Contrasting that flat white are bright red 'Dragon' graphics with gray and black accents. Add in a pair of large white hand guards and that black windscreen and the Dragon SP grows on us. It will have good showroom appeal, but you might want to purchase an optional windshield to snap on when the temperature dips into the minus teens and lower.
If you are serious about getting Indy-like love from the latest breed of Polaris super sport sleds, you should order early and dare Polaris to miss the delivery date - which will make you a grand richer if your SP of choice was powered by a more than adequate 154-hp 800cc twin. Somehow we figure Polaris will keep its money, but you'll have a very, very nice sport sled to enjoy in the winter of 2009.
Related Reading: