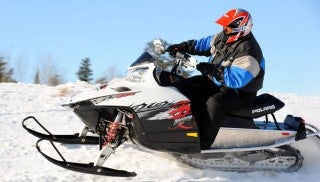 A focus on value, power and quality for 2009, with an eye to 2010
When Scott Swenson, the general manager for Polaris snowmobiles, stood in front of North America's snowmobile press corps in January to introduce the new 2009 Polaris snowmobile line-up, he got directly to the point. For next year, Polaris will reflect an expansion of the Shift line of 'value' models, increase the presence of the 800cc performance twin, and further refine all areas of production to insure the best quality products.
Surprisingly, he prefaced his remarks and introduction of the 2009 models by stating simply and emphatically that Polaris expects to make really big news with its 2010 line. There had been rumblings of some totally new sleds to come from Polaris, possibly for 2009, but Swenson's comments make it clear that 2010 is the target.
If we had to guess, Polaris is not going to chance a second 'Fusion' when it debuts its 2010 models and is paying close attention to getting it right. We'll go along with that, as we also think that Polaris may well introduce some 'firsts' for 2010. Among them may well be an industry-first anti-lock braking system, which would be a plus for performance riders and a safety feature for touring riders. But we'll have to wait it out like everyone else to see what this half-century old snowmobile company comes out with in 2010.
There's no need to wait until then, as we expect many of the 2009 sleds will continue past next season, especially the newly expanded Shift line. Of course, you never know. We expected the race replicant 600RR to survive—if not prosper. But the 600RR is history in North America. It will be available in limited numbers in Europe, Scandinavia and the 'Dr. Zhivago' Siberian countries. Apparently, there was just not enough interest in the race replica model, but we suspect that its somewhat extravagant pricing had a lot to do with the lack of sales appeal. If you bought one, hold on to it, as it should already be a collector's sled.
Shift ahead
While the RR disappears from the Polaris line, you'll find more emphasis on the Shift. Next year showcases more Shift models as Polaris states "…value is good, almost as good as horsepower. Every rider wants the most—and best—sled for the money." We won't disagree and based on reported Shift sales, the 2008 model launch was a success.
Built on the same basic Polaris IQ Chassis as the Dragon series, each 2009 Shift will feature a Polaris-built twin-cylinder Liberty engine. The key to this series is value. Still, Polaris recognizes that snowmobilers like to have a bit of uniqueness in their ride, so each Shift comes in all-black—no graphics, no logos and no extras that a rider would have to pay for but might not want. Of course, Shift buyers can still personalize and customize their sleds with a large collection of Pure Polaris accessories specifically designed for these models. These include an expanded selection of pre-cut, adhesive-backed graphics for the hoods and side panels, hand guards in several colors (with graphics available), a large selection of windshields, cargo bags, colored accessories and performance-enhancing products.
The expanded Shift offerings for 2009 include: Performance Sport Versions: • 550 IQ Shift—with the Polaris 550 fan-cooled twin with new exhaust system for increased power for 2009 • 600 IQ Shift—with 120 hp liquid-cooled 600 twin that debuted last year
Crossover: • 600 IQ Shift 136—a versatile model with 136" coupled suspension for great ride on trails and strong off-trail performance • 600 RMK Shift 144 and 600 RMK Shift 155—both powered by a Liberty 600 HO Cleanfire2 twin • 800 RMK Shift 144—combines the stripped-down RAW RMK chassis with a154 hp Liberty 800 HO twin.
More 800s
Expect to see more Polaris models with the 800 twin. As noted, the 800 highlights a Shift package. Introduced this current season in one deep snow model and a limited build, late release performance 800 IQ model, Polaris' powerful Liberty 800 HO features Polaris' latest Cleanfire4 engine technology and will be available in nine models in three distinctive model segments for 2009.
Polaris spokesmen note, "Trail riders have been eager to enjoy this compact, efficient and extremely powerful liquid-cooled twin. It delivers the outstanding acceleration trail riders crave for running corner to corner, and its size and output make it a popular choice for high-altitude."
For 2009, the 800 engine will be used in two Performance models (800 IQ and 800 Dragon SP), two Crossover models (800 Switchback and 800 Dragon Switchback) and five Deep Snow models (800 Assault, 800 RMK Shift 144, 800 RMK 155 and the 800 Dragon RMK 155 and 163).
This powerplant is a liquid-cooled 154-Hp twin with 4-injector Cleanfire4 fuel injection, digital ignition, a throttle position sensor (TPS), water temperature sensor (WTS) and detonation elimination technology (DET).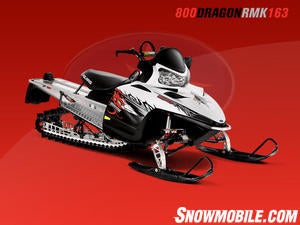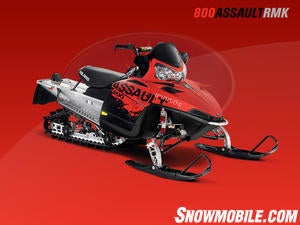 Extreme Assault
Polaris has been serious about the Western powder rider for decades now. The 2009 Assault is specifically aimed at the extreme deep snow rider and is what Polaris calls, "the first ever production backcountry/freestyle snowmobile."
The Assault features a competition-based long travel suspension; the powerful Liberty 800 HO Cleanfire engine; an aggressive new Competition track; Freestyle seat to accommodate stand-up riding; and a full complement of all-new Walker Evans Adjustable Air shocks. Other extreme powder necessities include Pro Taper handlebar, extreme duty suspension components (including rail beams), lightweight components, and race derived Cyclone brake master cylinder.
The front-end features an IQ IFS fitted with Walker Evans Adjustable Air Piggyback Shocks designed to deliver consistent performance through series after series of jumps and big landings. The front suspension is equipped with a pair of strong, lightweight Gripper skis for responsive steering and great flotation.
The rear suspension also has a pair of Walker Evans Air shocks, including a rear track shock with a remote reservoir for enhanced performance. The sled rides on a new 15-inch by 146-inch track with aggressive lugs to maximize traction.
While the Assault is the 'extreme' end of the deep powder line, Polaris' mountain models will include the 800 Dragon RMKs, available in 155-inch and 163-inch track lengths. They offer a strong combination of the 800 HO Cleanfire4 engine and IQ suspensions equipped with exclusive-to-Polaris Walker Evans Air shocks
The 2009 RMK line also features the use of a new lightweight and narrowed bumper and nose pan, lightweight spindles and A-arms and premium handlebars and air shocks on many models. Every component stresses less weight, durability and functionality in deep snow.
Special Edition 800 Dragon
When Polaris introduced the 154-Hp Liberty 800 HO Cleanfire4 twin in a top line deep snow model and a very limited build 800 IQ in February, performance riders knew that more was to come. In 2009, it comes as the Polaris 800 Dragon SP.
It is to the trail what the Assault is to the powder. As the 'SP' designation indicates, this is a special model that starts with a premium suspension, plus ergonomic and performance features common to Dragon models. But the 800 Dragon SP has several exclusive lightweight components and premium Walker Evan's shocks targeted to deliver the ultimate in trail performance.
The SP was designed for performance—at all levels—so it comes with components that were developed to be lightweight, yet still deliver exceptional ride, great handling and outstanding power. Unique features to the 800 Dragon SP are a special rear suspension—and the only 2009 performance model with it—designed to minimize weight yet optimize traction and ride. The newest Walker Evans remote reservoir adjustable air shocks are available only on the SP and the 800 Assault. A remote reservoir enhances oil cooling for consistent shock performance. The shocks' adjustability lets a rider dial in the handling to suit his preferences or conditions at hand.
Riders interested in the SP model should note that its availability will be limited to the Polaris Snow Check period, so you should check with a Polaris dealer or visit http://www.polarisindustries.com/ for specific details.
Crossover models
Ironically, a number of years ago Polaris almost stepped away from the 'crossover' segment, but stayed in it when Ski-Doo's Renegade reinvigorated this type of Polaris-created snowmobiling. For 2009, Polaris continues its evolution of models designed for use both on and off trail. There are six Polaris crossover models featuring the premium IQ 136 rear suspension and complementary easy-handling IQ IFS.
For 2009, every Switchback model (except the Shift) comes standard with electric start.
WideTrak IQ
For 2009, Polaris created a new WideTrak built on its IQ Chassis. It comes with long-travel IQ independent front suspension to give responsive handling with or without a cargo load. The rear suspension rides on a high-flotation track that has 1.25-inch deep lugs to ensure traction.
With seating and comfort features for one or two riders, this new workhorse comes with a tow hitch, cargo rack and clean, powerful and efficient 4-stroke engine to make it ideal for tackling jobs on any type of terrain.
There will also be a 550 fan-cooled version of the WideTrak that will be decontented and sold as the 550 Transport.
If you liked last year's touring models, you'll find pretty much the same for 2009 with IQ Touring and Trail Touring models reflecting evolutionary suspension and engine refinements. The 4stroke and 4stroke turbo engines are found in this grouping along with the Liberty 600cc twin.
Youth Served With Dragon 120 The 2009 Polaris lineup also includes the popular youth-sized 120 Dragon powered by a 120cc engine and featuring a true IFS for easy handling.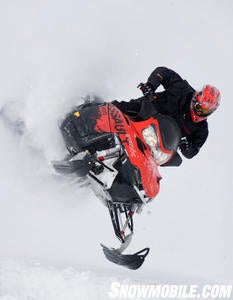 The 2009 Assault comes with 800cc and 154 hp of pure attitude.
Focus 2009
It appears that Polaris expects its return to power in snowmobiling to center around its 800cc Liberty Cleanfire4 and a strong focus on quality. At least that's the message for 2009, which could be taken as a 'holding' year until the 2010 models appear. We're not sure we'd go that far as 'new' sleds are not always that new and much of the previous generation takes a few seasons to disappear from the product mix. You can see evidence of that as remnants of the Indy chassis still manage to coexist with the newer IQ models even now. Yes, Polaris may have some special sleds for us in 2010, but what we see for 2009 is most likely going to be a big part of the Polaris snowmobile offering for the future. The 800 is potent. The SP works. The Assault fits extreme steep-and-deep riding. And the Shift is value-laden. Polaris has a pretty good handle on 2009. We wait with great interest to see what lies beyond.
Related Reading:
2009 Snowmobile Preview – Part II Polaris 600RR 2008 Polaris Shift