2009 Ski-Doo MX Z Adrenaline 600 E-TEC Review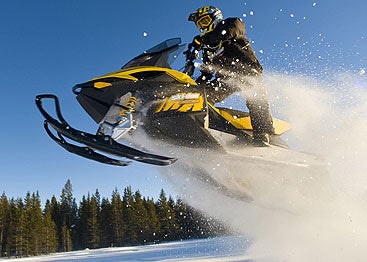 Lightweight, nimble, E-TEC-powered sled
All powersports writers have their favorites to one degree or another. Defining my favorites gets to be quite simple. Snowmobiles that are light in weight, grip a turn like a starving dog with a steak, have strong low to mid range performance with above average top end, offer a uniqueness of style, don't beat the crap out of me for 100 miles but make me smile and want to do another 100 — those are my favorites. Fortunately there are a number of sleds for 2009 that fit this role of 'favorite' ride. Among them is Ski-Doo's MXZ Adrenaline with 600cc E-TEC.
Fast Facts
Engine Type:Horizontal In-line
Cylinders:2
Engine Stroke:2-Stroke
Valve Configuration:Reed Valve
Displacement:594.4 / 36.3
Starter:Pull
Turbocharged:No
View Full Spec
The REV-XP chassis became last year's answer to a question many of us were asking. "How could Ski-Doo improve on the REV and stay #1?" We got our answer and a lighter weight, ever more nimble and even more stylized new MXZ series. The XP platform surfaced last season and has been expanded for this season. Key to the new aluminum chassis is its lighter weight and greater structural capability created by minimizing the number of components while maximizing their overall utility.
As Ski-Doo engineers explained, the rethinking of the original REV rider-forward platform began even before full-scale production ramped up with the first Ski-Doo MXZ 'REV' models. Ski-Doo immediately recognized they had a hit when they redefined how we rode. They brought the rider back into snowmobiling. With the REV you sat further forward and more upright. As you sat taller on the sled, you became an active rider. You could stand up quickly on the runningboard, grip the handlebars and attack bumps. When you leaned into a turn you gave the front end more bite. No longer were you a passive, legs-straight-out rider needing to grab the handlebar to pull yourself forward to get through the dirty bumps. The REV positioned you for the ride. You rode with an easy effort.
Competitive Response
Still, Ski-Doo engineers figured they would have to achieve a Stage Two to remain Number One. The all-new REV-XP chassis would be the answer. They had to have a 'next' step, because despite all the bad-mouthing of the REV design that immediately came from Arctic Cat, Polaris and Yamaha, Ski-Doo's engineers knew the competition would counter the REV with rider-forward designs of their own. Indeed, Polaris' unlamented Fusion with its multiple setting, ride-adjust handlebar presaged the current IQ models and suggested a ride-forward design was coming. Yamaha reworked the Apex with rider forward styling in the Deltabox II chassis and Arctic Cat departed from Firecats to a restyled F-Series to keep pace with Ski-Doo. Thanks to the competition, Ski-Doo appeared behind the rider-forward curve, even though the company pioneered the concept.
Fast-forward to model year 2009 and Ski-Doo moves aggressively back to the forefront of snowmobile platform design. The latest REV, the XP variation, is lighter than the original, provides eight-inches more leg room, is even more nimble, and, say Ski-Doo engineers, it's 37 percent tougher and more durable than the original REV. To emphasize the point, REV XP models like the 2009 MXZ Adrenaline 600 E-TEC feature bolder 'stealth' styling, seemingly borrowing a page from the Karpik Brothers and their FAST Blade snowmobiles from earlier this century.
E-TECH Arrives
Not borrowing from anyone else but themselves, Ski-Doo and Rotax teamed with BRP sibling Evinrude to bring a unique direct-injected 2-stroke engine to snowmobiling. The 600cc Rotax-built E-TEC twin seems to offer many benefits. First, since it's still a 2-stroke, the E-TEC twin weighs less than a similarly powered 4-stroke — less pieces like cams, etc. Second, since the new Evinrude-shared technology burns fuel more efficiently, the new 2-stroke twin uses half the oil of the Rotax 600 SDI. There's no more 2-stroke smoke or smell than a 4-stroke of similar displacement. Plus, the E-TEC twin offers one-pull starting (which we verified on our test runs), a three-year spark plug warranty, and a built-in 'summerization' program which eases off-season storage preparation.
When you look at the MXZ Adrenaline 600 E-TEC's main on-snow competition of Arctic Cat F6, Polaris IQ 600 and Yamaha Nytro, the Ski-Doo with its new 120 horsepower E-TEC twin-injected motor gives you the same or superior power to weight thanks to the lighter weight REV-XP chassis design. We figure each of the MXZ's ponies pulls a little more than 3.5 pounds versus the four pounds each that Yamaha's 130-hp Nytro must carry. Polaris' IQ 600 with the 125-hp version Liberty twin pushes 3.9 pounds per horsepower.
Ski-Doo claims an increase of 15 percent better fuel economy versus the older Rotax 600 SDI. We won't argue that, but normally we've gotten upwards of mid-teens for mileage with the SDI motor and a 15 percent improvement, for us anyway, is still less than 20 miles per US gallon. Of course, anything is an improvement when gasoline averages four bucks a gallon.
On The Trail
As we said at the beginning, our favorites are light in weight. At a claimed 425 pounds, the E-TEC powered MXZ Adrenaline gains our respect. The latest, more efficient versions of one of our all-time favorite Rotax engines gives us very useful performance for riding tight, forested trails. And the newest ride-forward seating combined with supple suspensions front and rear makes the 2009 MXZ Adrenaline fully capable of making us smile after a 100-mile tour.
The rear suspension provides upwards of 15-inches of travel. Damping on both front and rear suspension arms consists of high-pressure Kayaba shocks. This same shock package handles the double A-arm front suspension and its 9-inches of travel.
With Ski-Doo's REV-XP platform models, we've noticed it has taken us a little bit of getting used to. Oh, say, the first few corners. These sleds are so light and so responsive that you can throw them into a turn so much easier than you anticipated. You can take the Ski-Doo MXZ Adrenaline deeper into a turn before throwing serious body language into it. After a couple of tight turns you'll have it dialed in. And, while the front end and Ski-Doo's Pilot skis bite well enough, they don't grip the corner as hard as Arctic Cat's revised F-Series model does. But, then, the Cat's not this light either.
When we get serious about our snowmobiles, we know that the 2009 Ski-Doo MXZ Adrenaline 600 E-TEC is a really good in-season purchase. But, the best buy would have been the 'Spring Only' X-package with lots more goodies, including Ski-Doo's latest gizmo-loaded digital gauge; aluminum-bodied, take-apart 'clicker' shocks; lightweight racer-style seat; hooked-end handlebar; and upgraded Brembo brake components. Of course, that 'special' would have upped your purchase price from the Adrenaline's US$9,499.00. If you want handlebar hooks, you can add them later.
What you get in the 2009 MXZ Adrenaline 600 E-TEC is a lightweight sled with an engine that offers ample power with nearly all of a 4-stroke's advantages. The power-to-weight ratio makes for outstanding on-trail performance and it's made even better thanks to Ski-Doo's latest front and rear suspensions. Dollar for dollar, the 2009 MXZ Adrenaline 600 E-TEC proves itself as a snowmobiler's favorite.
2009 Ski-Doo MXZ Adrenaline 600 E-TEC
Engine
Rotax 600 High Output E-TEC two-stroke; liquid-cooled; twin with dual E-TEC injectors
Horsepower
120
Drive
Ski-Doo TRA drive system
Front Suspension
Ski-Doo double A-arm suspension; Kayaba HPG shocks; 9-inches of travel
Rear Suspension
Ski-Doo SC-5 parallel rail slide with Kayaba HPG shocks on front and rear arms; up to 15-inches of travel
Length
113.8 in
Width
47.9 in
Ski Stance
47.0 in
Track
15 x 120 x 1.0 Lightweight Rip Saw
Weight
425 (claimed)
Fuel Capacity
10.6 US Gal
MSRP
$9,499
Related Reading:
2009 Ski-Doo E-TEC
2009 Ski-Doo MXZ 550X Review
2009 Ski-Doo Summit Fan Review
2009 Ski-Doo Legend Touring Review