2009 Ski-Doo Summit Everest 800 Review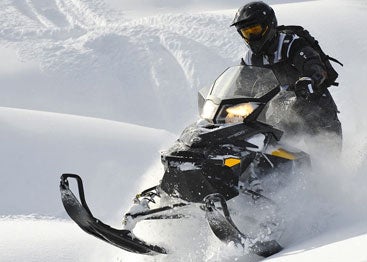 Powerful engine and lightweight chassis makes for exemplary hill climbing
It took Ski-Doo a bit of time to truly understand the deep snow market as well as Polaris and Arctic Cat. But once the lessons were learned, the Quebec-based snowmobiling pioneer saw its western market sales climb as fast as… well, a lightweight Ski-Doo Summit!
Fast Facts
Engine Type:Horizontal In-line
Cylinders:2
Engine Stroke:2-Stroke
Valve Configuration:Reed Valve
Displacement:799.5 / 48.8
Starter:Pull
Turbocharged:No
View Full Spec
Back in 1994 Ski-Doo marketing types recognized the sales potential in the deep snow markets and used marketing tricks primarily used to sell packaged goods like soap and cigarettes. Ski-Doo gave the special western niche models their own name — Summit. They came in a special coloration — evergreen and blue to hint of mountain tree lines and open skies at the top of a mountain summit.
This was Ski-Doo's introduction of new-for-Ski-Doo deep powder models. While Ski-Doo headed into 1994 with a 580cc twin, Arctic Cat powered ahead of the pack with a 900cc Thundercat sporting a long track and massive for the day, big bore, big displacement, 160 horsepower triple. Polaris answered with an 800cc triple in a Snow King Special package. Even Yamaha came to this party. The Japanese snowmobile manufacturer added a 136-inch track to its 743cc Vmax-4. The big runners were heavy and Ski-Doo felt that its 100-hp Summit 583 with High Altitude Compensation could compete.
Well, that was wishful thinking, and Ski-Doo quickly brought a Summit 670 to the mountains. The key difference from the Summit 583 was a more powerful twin cylinder engine. That was to appeal to the westerners cry for 'bigger and lighter'.
2009 Powder Play
Now we move ahead about a decade and a half. Ski-Doo knows how the game is played and plays it well. If more horsepower is good, less weight with more horsepower is better! Enter the 2009 Summit Everest, Ski-Doo's in-season sales player. We say in-season because Ski-Doo's Summit X packages had more features but were offered as 'Spring Only' models.
If you missed out on the 'X', too bad. But, don't despair; the Summit Everest is pretty darn good. First of all, Ski-Doo comes to powder country with some clout in its Rotax 800R series twin. Rated at a claimed 151-hp, the big bore twin offers strong performance for churning through powder and highmarking steep hillsides. Its monoblock cylinder design makes extra room around the cylinders for larger intake, exhaust and transfer ports. The crankcase is liquid-cooled with a cooling flow rated at 130 liters per minute. This stout crankcase also serves as the engine's mounting point, thus eliminating weight and extra components. Another advantage of the automotive-like monoblock design is its rigidity.
While there was a previous Rotax engine design with similar specifications, this next generation Rotax 800 incorporates some sophisticated features, like its 3-D RAVE exhaust valves.
3-D Exhaust Valves
The 3-D name references: three-opening positions; valve control of three exhaust port openings per cylinder; and 3-D mapping to determine valve operation.
In general, smaller exhaust port openings will produce the best torque, fuel economy and emissions. Larger exhaust ports create the best power. First seen on Ski-Doo snowmobiles in the late1980s, the Rotax exhaust valves effectively gave snowmobilers small exhaust ports for idling and cruising (valve closed) and large exhaust ports for top-end speeds (valve open). That early RAVE system used exhaust pressure and timing determined by the valve spring pressure.
The 3-D design adds an intermediate opening position for better performance and fuel economy at speeds from approximately 25 to 60 mph. This was accomplished by splitting the single valve/guillotine into two. When the engine is off, the primary guillotine is closed and the secondary one — including side ports — is open. At idle and at low speeds, crankcase vacuum pressure sucks the secondary valve closed. Then, at the engine's mid-range speeds, an electronically controlled module opens the secondary valve to its neutral position by releasing the vacuum. Once the engine reaches higher speeds, the ECM controls crankcase pressure to push open the primary valve.
While this is all very exciting to a tech head, what it means to the powder rider is simply a great combination of performance and fuel economy. This set of sophisticated electronics relies on a powerful ECM that processes information from a variety of sensors, including crank position, atmospheric pressure, throttle position, knock, ambient air temperature and engine temperature.
Knock Sensor
Based on data from the knock sensor, the Rotax 800R twin adjusts for regular or premium fuel by automatically changing ignition timing and fuel delivery. Previous PowerTEK and SDI engines simply adjusted timing.
To help get the 10 percent increase in power versus the previous generation 800 twin, the 800R features a larger airbox; new tuned pipe and muffler; and, magneto housing that uses plastic instead of aluminum to reduce weight and sound.
Less Weight
With more than 150 horsepower to keep hill climbers happy, Ski-Doo engineers worked equally hard at subtracting weight. The Ski-Doo Summit Everest comes with the lightest powder platform available — the REV-XP. With the extra long 163-inch track, the Summit Everest 800 weighs in at a claimed 444-pounds. And it goes d-o-w-n from there with the shorter track options of 154-in or 146-in. All of these PowderMax tracks measure 16 inches wide for added flotation.
With its Ski-Doo pioneered rider-forward chassis geometry, the Summit Everest offers a centered riding position for deep snow maneuverability. The chassis offers exceptional legroom, wide running boards and a sculpted fuel tank that provides room to move as well as better leverage. Relocating the jackshaft and secondary clutch over the tunnel adds legroom.
Powder Suspension
With ample power for powder running, the front and rear suspension systems were designed specifically for this mountain sled. The SC-5M rear suspension is tuned to keep the sled flat and controlled for climbing but still allowing lift for the Summit Everest to get up on top of powder.
Ski-Doo's front suspension features long A-arms, forged aluminum ski spindles and a link-type sway bar. The ski stance can be adjusted from 40 to 42.5 inches center-to-center.
Ample power and reduced weight describe a powder sled, but Ski-Doo adds extra touches for 'livability'. As with other Rotax two-stroke engines, there is the convenience of a simple push-button Rotax Electronic Reverse. This system is light on added weight but heavy on convenience.
There's also a very nice to have multi-functional gauge that sports an analog speedometer and tachometer as well as a display for the fuel gauge, odometer, dual trip meters, hour meter and hand warmer level.
Ski-Doo may have been a little behind when it came to powder sleds back in 1994, but since that first Summit 583, the marketing and engineering crews have grabbed market share with sleds western riders want — and, often, prefer.
2009 Ski-Doo Summit Everest 800R
Engine
Rotax 799.5cc, Power TEC 2-stroke; liquid-cooled; twin with 2—40mm TM-40 carbs
Horsepower
151
Drive
Ski-Doo TRA VIII drive system with QRS secondary
Front Suspension
Ski-Doo double A-arm suspension; Kayaba HPG shocks; 9-inches of travel
Rear Suspension
Ski-Doo SC-5M parallel rail slide with Kayaba HPG shocks on front and rear arms; up to 16-inches of travel
Length
134.6 in
Width
47.4 in
Height
46.0 in
Ski Stance
Adjustable from 40.0 to 42.5 in
Track
16 x 163 x 2.25 Powder Track
Weight
444
Fuel Capacity
10.6 US Gal
MSRP
$10,699
Related Reading:
2009 Ski-Doo Summit Fan Review