Gulla, LaVallee win Pro championships
Polaris riders secure titles in Geneva
Story by Snowmobile.com Staff, Mar. 25, 2009
Email a friend
Print Friendly

RSS
Polaris teammates TJ Gulla and Levi LaVallee wrapped up successful snocross seasons at Lake Geneva March 21-22 by clinching the Pro championships in the AMSOIL Championship Snocross Series.
After coming up just one point shy of winning the year-end title a year ago, Gulla came into the Pro Open final with a 15-point lead over teammate Brett Bender. All Gulla needed to clinch the championship was to finish 13th or better.
Bender grabbed the lead at the start of the 14-lap final, followed by Ian Hayden (Yamaha), Steve Taylor (Yamaha), Brett Turcotte (Arctic Cat), Gulla and Garth Kaufman (Arctic Cat). Turcotte pushed Taylor over the berm coming into the finish line jump early in the race, which shuffled Taylor back to the pack and earned Turcotte a black flag.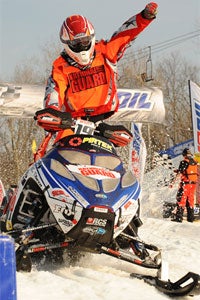 Karfman worked his way around Gulla to move into third place and got by Hayden a short time later and was trying to chase down Bender for the lead. Hayden eventually relinquished third place to Gulla after the Polaris pilot made a slick pass. The move by Gulla settled the top of the field into their final finishing order, with Bender nabbing first, Kaufman second and Gulla third, which was more than enough to clinch the Pro Open championship.
"I knew exactly where I had to finish," says Gulla. "The year started out a little shaky but we stuck with it and got stronger near the end of the season. After losing the championship last year by one point I really didn't care if I won it this year by one point or twenty."
The Pro Super Stock final was full of excitement as LaVallee and Kaufman were tied for the points lead coming out of qualifiers. LaVallee got off to a great start and was at the front of the pack, while Kaufman was in seventh place after the first turn. Gulla, Matt Piche (Arctic Cat) and Mathiew Morin (Ski-Doo) were right behind LaVallee.
Kaufman had a lot of work to do if he was going to reel in LaVallee. He worked his way through the pack and eventually moved up to fourth, but he wouldn't get any closer.
At the front of pack, LaVallee was doing his best to hold teammate Gulla at bay. Gulla was on his heels the entire 14-lap final, but LaVallee rode a fast, smart race and crossed the finish line in first, winning the Pro Super Stock championship in the process.
"I'm so happy right now, I don't know what to say," LaVallee said from the top of the podium. "I can't begin to thank everyone involved with our team. For the past three years it seems all I did was get hurt or fall on my head. I just want to thank everyone for sticking with me."
"I'm super pumped for Levi, he deserves this win and this championship," says Gulla. "He was super squirrelly during the first couple laps and I wanted to tell him to chill out.
Davis, Tremblay win Semi-Pro titles
The task for Arctic Cat's Cory Davis was simple as the Semi-Pro Super Stock final came to the line: keep Tim Tremblay (Ski-Doo) behind him. Doing so would assure Davis the year-end Semi-Pro Super Stock championship.
Davis got off to a good start and was sitting in third behind Matt Pichner (Arctic Cat) and Dan Ebert (Arctic Cat), while Tremblay struggled and was well back of the leaders.
Just two laps in to the 12-lap final Ebert unloaded while negotiating one of the treacherous downhill portions of the course. That shuffled Davis and Christian Salemark (Arctic Cat) up behind Pichner.
Not long after, Davis slipped past Pichner for the lead, and Salemark followed suit one lap later. Much deeper in the pack, Tremblay was putting on a clinic of passing prowess, working his way up from ninth to fourth by lap seven. Tremblay was forced to overcome a bad start and was executing the fastest laps on the track by as much as 2-seconds a lap.
With Davis riding safe, Salemark made the pass to take over the lead. Tremblay also had one more pass in him, getting by Logan Christian (Arctic Cat) for the final podium spot.
"Coming into the final I knew where I was at in the point chase," said Davis. "I was thinking about the championship the entire time I was out there. I was so nervous and Christian (Salemark) was so fast, I just wanted to stay clean."
The battle for the Semi-Pro Open championship wasn't as dramatic, but it proved to be much closer than eventual champion Tremblay would have liked. Leading in the standings by 11 points over Bobby LePage (Polaris) and 15 points in front of Ebert; it appeared to be Tremblay's championship to lose, having to finish 6th or better if LePage took the win or 10th or better if Ebert took the win.
Things didn't start out well for Tremblay as Ebert quickly pulled out to a comfortable lead. LePage was running fourth until a bobble on lap five shuffled him back to seventh place and out of contention for the year-end crown. Tremblay, meanwhile, was back in 10th - the virtual bubble for the Quebec rider.
Ebert continued to lead the way, keeping a 3-second gap between himself and Paul Bauerly (Arctic Cat). Trembley, however, was able to fight his way to ninth place to secure the title.
"If I could sum up this season in one word it would be injuries," says Ebert. "Missing the race in Duluth at the start of the season really hurt my chances. And a week ago I could barely walk. I really didn't think I was going to be able to race this weekend."
AMSOIL Championship Snocross Series Standings:
Pro Open Standings
Pro Super Stock Standings
Pos.
Rider
Sled
Points
Pos.
Rider
Sled
Points
1.
TJ Gulla
Polaris
230
1.
Levi LaVallee
Polaris
232
2.
Brett Bender
Polaris
210
2.
Garth Kaufman
Arctic Cat
225
3.
Levi LaVallee
Polaris
207
3.
TJ Gulla
Polaris
217
4.
Garth Kaufman
Arctic Cat
194
4.
Ryan Simons
Arctic Cat
216
5.
Ryan Simons
Arctic Cat
187
5.
Shaun Crapo
Polaris
189
Semi-Pro Open Standings
Semi-Pro Super Stock Standings
Pos.
Rider
Sled
Points
Pos.
Rider
Sled
Points
1.
Tim Tremblay
Ski-Doo
231
1.
Cory Davis
Arctic Cat
252
2.
Dan Ebert
Arctic Cat
229
2.
Tim Tremblay
Ski-Doo
244
3.
Bobby LePage
Polaris
222
3.
Dan Ebert
Arctic Cat
212
4.
Christian Salemark
Arctic Cat
209
4.
Christian Salemark
Arctic Cat
208
5.
Paul Bauerly
Ski-Doo
207
5.
Paul Bauerly
Ski-Doo
188
Related Reading

Polaris sweeps Pro classes