Hibbert Dominates Snocross in Chicago

Nine wins in 12 races for Hibbert this season
Tucker Hibbert earned another weekend sweep with a pair of victories at Chicago's Route 66 Raceway's Hollywood Casino Snocross National, part of the AMSOIL Championship Snocross series.
Hibbert (Monster/Arctic Cat/Ram) left no doubt as to not only who was the fastest Pro Open racer on Friday at Route 66, but also who wanted it most. In somewhat un-Hibbert like fashion the defending Pro Open champ and current class point leader put an aggressive first corner pass on the Stud Boy Holeshot winner, Kyle Pallin (LaVallee Racing/Polaris), bumped Pallin out of the way and taking the lead. It was one he would never relinquish.
"It was a good race for me. Got a great start and put down some fast laps early," says Hibbert. "The track was really technical, a lot like supercross. And I was having a lot of fun out there, and that's when I ride my best."
Hibbert's opening corner move on Pallin kind of caught everyone by surprise as the defending series champ usually bides his time in an effort to reach the front. The move also foreshadowed some redemption for Pallin, which came versus Ross Martin (Judnick Motorsports/Polaris) late in the contest in a battle for the third and final podium spot.
With Hibbert up eight seconds by lap 6 on No. 2 Pro Open qualifier Tim Tremblay (AMSOIL/Scheuring/Ski-Doo), and Tremblay having a solid lead on third place Martin and fourth place Pallin as well, fans keyed in on the battle for fifth between Jake Scott (LaVallee Racing/Polaris) and the No. 4 qualifier John Stenberg (Warnert Racing/Ski-Doo). That battle would rage on for a few laps before Logan Christian (Christian Brothers/Arctic Cat) ripped up into the mix and grabbed fifth place, which he'd hold on to through the checkers.
With Hibbert and Tremblay in complete command of the first and second positions on the podium, the battle ensued between Martin and Pallin for the third and final podium spot. Martin looked to have it, but a mistake leading into the final turn allowed Pallin to dive past Martin and snatch the final podium position away from his fellow Polaris racer.
"That was a crazy race," says Pallin. "You can't ever give up – no matter what. I stayed on Ross, saw him make a little mistake and capitalized off it on the last turn. Man that was a great race!"
In Saturday's Pro Open main event, Martin looked to rebound from Friday's fourth place finish when he grabbed the Stud Boy holeshot. Hibbert, though, avoided being pinched in the first turn from his inside No. 1 gate pick and ran up into a close second place behind Martin. And before you could say "end of the first lap" Hibbert was past Martin and into the lead, which he stretched to over 10 second by race's end.
Dominant was an understatement for Hibbert at Route 66 Raceway this weekend. He just flat out crushed it.
"This whole weekend's been great for us," says Hibbert, who logged his 104th career win on Saturday. "We won all of our qualifiers and both main events.
The technical Carl Schubitzke designed & built Route 66 track won praise from Hibbert and the other racers all weekend long. Its supercross-style layout suited Hibbert best, no doubt part in due to Hibbert's extensive supercross racing background.
With Hibbert checked out early and Martin holding strong in second place, a great battle brewed between Pallin and Christian for the third and final podium position. And while those two were going at it, Martin blew off the track.
Tremblay, who had a mediocre start, put on a charge to challenge Pallin and Christian for podium position. The former champ passed Pallin on lap four (just prior to Martin's off), inherited third with the Martin wreck, then moved up on to Christian and started what became the best battle of the weekend in the Pro Open class for several laps.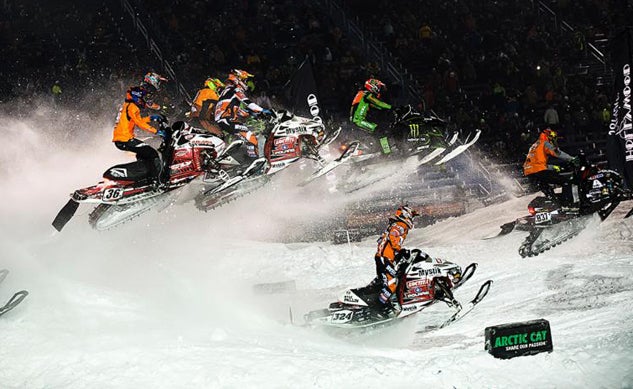 As Hibbert navigated the lapped traffic with seemingly no problems, Christian put it on the edge to hold off former Tremblay. And just when it seemed like Tremblay would get the upper hand, momentarily passing Christian at the beginning of the back stretch, Tremblay suffered a sizable get-off, pulling his safety tether from the sled as he dismounted and tumbled after casing the landing on a double jump.
Gathering his sled up quickly, Tremblay was able to remount – but not before Pallin came ripping by to take the third and final podium spot. Tremblay held on for fourth, with Adam Renheim (Boss Racing/Ski-Doo) placing fifth.