Hibbert Sweeps Pro Races At Seneca Allegany Air Force Snocross
Scott wins twice in Pro Lite
Story by Staff, Feb. 25, 2013
Email a friend
Print Friendly

RSS
Remember earlier this month at
Deadwood Snocross
when it looked like the field finally figured out how to keep Tucker Hibbert (Monster Energy/Arctic Cat) in check? All Hibbert has done in the following three weeks is reel off four straight wins, including two this past weekend at the Seneca Allegany Air Force Snocross event in Salamanca, NY.
Hibbert's masterful weekend got off to a great start on Friday night as thousands of fans poured out of the packed grandstands and lined the hill adjacent to the AMSOIL Championship Snocross track at Seneca Allegany Casino.
Rocketing out of the gate in the night's final contest, Kyle Pallin (Mystik Lubricants/Loctite/Polaris) pulled the Stud Boy Holeshot, but was quickly caught by the No. 1 qualifier Ross Martin (DuPont/Jack Links/Polaris). Hibbert finished a surprising fifth in qualifying and ran the risk of getting caught up at the start and forced back to mid-pack. But a fourth place start would dash the hopes of those wanting to see Hibbert make one of his classic runs through the pack as, before you could say "Lap Two," Hibbert was already past Polaris' Justin Broberg and Pallin and into second place - roughly 4.3 second back of Martin.
With a clear track and no lappers in site Martin clicked off a 25.852 to Hibbert's 26.857 lap time on lap four. And for a brief moment it looked like we might have a race. But on lap six Hibbert would take advantage of Martin checking up just briefly off a jump landing, dove to the inside and was gone – just like that.
"We've got to catch that son-of-a-gun," Martin said from his spot on the second rung of the podium after the race.
Hibbert rode another perfect race. He seemed to use lapped professional riders on 450-pound sleds as ski gates, weaving in and out of the traffic with such ease that Martin and the others chasing him could never make up any time. By the last lap, where Hibbert finally slowed his pace just enough to look over his shoulder and see who was around, he still had over a ten-second lead on second place Martin.
"Felt really good tonight. Ross got out to a great start and was doing a step-up (jump) on the back of the track that I really didn't want to do," says Hibbert. "But I ended up stepping up and doing it. It was a great race tonight."
Battling through the pack and coming away with another solid podium performance was defending AMSOIL Championship Snocross Pro Open champion Tim Tremblay (Scheuring Speed Sports/Rockstar/Ski-Doo). Tremblay had a great race early with former teammate Emil Ohman (Ski-Doo/XPS/Warnert Racing), then another thrilling battle late in the race with rookie Pro Open racer Kody Kamm (Polaris/Monster Energy/Hentges Racing).
"I didn't have such a great start, then wasn't paying attention later in the race and was running wide," says Tremblay, who qualified eighth for Friday's Pro Open main. "Then I saw Kamm coming on hard and thought to myself 'I've just got to make the podium.'"
When the start light flashed green to open the Pro Open main event on Saturday night, for the second night in a row, Kyle Pallin nailed the Stud Boy Holeshot. And nearly getting bounced out of the first turn - from his No. 1 qualifying spot and gate pick was Hibbert, who managed to hold things together and got out of the first turn in fourth place.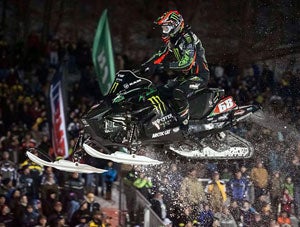 Pallin's lead would again be short-lived as Ross Martin blasted up front as the green flag flew on lap two of the 24-lap contest. But what looked to be a race that was shaping up between Hibbert and Martin soon turned into another clinic as Hibbert cracked the throttle and, in one fell swoop, launched past both Pallin and Martin on an outside line through the rhythm section and into the lead – a lead he'd never relinquish.
"That was another wild ride. The track's demanding and the pace was unreal," says Hibbert. "But I'm pumped to be up here again ... it was a great weekend for us."
With Hibbert checking out the battle for the final Pro Open podium spots got interesting quick. Tim Tremblay had been flying all day, and by lap seven he was up to fourth place and pressuring Pallin. At the race's midway point (lap 12) Hibbert was up by eight seconds on Martin and Kody Kamm had moved up to fifth.
By lap 17 Tremblay had since got by Pallin and was closing on Martin – who he passed with seeming ease as it appeared Martin began to slow in the later stages of the race. Pallin would then pressure Martin for third, but went down in his effort between turns three and four. Martin slowed even further – running a 40-second lap late in the race when 25 to 26-second laps had been the norm. Kamm would and made the final podium spot, with Tremblay in second for his second podium finish of the weekend.
"The first couple of laps it got crazy rough," says Kamm. "But I capitalized on whoever fell off (Pallin) on the back part of the course when they were battling for 2nd and 3rd - and I was able to get up here."

"It was a good race. I worked my way up to 2nd place," says Tremblay. "The roost got really bad there at the end, but it was a good race overall. The fans from New York here were great."
With the win Hibbert increased his Pro Open championship points lead to 73 points over Tremblay, 489-425.
Pro Lite
A spectacular start from the back row by Pro Lite points leader Jake Scott (Mystik Lubricants/Loctite/Polaris) would be the highlight of Friday's Pro Lite main event at Seneca Allegany Casino. Scott railed to a second place position after the third turn, then soon parlayed that amazing start to the race lead over Andrew Carlson (Polaris/Carlson Motorsports) and brought it home to the checkers.
"I can't believe it!" says Scott. "I would have been pumped with a top seven start. I honestly can't tell you how I ended up winning from the back row. With all my family and friends here from New York I just had to show them something!"
Scott ran fast and flawless, opening up a 6.5 second lead through lap 11. Running into some lapped traffic would be the only hiccup in his effort when he changed up his line through the rhythm section, got bucked sideways and was nearly pitched off his sled. But Scott reeled it back in and ran clean through the last five laps of the 16-lap main for the win.
Tied with Scott in the overall points chase heading into Friday's Pro Lite final was David Joanis (Royal Distributing/Ski-Doo). Qualifying fifth (to Scott's 11th), Joanis got a solid start but was soon clipped by another rider and nearly left his sled. But he would rally back to sixth by the midway point of the race, then began picking off the top Pro Lite guys until finally passing Carlson for third and some highly important series points.
"I got a great start, then somebody cut me off. After that I made a charge and am glad to be up here," says Joanis. "But hat's off to these two (Scott and second place Travis Muller). They rode awesome."
Muller (NSK/Foremost Insurance/Ski-Doo), who qualified in third, got out of the start in third place and moved into second past Carlson on lap seven. Trailing Scott by 5.5 seconds at that point of the race, Muller wasn't able to make up the distance to challenge Scott – but he didn't give up any time to the hard-charging Joanis either.
"Good track tonight that was nice and wide, made for some good racing," says Muller.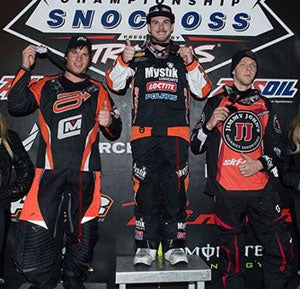 In Saturday's Pro Lite final, Jake Scott would have to overcome a high speed get-off that left him limping off the track in an afternoon qualifying race. Scott, however, proved his mettle in front of his hometown fans, pulling another spectacular start, then riding a near perfect race to the checkers to complete the weekend sweep.
Scott, in his pursuit of his first overall Pro Lite championship, would also get another boost in the points as David Joanis, who was tied in points with Scott heading into this weekend's racing, was black flagged for what ISOC officials deemed "overly aggressive riding" in the Pro Lite main when Joanis collided with New York racer Corin Todd (Polaris) and knocked Todd off his sled. This would prove to be a huge blow to Joanis' championship hopes.
"He (Joanis) was riding too aggressively and clearly took Todd out," says ISOC's Carl Schubitzke, president of racing and operations, on the black flag on Joanis.
With the potential second (Todd) and third (Joanis) place finishers now out of the running for the podium spots behind Scott, Andrew Carlson and Renaud Alexandre (BOSS Racing/Jimmy John's/Ski-Doo) would each move up a couple notches and round out the podium in the crazy Saturday Pro Lite main event at Seneca Allegany Casino.
With the victory and Joanis' subsequent black flag, Scott takes a 19-point lead in the Pro Lite overall championship points chase to the penultimate round of AMSOIL Championship Snocross – the Ram Pro National – at Buffalo River Race Park outside Fargo, ND.
ACSS Pro-Open Standings
ACSS Pro Lite Standings
Pos.
Rider
Sled
Points
Pos.
Rider
Sled
Points
1.
Tucker Hibbert
Arctic Cat
498
1.
Jake Scott
Polaris
437
2.
Tim Tremblay
Ski-Doo
425
2.
David Joanis
Ski-Doo
418
3.
Ross Martin
Polaris
420
3.
Travis Muller
Ski-Doo
397
4.
Kody Kamm
Polaris
354
4.
Andrew Lieders
Polaris
392
5.
Emil Ohman
Ski-Doo
337
5.
Renaud Alexandre
Ski-Doo
382
6.
Robbie Malinoski
Ski-Doo
335
6.
Dylan Hall
Ski-Doo
323
7.
Logan Christian
Arctic Cat
333
7
Andrew Carlson
Polaris
313
8.
Darris Mees
Ski-Doo
322
8.
Trevor Leighton
Polaris
273
9.
Kyle Pallin
Polaris
313
9.
Corey Watkinson
Ski-Doo
253
10.
Justin Broberg
Polaris
305
10.
Chase Rosemeyer
Ski-Doo
253