World Snowmobile Expo adds new events

World Snowmobile Expo adds new events
Recognized as the largest snowmobile event in the West, the West Yellowstone World Snowmobile Expo has added some new events in its 19th year. Festivities take place from March 13 to 15, 2009 in West Yellowstone, Mont.
This year's Expo will include new competitions like ATV racing and a Toughman Enduro Race, in addition to favorites like snowmobile aerials, snocross racing, drag racing, and a vintage snowmobile show.
Also, Arctic Cat, Polaris, Skidoo and Yamaha will unveil their new 2010 snowmobile lines for the first time to the public, while hundreds of new aftermarket exhibits will be on display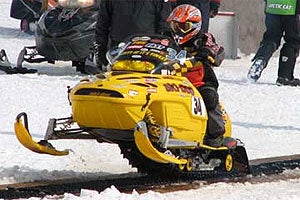 The Toughman Enduro Race features three-man teams using the same snowmobile (stock 600cc or less). Amateur and professional teams will compete to see who can finish the most laps in two hours.
Mountain West Racing (MWR) ATV racing features three classes (amateur, pro and UTV) battling on the same course used for snocross. Pros will compete for a $2,000 purse.
The SnoWest Snocross is the biggest event of the season for MWR. It's also the most prestigious as racers compete for national attention. This event has helped ignite the careers of snocross stars like Blair Morgan, Tucker Hibbert and the Crapo brothers.
Snow drag races are back for a sixth time. Starting pads offer every racer equal start conditions as four lanes of head-to-head racing will take place.
Expo 2009 features the return the Octane Addictions Aerial Demo. West Yellowstone locals Courtney and Whitney Hungerford created freestyle in their own background, a sport that now has national recognition.
For more information, visit the official site at http://www.snowmobileexpo.com/.