OEMs reveal Sneak Peek sched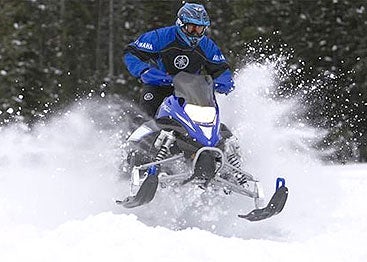 All four snowmobile manufacturers to show off new 2009 models
All four of the major snowmobile manufacturers—Ski-Doo, Polaris, Arctic Cat and Yamaha—are offering riders the opportunity to see all the hot new 2009 models together in one place.
Working together to put on the 2009 Manufacturer Sneak Peek tour, the four snowmobile OEMs will be touring popular snowmobiling cities across the snowbelt. Snowmobilers can enjoy a 'one night, one location' look at the new rides from all four brands.
Three fleets of 18-wheelers will crisscross the snowbelt to produce three separate tours—of the western US, eastern US and Canada. The 2009 Sneek Peek events run from March 12 through April 14.
For full details on the tour, including show times and locations, visit http://www.snowsneakpeek.com/.
2009 Sneak Peek Schedule:
Western US Tour
March 13-16
West Yellowstone, Mont.
World Snowmobile Expo
March 18
Denver, Colo.
Merchandise Mart
March 20
Salt Lake City, Utah
South Towne Expo Center
March 25
Boise, Idaho
Expo Idaho
March 27-30
Jackson Hole, Wyo
World Championship Snowmobile Hillclimb
April 2
Tacoma, Wash
Tacoma Convention Center
April 4
Spokane, Wash.
Expo Center
April 9-13
Summit Lake, Alaska
Arctic Man Race
Eastern US Tour
March 12
Minneapolis, Minn.
Minneapolis Convention Center
March 14-16
Lake Geneva, Wis.
Grand Geneva Resort & Spa
March 18
Grand Rapids, Mich.
Delta Plex
March 20
Bay City, Mich.
Hang Time Sports Complex
March 24
Novi, Mich.
Rock Financial Showplace
March 12
Minneapolis, Minn.
Minneapolis Convention Center
March 26
Monroeville, Pa.
Pittsburg Expo Mart
March 31
Manchester, NH
Radisson Hotel Manchester
April 2
Lancaster, Pa.
Lancaster Resort
April 4
Syracuse, NY
OnCenter
April 7
Augusta, Me.
Augusta Civic Center
April 10
Green Bay, Wis.
Shopko Hall
April 14
Fargo, ND
Fargo Civic Center
Canadian Tour
March 21-22
Laval, Que.
Place Forzani
March 24
Kanata, Ont.
Bell Sensplex
March 28-29
Quebec City
Les Galeries de la Capitale
March 31
London, Ont.
London Convention Centre
April 2
Barrie, Ont.
Georgian College
April 6
Winnipeg
MacDon Exhibition Centre
April 9
Regina, Sask
IPSCO Place
April 12
Edmonton
Northlands AgriCom Hall D
Related Reading: 2009 Ski-Doo preview 2009 Arctic Cat preview 2009 Yamaha Nytro XTX