Textron Introduces Itself to Snowmobilers at Hay Days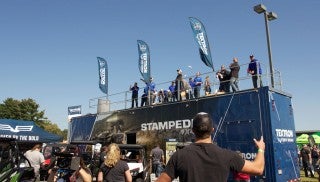 Textron tried to calm the fears of Arctic Cat fans at Hay Days and used the event to introduce itself to snowmobilers across the industry.
Some of the most die hard, loyal customers in the snowmobile industry are Arctic Cat consumers; they have been there with Arctic Cat through the ups and downs for many decades. Many Arctic Cat fans probably wondered who Textron even was after the acquisition. Textron is getting to know the new company, and environment it has entered.
Many have wondered what Textron would do with its snowmobile line. To quiet these fears Textron made a very big and impressive presence at Hay Days 2017, and introduced itself to the attendees at Hay Days.
Textron had impressive displays of snowmobiles, ATVs and UTVs. At 1:00 PM on Saturday, Textron released its all new 2018 Arctic Cat ZR6000R SX snocross race machine. Prior to the introduction of the new ZR, Textron officials introduced themselves to the consumers present at the show. They first introduced other products they manufacture like the Cessna Citation X+, which holds the honor of being the world's highest and fastest flying civilian jet. Then they showed the crowd pictures of the Bell Helicopter V-22 tiltrotor aircraft, which is currently used by the US Marines and the US Air Force.   Textron assured the crowd it would continue to design and develop snowmobiles, ATVs, and UTVs.
One change Textron made that has many Arctic Cat loyalists scratching their heads was dropping the Arctic Cat name from the ATV and UTV line and naming it Textron Off Road. Textron assured us, however, names like Alterra and Wildcat are here to stay. Attendees at Hay Days were assured that jobs in Minnesota, would stay in Minnesota. The engine manufacturing plant was moved to St Cloud, Minn., ensuring that jobs would stay in the US rather than go overseas.
Late this winter we learned of Textron's acquisition of Arctic Cat, at Snow Shoot, in West Yellowstone, Mont. We left with more questions than answers as to the future of Arctic Cat. Textron's strong presence and presentations at Hay Days 2017 left no doubt the future of Arctic Cat is in good hands; not only to Arctic Cat's customers, but its employees as well.