2012 Arctic Cat Sno Pro 600 Specs and Photos

At long last, Arctic Cat has revealed the photos and specs for the 2012 Sno Pro 600 Snocross and Cross Country sleds.
You can check out a few photos in this post, but click here for the full gallery.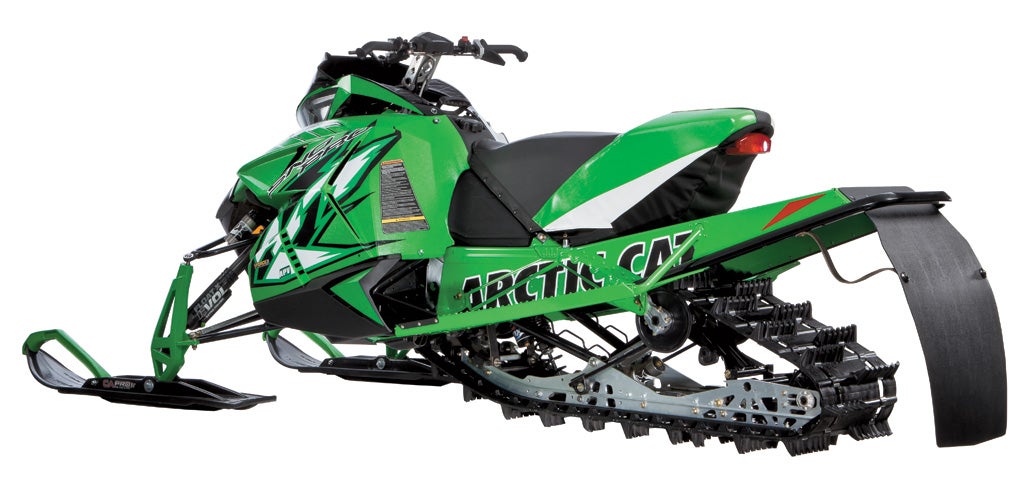 The sled was initially introduced at Haydays in September, where thousands of Arctic Cat race fans attended the first unveiling.
"Our talented engineers have built our best Sno Pro race sled to date, and that says a lot considering we won every major race or championship title last season," says Claude Jordan, Arctic Cat CEO. "It's going to be a tough year for our competition, but an even better year for our Team Arctic race fans."
Check out the full specs for both the Snocross and Cross Country versions of the 2012 Sno Pro 600 below the jump.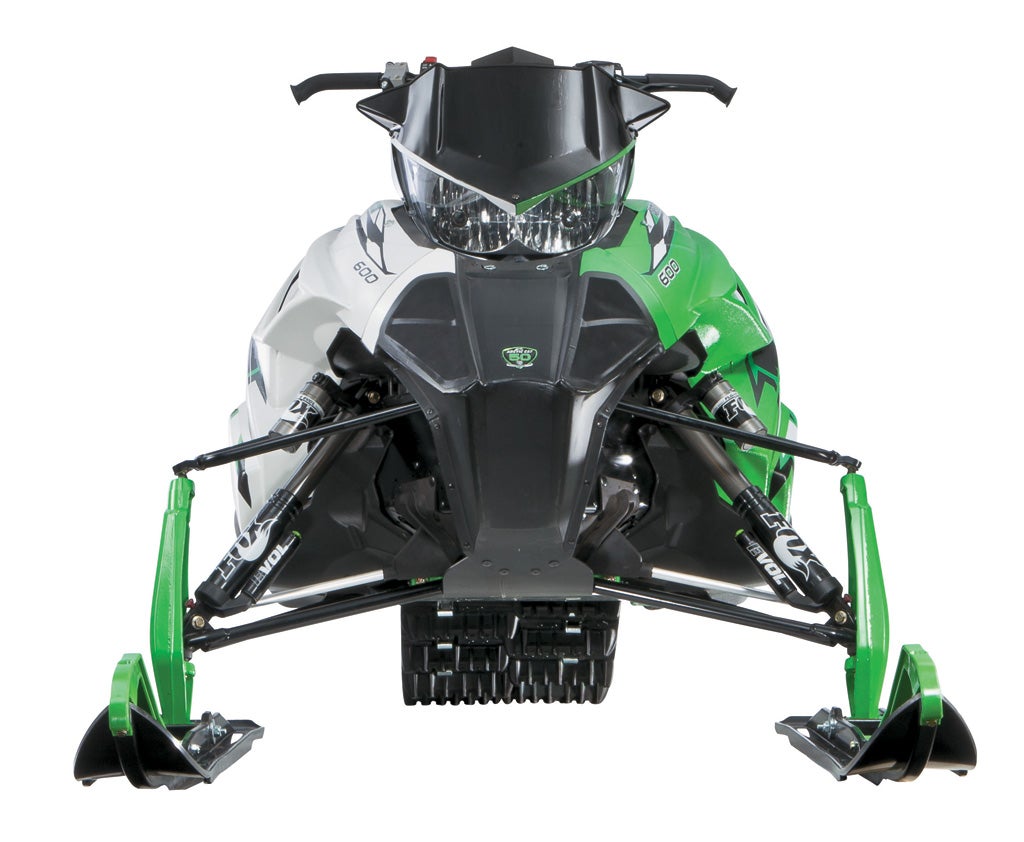 Sno Pro 600 Snocross Specs
Sno Pro 600 Cross Country Specs
Engine
599cc, 2-stroke, liquid cooled, Twin cylinder
Bore x Stroke
73.8 x 70 mm
Chaincase Lubricant Level
355 ml (12 fl.Oz.)
Gasoline
Required 92 Octane (min.) Non-Oxygenated
Lubrication
Premix (32:1 Ratio) Arctic Cat Synthetic APV 2-Cycle Oil
Cooling System Capacity
4.71 l (5 U.S.qt.)
Starting System
Manual Recoil
Carburetion
Mikuni TM40 mm rack w/TPS
Exhaust
APV with tuned ceramic – coated pipe, pipe sensor and canister
Drive
Arctic (rpm sensing)
Driven
Team driven
Ski Stance
41.9-42.9 in.
Ski Material
UHMW C & A Pro XT
UHMW Arctic Cat ski
Front Suspension
ARS with Fox Float X Evol shocks and sway bar / 10 in. travel
Rear Suspension
Slide-action frame with 7-position coupling, FOX ZERO X Piggyback front and rear shocks with adjustable dampening / 13.5 in. travel
Track
15 x 128 x 1.7 Camoplast
15 x 128.5 x 1.25 Cobra 2 ply
Brake
Hydraulic disc
Fuel Capacity (Actual/Rated)
5.0 U.S. Gal/4.5 U.S. Gal.
12.0 U.S. Gal/10.8 U.S. Gal.
Length x Width
120 x 49.5-50.5
118 x 47.5-48.5
Headlight
Dual halogen (2-bulb)
Standard Equipment
Handwarmer, thumbwarmer, low-height windshield, check engine temp light, tether switch, V-Force reeds, adjustable timing-select module, sway bar, ACT Hot start system
Handwarmer, thumbwarmer, mid-height windshield, digital/analog tachometer, digital/analog speedometer, dual stage trip meter, tether switch, V-Force reeds, adjustable timing-select module, sway bar, ACT Hot start syste
Optional Equipment
VIP Data Acquisition System, digital/analog tachometer, digital/analog speedometer, dual trip meter, mid-height windshield, 12 gallon gas tank
VIP Data Acquisition System
Available Colors
Green/White
Related Reading 2012 Arctic Cat Sno Pro 600 Unveiled at Haydays