Polaris Recalls 2015 Snowmobiles Due to Crash Hazard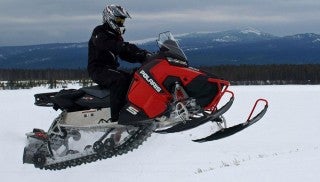 Polaris has issued a recall notice for a variety of 2015 snowmobiles. According to the recall notice, the steering pitman arm or drag link can crack, which would result in a loss of steering and pose a clear crash hazard.
This recall affects approximately 4,700 models, including the 600 Rush Pro-S, 600 Rush Pro-X, 600 Switchback Pro-S, 600 Switchback Pro-X, 600 Switchback Adventure, 800 Rush Pro-S, 800 Rush Pro-X, 800 Switchback Pro-S, 800 Switchback Pro-X, 550 Indy Voyageur 155, and 550 Indy Adventure 155.
All affected models were manufactured in the United States between April 2014 and November 2015 for between $8,000 and $13,600.
Polaris has received 11 reports of cracked or broken steering pitman arms. Eight of the 11 sleds reported loss of steering and three of the 11 reported a crash, resulting in one injury.
Consumers are asked to stop using the recalled snowmobiles and contact their local Polaris dealer at 888-704-5290 to schedule a free repair. Polaris is contacting its customers directly and sending a recall letter to each registered owner.