Team Arctic Race Report: USXC Pine Lake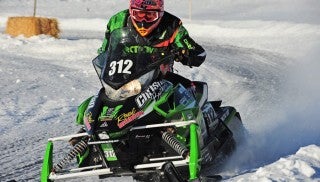 Team Arctic cross-country racers rang in the new year with 14 wins in 21 classes and 44 out 63 podium finishes at the USXC season opener on Pine Lake in Gonvick, Minn.
The highlight win of the weekend came in the 100-mile No-Bull Triple Crown Enduro 600, where the Team Arctic/Christian Brothers Racing duo of Zach Herfindahl and Wes Selby delivered a win aboard their Soo 500 mod sled with the Speedwerx modified C-TEC2 600 Arctic Cat engine. Team Arctic racers also captured five of the top-10 Pro 600 class positions.
Lance Efteland picked up where he left off last season in the Semi Pro classes, taking two first place finishes. Dustin Schwandt captured the Sport 600 class while Hunter Houle and Ean Voight gave a preview of what's to come in the Expert 85 classes as each racer claimed a first and second, respectively.
Team Arctic dominated the support classes, with Jordan Bute, Garet Grzadzielewski, Ryan Weidemann, Lydia Sobek and Paul Brown capturing class wins. And Karl Valtinson and Jesse Watland kept the Classic IFS and Vintage spirit alive by taking victory in their classes.
"We're really pleased with the awesome performance of our drivers and crew, as well as our ZR series snowmobiles," says Mike Kloety, Team Arctic Race Manager. "We swept the podium in seven classes; captured the most wins and podium positions; and won the prestigious Enduro 600 final. It was an excellent result for the first cross-country of the season and something we'll build upon as we head into the ditches for the upcoming races."
The next USXC cross-country race is Jan. 9-10 in Devil's Lake, ND.