Timbersled Snow Bike Race Team Announced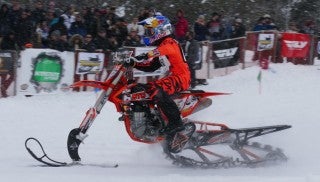 Snow bike contingency program also revealed
Timbersled today announced a new snow bike race team and contingency program – two firsts that further Polaris' commitment to the growing sport of snow bike racing. The race team includes five legendary athletes and the contingency program is the largest in the industry, offering nearly $44,000 in payouts.
Snow biking continues to grow in popularity as Timbersled maintains its stronghold as the industry leader in the category. Further exemplifying Polaris' strong heritage in snow racing, the company has created its first-ever Timbersled Snow Bike race team. Famed racers Ronnie Renner, Reagan Sieg, Brock Hoyer, Axell Hodges and Jackson Strong will make history racing Timbersleds when snow bikes make their inaugural appearance at the 2017 Winter X Games Aspen in January.
"Ever since Timbersled created the original modern snow bike architecture, we have worked hard to find new ways to promote and grow the sport. Our A-List roster of athletes and unprecedented contingency program is the next step in that progression," said Chris Wolf, vice president, Polaris Snow Division. "Seeing snow biking go from being a very niche interest to being center stage at the Winter X Games shows the increased interest and popularity of the sport."
Leading up to the Winter X Games, Timbersled will have several other race team members competing at the X Games Qualifier on Saturday, Dec. 17, and at the AMA Snow Bike Series Kick Off on Sunday, Dec. 18. The team includes Rockstar Energy Husqvarna Factory Racing's Colton Haaker and fellow Rockstar Energy and Husqvarna-supported rider Ronnie Faisst. Both events are held at ERX Motor Park in Elk River, Minn.
To further promote growth of the sport, Timbersled also is introducing a lucrative, new race contingency program spanning nine snow bike racing organizations. For individual events, Timbersled is offering the following program:
Snow Bike Event Contingency
Association – Pro Class
X Games – $10,000/$7,500/$5,000
X Games Qualifiers – $1,000
AMA Championship Snow Bike Series – $500
ISOC (International Series Of Champions)  – $500
RMSHA (Rocky Mountain Snowmobile Hillclimb Association) – $500
Canadian Snow Bike Nationals – $500
CSRA (Canadian Snocross Race Association) – $100
ECS (EAST Cost Snocross) – $100
COR Powersports Racing Series – $100
In addition, Pro Class Racers also can qualify for championship contingency in three snow biking race organizations:
Snow Bike Year End Points Championship
Association – Pro Class
AMA Championship Snow Bike Series – $1,000
ISOC – $1,000
RMSHA – $1,000
More information about Timbersled's race and contingency programs can be found at the following links:
Timbersled – http://www.timbersled.com/en-us
Timbersled Snow Bike Race Team/Contingency/X Games Qualifier – http://www.timbersled.com/en-us/events