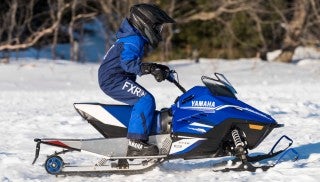 Exploring the new transitional sleds from Yamaha and Arctic Cat
By now you know that Yamaha re-introduced the SnoScoot in a marketing partnership with Arctic Cat that saw the Thief River Falls, Minn. company add an all-new ZR 200 to its line. If you've been a follower of this site, you also know that both Yamaha and Cat assume that these 200cc sleds will create a surge in new clientele at dealerships. This new audience will be one that reflects, according to Yamaha, "an untapped customer base… interested and open to motorsports at a more conservative level." Cat wants that as well, but more realistically expects the ZR200 to be a bridge between the smaller ZR120 and full-sized sleds.
Regardless of what happens and personal opinions aside, the fact remains that these 200s present a good opportunity for youth-oriented snowmobiling. The vehicles themselves, while smaller and less powerful than full-sized Cats and Yamahas, offer comfortable and capable low-end trail performance for riders of any age measuring about 66 inches in height and weighing about 175 pounds max! We found that riders of greater bulk could still enjoy the 200s, but probably not for a 50-mile trail ride. Indeed, at out review sessions where multiple units were tested, full bore competitions broke out that included NASCAR style "rubbin'."
If you view the ZR200 and SnoScoot as enlarged 120cc "kid" sleds, you're missing the point. As explained to us, the 200s began life based off such ZR120 and SRX 120 models, but they are much more. The tunnel got stretched and its lightweight aluminum construction fitted deep, open foot wells reflecting wide running boards, complete with punched-out snow evacuation holes that double as boot grippers.
The front assembly goes beyond the 120s with its own steering layout and added underhood space for the new Yamaha four-stroke engine. Since this sled needs to accommodate youngsters coming off a 120 as well as other older youth or small adults, sled engineers developed a steel steering post riser block to facilitate multiple riding positions. This design makes it easy to switch from a sitting position to a stand-up one. Cleverly, the riser plate provides an accessible mounting for the ignition switch, carburetor choke and the T-handle recoil starter handle.
We agree that the recoil start effort will be light and easy, as we'd expect from a single-cylinder Yamaha motor equipped with a Mikuni butterfly-style carburetor. That seems to be a hallmark with these engines, But, during our multiple sessions with these 200cc sleds, we noticed that they can be cold-blooded and not eager to start when left out in the cold for a few hours. Unfortunately, our history with non-fuel injected Yamaha four-strokes suggests this is an ongoing problem whether it's a diminutive 200, a 250cc ATV or a classic Virago V-Twin. Both Cat and Yamaha spokesmen assured us that they recognized this and that it would not be a problem with production models.
The engine, which we believe comes from the world of Yamaha pump and generator motors, represents proven Yamaha manufacture. We expect longevity will be excellent, which suits younger riders who, when not on the trail with Mom and Dad, literally will be running circles around the home property. Yamaha has upgraded the base engine for efficient cold weather operation by specifying a Mikuni BT-25 butterfly carburetor known for easy throttle pull, important to youth-sized throttle thumbs. Equipped with a choke for cold starting and a vacuum pulse fuel pump to feed the carb, the engine should run smoothly all day. In addition, to maintain easy-pull starting effort, the unit features cam-actuated automatic compression.
This 192cc Yamaha overhead valve single-cylinder four-stroke's maximum 5400 RPM is electronically controlled and its 9.1 maximum horsepower is governor controlled. This Yamaha design comes with a transistorized electronic ignition and a flywheel magneto that produces 8 amps at 3000 revs for more than enough capacity to run the heated hand and thumb grips, halogen headlight and LED taillight. A radial fan keeps cooling underhood air moving.
Although this may be a low-buck, youth-oriented sled, Cat and Yamaha engineers brought some clever new thinking to its drive system. At less than US$4000 retail, the 200s won't get top of the line big boy sled TEAM clutching, but it does get a clever fully enclosed final drive that replaces traditional "think" chain and sprockets with a unique rubber drive belt. Fully enclosed in an aluminum case, this simplified final drive is both lightweight and virtually maintenance-free.
Getting the engine's 9.1 horses to the drive is the job of a new design primary clutch that uses the rollers as the flyweight to act on the sheaves to control shifts. The secondary clutch uses a fixed cam with composite rollers. The end result is a simple, yet cost-effective drive that offers excellent response and v-belt durability. Our various test rides proved the point as we could easily move from hardpack to six-inch snow depths or more without engine bogging.
Another point we'd like to make is about the sled's power characteristics. If any of you have experience with early vintage sleds, like a 1960s-era 10.5-horsepower Ski-Doo Olympique, the new 200s perform better in all conditions. It's a testament to vastly improved drivetrain technologies rather than engine power. Where the vintage sled would bog down moving from various snow depths or grabbing for power coming off a turn, the 200s proved as consistent as any modern sled. We've come a long way.
Although the expected top speed for the 200s should be at the low end of trail speeds, upper 20s to low 30s, you still want a competent brake system. The 200s come with a single-piston Hayes Dyno hydraulic brake operating on a lightweight vented rotor that's fixed to the drive shaft. This brake comes from the world of mountain biking, where Hayes has earned its reputation for lightweight, easy-pull brake controls.
The 200's 9.1-horsepower drives a 93-inch in circumference Camso "baby" Cobra track that measures 10 inches in width with one-inch lugs and spins around a simple parallel rear suspension. The rear suspension uses a standard adjustable front limiter strap and a single steel twin tube emulsion shock with coil spring assist. You can make ride adjustments for the design's 8.5 inches of travel by tuning the pre-load torsion spring.
The double A-arm front suspension gives you a maximum of 4.5 inches of travel. It also uses simple emulsion shocks with coil assist. The non-adjustable center-to-center ski stance measures 30.5 inches. Skis are a lightweight, tapered plastic for flotation and grip.
Both 200s are completely trail legal and fully SSCC-certified as an adult sled legal for any public trail. While available in a base white coloration, the Arctic Cat ZR200 should be a candidate for special sled wraps such as the ones we test rode. Yamaha will offer the SnoScoot in both Yamaha blue and basic white with dealer-available wrap options. Price-wise the Arctic Cat ZR200 will retail for less than US$4000 in the US or about US$850 more than the ZR120. The US MSRP for the Yamaha SnoScoot is set at $3,799.
Who's going to buy the 200cc snowmobiles? Yamaha expects the primary customer will be current snowmobiling families with smaller or youth riders moving up from the 120s. Yamaha also anticipates a secondary buyer group that may be new to snowmobiling but consists of active outdoor winter enthusiasts. Time will tell, but if 200 sales go well, expect to see Ski-Doo and Polaris enter the market with transitional models of their own.