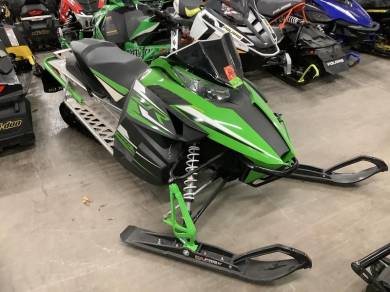 Year : 2015
Color : Green
Mileage : 1,876 Miles
Location : Big Bend, WI, US
Price : $ 3,999
Product Description
C&A SKIS, REVERSE, TUNNEL BAG, ICE SCRATCHERS, LIQUID COOLED 500CC! CLEAN SLED!

2015 Arctic Cat ZR 4000 LXR


Why do Arctic riders RIDE MORE? Some say riding lets us be heroes of our own adventures. From the moment we fire up our engines and take to the trails, we become the thrill-seekers we were born to be. With great power and great cornering ability comes great responsibility. You see, when were not hammering the throttle on the racetrack, were hammering it in the workshop. Figuring out ways to improve on 50 years of refinement - one breakthrough at a time. Thats how we move the speedometer forward. Always have.
Features may include:
Slide-Action Rear Suspension
Slide-Action maintains a free-acting front arm while coupling under torque over bumps, and during aggressive cornering and acceleration. As the rear transfer blocks are engaged, the front arm follows the bumps, keeping your skis firmly planted as your 129-in. track propels you down the trail.
Arctic Race Front Suspension
Tall, lightweight ski spindles and widely spaced A-arms provide great torsion rigidity and strength. Angling the shock load back toward the rider's mass, results in optimal caster/camber to improve comfort and cornering. Arctic Cat IFP shocks and a sway bar provide excellent control and handling.
4000 2-Stroke Engine
The 499cc, liquid-cooled twin is the ideal engine for a wide range of riders. This engine represents tried-and-true 2-stroke performance. It is the right combination of performance, reliability and value.
ProCross Chassis
This chassis excels at bringing weight-saving technology to the performance-obsessed rider. The ProCross features a tapered two-piece tunnel design. Narrow at the top, wider at the bottom. A forged steering housing ties together many of the load-bearing chassis components.
Digital/Analog Gauge
Choose between digital and analog speed and tachometer readouts. There's also an odometer, two trip meters, engine hour meter, reverse indicator and warning lights.
Push-Button Reverse
The push-button reverse is all about quick, easy activation. Just hit the button and backward you go.
Mid-Height Windshield
Tuck in for the long haul. You can't beat this sturdy windshield for excellent protection from the elements.
1-in. Ripsaw II Track
A unique lug design on the Ripsaw II track combines the best features of Ripsaw, Cobra and Predator for excellent performance. It offers less side bite through the corners than the original Ripsaw, with a 1-in. lug height for optimal top speed.
Image Gallery
Company Profile
Road Track and Trail
Contact Name Sales Department
Tel 262-662-1500
Fax 262-662-2009
Address W228 - S6932 Enterprise Drive
City Big Bend
State Wisconsin
Country United States
ZIP/Postal Code 53103