An Epic Off-Trail Adventure for New Mountain Snowmobilers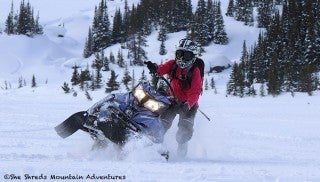 We check out She Shreds Mountain Adventures in B.C.
Like me, you have probably watched every single mountain snowmobile clip on YouTube, and you are most likely following many of those big mountain riders on Facebook. My guess is that you have a nice collection of Thunderstruck or 509 DVDs as well. So now I'm wondering, is that where it ends? Why not take things to the next level, and step out of your living room or off of the groomed trail to give mountain riding a try?
Over the years, I have met so many snowmobilers across North America, attended dozens of events, and worked with some of the top brands in the industry. Every time I run into someone in the Midwest or East Coast that is admiring a mountain sled at an event, I ask, "Have you been out mountain riding yet?" The majority of the time, the answer I get is, "I wish". That response is usually followed with an excuse about work, money, life, kids, family… I honestly stop listening after the first reason because my brain is focused on finding a witty response, or something I could say to convince that person to jump outside of their comfort zone and try something new. Yes, we all have jobs, mortgages, and kids (well some of us anyways), but that sure hasn't stopped my family and many others I know from getting out snowmobiling or going on a new and exciting trip. So why should that stop you?
As a fellow adrenaline junky, my addiction continually leaves me yearning for the next adventure. The monotony of routine gets to me so I try to mix things up, or take my adventures to the next level. But I was once in your shoes, or shall we say boots? Years ago, I was that person at the snowmobile show, watching those videos on YouTube, and wishing I would have the opportunity to give mountain riding a try. Well, as the old adage goes, "Don't wait for opportunity to come your way, rather create one." Fortunately for me, I had some awesome friends that helped me get outside of my little box and encouraged me to try something new that would forever change my life. Here is how it all happened…
It all transpired at Hay Days in Minnesota. I seem to have a theme going here, as it was the 2014 Hay Days event where I met Stephanie Santeford and went on my first epic snowmobile adventure out west. A year later at the same event, I found myself and Stephanie chatting with Julie-Ann Chapman, owner of She Shreds Mountain Adventures based out of Pemberton, British Columbia.
She Shreds Mountain Adventures was established in 2011 with the primary goal of supporting and teaching women riders to progress their riding skills. Julie-Ann shares her expertise of the British Columbia backcountry by teaching women riding skills on their snowmobiles. She offers snowmobile clinics and courses, and has branched out by taking both men and women out on backcountry adventures, while also teaching avalanche courses and first aid.
At Hay Days, while we were chatting about parts, accessories, and who knows what else, the idea came up to plan a girls snowmobile trip with Julie-Ann. She planted the idea in our heads – with an easy going smile, Julie-Ann said "I'll take you girls out!" And that was it. Where there is a will, there is a way. The next few months were spent planning this adventure. As a beginner mountain rider from Ontario, Canada, I was eager to build on the knowledge I had gained from my last trip to Oregon and Idaho the year before. I was hungry for the adventure.
Joining this new adventure was Canadian Snocross racer, Shelby Mahon (sponsored Backcountry Rider), Stephanie Santeford and a friend of Julie-Ann's, backcountry rider Janice McWilliam. With such a mix of riding skill levels and personalities, the adventure was anticipated to be a great one from the beginning. Really, what do you expect when you put five women with sleds, in a backcountry cabin, up in the Pemberton Mountains?
After the decision was made to go on a mountain snowmobile trip, there were a number of factors to consider. Yes, this type of adventure takes a bit of effort to plan, and generally requires a larger budget compared to riding locally (unless you are fortunate to live in a mountainous area). However, since Shelby and myself are both beginner mountain riders, the best decision we made was to go on this adventure with an experienced guide. Booking with She Shreds Mountain Adventures provided us with a one-stop shop for everything we needed:
Guidance and Support
From a 'what to pack' list, to information about where we would be riding, Julie-Ann had us covered. It was reassuring to ride with an experienced guide, who knew the area well and took all possible steps to ensure we were prepared and safe.
Snowmobile Rentals
Booking a snowmobile rental was easy as pie, and prices through the She Shreds Mountain Adventures were comparable to other local snowmobile tour companies.
Avalanche Safety
On the first day of our backcountry adventure, we spent time learning how to use our beacons, shovels and probes during several exercises. Having the knowledge to use this equipment while on the mountain is key to survival if caught in an avalanche. I welcomed the refresher, and benefited from learning some new techniques as well.
Backcountry Survival
Since we stayed in a backcountry cabin for two nights, we needed to bring in food, gas, clothing, and anything else that was needed. Julie-Ann assisted us with packing food (we made sandwiches and breakfast burritos beforehand), and taught us a few first aid and backcountry survival skills before leaving (i.e. how to make a splint).
Skills Training
Julie-Ann took the time to review our learning needs and expectations before we started on our adventure. While on the mountain, she taught Shelby and myself how to carve in the powder and how to sidehill. Her clear and concise instructions, ability to provide constructive feedback and positive reinforcement led to me learning to carve in a matter of minutes – no joke! Both Shelby and I became increasingly comfortable on our Ski-Doo Summit snowmobiles throughout the day.
With the support of three experienced women riders, Julie-Ann, Stephanie and Janice, both Shelby and I felt supported and comfortable in completely new terrain, with different sleds, and for a longer period of time out riding than we are used to. With less than favourable conditions in the Midwest this year, we had not had many opportunities to get out riding before the trip, so being with a solid group of women riders was ideal in helping us get our mountain legs. We had a great adventure, complete with some awesome riding and comradery both on and off the mountain. To follow the adventure online, use the #EpicSheShreds hashtag, and to plan your next snowmobile adventure with She Shreds Mountain Adventures, visit www.sheshreds.ca.