2018 Arctic Cat M 6000 (153)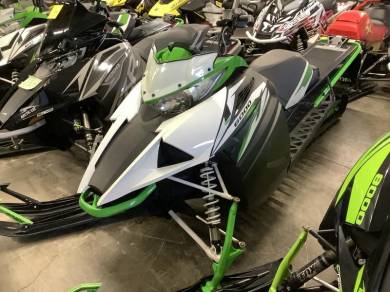 Year : 2018
Mileage : 3,128 Miles
Location : Big Bend, WI, US
Price : $ 5,799
Product Description
2.6 Track 153

2018 Arctic Cat M 6000 ES (153)Features may include:
NEW ASCENDER PLATFORM WITH NEXT-GEN MOUNTAIN BODY PANELS
The Ascender platform brings a whole new way to attack the mountain. Running boards are 1 in. narrower than previous designs and the overall profile is 10% narrower for improved side-hill performance, improved venting and ease of laying the sled over in deep snow. The revised bellypan shape allows the riders feet to move 2 inches further forward for even greater ergonomic options for riding. The drive shaft dropped 1.125 inches allows for a 9.7 lowered approach angle providing more maneuverability and the ability to get up and stay up on the snow. Improved fit and finish with easy on/off one-piece body panels allow easy access to the engine compartment and brings a distinctive Arctic Cat styling.
1.125" DROPPED DRIVESHAFT
Like the 2017 Mountain Cat, this 2018 M 8000 Sno Pro is fitted with the 1.125" dropped driveshaft. The increased track-to-tunnel clearance of 3" allows us to use 8-tooth drive sprockets on this model, giving you a flatter approach angle with more floatability and maneuverability. In addition, youll also notice a huge difference in your sled handling. This update delivers a more efficient power transfer to the snow, letting you enjoy more horsepower when climbing, carving, sidehilling and boondocking.
6000 C-TEC2 ENGINE WITH DSI
This 599cc 2-stroke DSI is the unmodified version of the engine thats been launching Team Arctic down the racetrack since 2012. This quick-revving, 125-class horsepower C-TEC2 power mill is the product of a world-class engine assembly plant ours. Whether youre riding a ZR an M or a Crossover, the 6000 is one of the most satisfying engines found in a snowmobile.
ARCTIC DRIVE SYSTEM WITH TEAM RAPID RESPONSE II DRIVE AND TEAM RAPID REACTION BOSS DRIVEN CLUTCHES
The Arctic Drive System features a lightweight magnesium chaincase. The new TEAM Rapid Response II drive clutch features an auto-adjusting belt tension design that delivers consistent performance without manual adjustments. It also features a 12.5% lower effective starting ratio while maintaining the top ratio for smoother engagement and reduced belt wear at drive-away speed.
ARCTIC MOUNTAIN FRONT SUSPENSION WITH ARCTIC CAT GAS IFP SHOCKS
Lightweight, forged-aluminum spindles have less surface area than the previous design, reducing drag and improving performance in deep snow. Also, dual-phase high strength alloy-steel A-arms are lighter than previous designs. Arctic Cat 1.5 IFP gas shocks feature a hard-anodized aluminum body, 0.5" shaft, aluminum internal floating piston, and high-quality seals and ice scrapers. For added strength, the eyelet on the shaft end is forged, replacing the welded design.
FLOAT ACTION REAR SUSPENSION WITH ARCTIC CAT IFP 1.5 SHOCKS
The FLOAT-ACTION rear suspensions unique tri-hub rear axle system is engineered to be very light and very strong. The Arctic Cat 1.5 IFP coil-over shocks provide preload adjustment and are proven on the hill for reliability and stability.
This dual configurable LCD screen gauge allows to you check all the vital information about your snowmobile and more. 14 different readings to be exact. Theres an odometer, speedometer, max RPM, 2 trip meters, engine hours, low oil light, coolant temperature, exhaust temperature, intake air temperature, battery voltage, fuel level, clock and reverse indicator.
141-IN. AND 153-IN. POWER CLAW TRACK WITH 2.6-IN. LUGS
The one that sets the standard for deep snow performance. Available in 15" x 141" x 2.6" or 15" x 153" x 2.6", this track features stagger-set, curved-forward paddle towers that wont fold over or take a set.
Image Gallery
Company Profile
Road Track and Trail
Contact Name Sales Department
Tel 262-662-1500
Fax 262-662-2009
Address W228 - S6932 Enterprise Drive
City Big Bend
State Wisconsin
Country United States
ZIP/Postal Code 53103