2018 Arctic Cat Pantera 6000 ES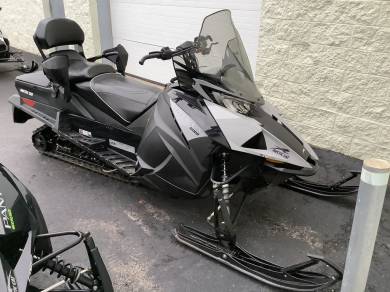 Year : 2018
Mileage : 2,356 Miles
Location : Big Bend, WI, US
VIN : 4UF18SNW2JT115441
Price : $ 9,499
Product Description
TOURING, TWO UP, TWO STROKE, REAR LUGGAGE BOX, PASSENGER GRIP COVERS , HEATED GRIPS,

2018 Arctic Cat Pantera 6000 ESFeatures may include:
QUICK-RELEASE BODY PANELS
These new one-piece body panels radically improve venting. The two quick-release tabs provide easy access to the engine compartment for general maintenance.
Arctic Cats Next-Gen body panels are designed to seamlessly cut through the air with as little atmospheric tension as possible. With only a quarter-turn of the two quick-release tabs, the side panel comes off and provides easy access to the engine compartment for general maintenance.
6000 C-TEC2 ENGINE WITH DSI
This 599cc 2-stroke DSI is the unmodified version of the engine thats been launching Team Arctic down the racetrack since 2012. This quick-revving, 125-class horsepower C-TEC2 power mill is the product of a world-class engine assembly plant ours. Whether youre riding a ZR an M or a Crossover, the 6000 is one of the most satisfying engines found in a snowmobile.
ARCTIC RACE FRONT SUSPENSION WITH ARCTIC CAT GAS IFP SHOCKS
The Arctic Race front suspensions geometry was developed through racing. Our unique wide A-arm spacing complements the chassis design, which allows us to maintain a tighter suspension. Arctic Cat gas IFP shocks feature a hard-anodized aluminum body, 0.5" shaft, aluminum internal floating piston, and high-quality seals and ice scrapers. For added strength, the eyelet on the shaft end is forged, replacing the welded design.
SLIDE-ACTION REAR SUSPENSION WITH ARCTIC CAT IFP SHOCKS
Our SLIDE-ACTION Rear Suspension incorporates a U-shaped front-arm slot that fits over a shaft bolted across the tunnel. This creates a half-inch of sliding movement, which keeps the front arm from torque locking and helps keep the skis planted during acceleration. Add in our Arctic Cat (IFP) shocks and youve got comfort and confidence even in the bumpiest conditions.
146-IN. COBRA TRACK WITH 1.35-IN. LUGS
The 146-in. Cobra tracks cupped lug design delivers superior handling, acceleration and braking in loose snow conditions. Its traction teeth add extra grip on hard-packed surfaces. The 1.35-in. paddles provide that extra traction needed when you find yourself blazing your own path.
Need to charge your phone or another electrical device? Weve got you covered. Just plug in and power up while you ride.
This is just the thing for consistent, reliable starting. A simple turn of the key is all you need to get up and running.
Say goodbye to cold hands. Our hand and thumb warmers provide plenty of warmth and comfort on long rides.
All the information. All at your fingertips. Theres an odometer, trip meter, speedometer, engine hour, clock, fuel level indicator, reverse and warning lights, keeping you in tune with your machine.
Just a push of a button allows you to go from forward to reverse and back again smoothly, quickly and easily.
Looking for more comfort on long rides? This easy-to-adjust backrest allows you to dial in the just right amount of support.
With our heated drivers seat, you stay warm and comfortable even on long rides.
6" wide plastic skis deliver excellent handling on hard-pack conditions and great flotation in loose snow. A stiffer and deeper keel provides more positive cornering in all conditions.
Not all mirrors are the same. Ours are heavy-duty, built to last and made to withstand whatever winter throws at them.
Image Gallery
Company Profile
Road Track and Trail
Contact Name Sales Department
Tel 262-662-1500
Fax 262-662-2009
Address W228 - S6932 Enterprise Drive
City Big Bend
State Wisconsin
Country United States
ZIP/Postal Code 53103