2018 Arctic Cat ZR 8000 Limited ES (129) SOLD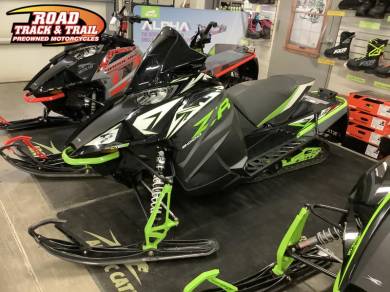 Year : 2018
Mileage : 1,209 Miles
Location : Big Bend, WI, US
Price : $ 8,999
Product Description
ELECTRIC START, REVERSE, STUDS, HITCH, FOX QS3 RESERVOIR SHOCKS. SPEEDOMETER WAS REPLACED AT ARCTIC CAT WITH 1209 MILES. NEW SPEEDOMETER WILL SHOW 0 MILES.

2018 Arctic Cat ZR 8000 Limited ES (129)Features may include:
8000 C-TEC2 ENGINE WITH DSI
Introducing the most efficient and responsive 8000 engine from Arctic Cat. Fresh from our plant in St. Cloud, Minnesota, this 2-stroke engine features noticeably faster throttle response and acceleration compared with our previous 800, plus up to 30% reduction in oil consumption below 7000 rpm, 36% increase in low-end torque and 18% increase in midrange torque. Delivering a rare combination of increased power, reduced emissions, and ultra-low oil consumption, the overall crispness sets new standards for performance and rideability in the 160-hp class.
Arctic Cats Next-Gen body panels are designed to seamlessly cut through the air with as little atmospheric tension as possible. With only a quarter-turn of the two quick-release tabs, the side panel comes off and provides easy access to the engine compartment for general maintenance.
ARCTIC DRIVE SYSTEM WITH TEAM RAPID RESPONSE II DRIVE AND TEAM RAPID REACTION BOSS DRIVEN CLUTCHES
The Arctic Drive System features a lightweight magnesium chaincase. The new TEAM Rapid Response II drive clutch features an auto-adjusting belt tension design that delivers consistent performance without manual adjustments. It also features a 12.5% lower effective starting ratio while maintaining the top ratio for smoother engagement and reduced belt wear at drive-away speed.
This dual configurable LCD screen gauge allows to you check all the vital information about your snowmobile and more. 14 different readings to be exact. Theres an odometer, speedometer, max RPM, 2 trip meters, engine hours, low oil light, coolant temperature, exhaust temperature, intake air temperature, battery voltage, fuel level, clock and reverse indicator.
Warm, dry goggles are as near as our goggle holder. The heat from the engine dries your goggles as you ride. Also works for masks and gloves.
Snow belongs on the ground, not on your back. Our tunnel flares are just the things to keep wet snow spray from landing on you.
Our anodized aluminum brake lever is good and long for greater braking force. It also makes it easier to reach no matter what position your hand is in.
Image Gallery
Company Profile
Road Track and Trail
Contact Name Sales Department
Tel 262-662-1500
Fax 262-662-2009
Address W228 - S6932 Enterprise Drive
City Big Bend
State Wisconsin
Country United States
ZIP/Postal Code 53103