2019 Arctic Cat ZR 6000 ES 137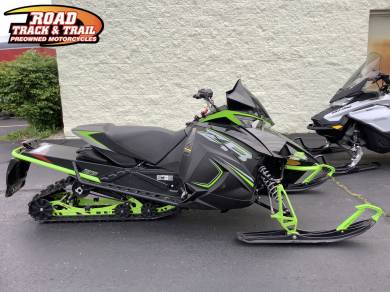 Year : 2019
Color : GREEN BLACK
Mileage : 1,197 Miles
Location : Big Bend, WI, US
Price : $ 7,899
Product Description
CALL FOR APPOINTMENT, NEED 1 DAY NOTICE IF POSSIBLE, ON SITE, BUT IN STORAGE, ELECTRIC START, REVERSE, SHIPPING IS AVAILABLE , LOW MILES

2019 Arctic Cat ZR 6000 ES 137


Features may include:
6000 C-TEC2 ENGINE WITH DSI
This 599cc 2-stroke DSI is the unmodified version of the engine thats been launching Team Arctic down the racetrack since 2012. This quick-revving, 125-class horsepower C-TEC2 power mill is the product of a world-class engine assembly plant ours. Whether youre riding a ZR an M or a Crossover, the 6000 is one of the most satisfying engines found in a snowmobile.
ARCTIC DRIVE SYSTEM
The Arctic Drive System features CVT drive and driven clutches for a combination of smooth shifting, optimal performance, maximum durability; great serviceability; and reduced weight. The new drive clutch features a roller bearing on the shaft that enables an auto-adjusting belt tension design and delivers consistent performance without manual adjustments. It also features a 12.5 percent lower effective starting ratio (while maintaining the top ratio) for smoother engagement and reduced belt wear at drive-away speed, with more evenly distributed force for lower belt pressure. Its a design thats unique to Arctic Cat.
POWER SPORT GAUGE
All the information. All at your fingertips. Theres an odometer, trip meter, speedometer, engine hour, clock, fuel level indicator, reverse and warning lights, keeping you in tune with your machine.
RIPSAW 129-IN. AND RIPSAW II 137-IN. TRACKS
The Ripsaw track features aggressive angled-lug profiles for outstanding forward and lateral traction on groomed trails. Its chopped lug design delivers excellent handling, acceleration and braking on hard-packed surfaces. A narrow lug base reduces rolling resistance for optimum top speed. And rigid lug design offers excellent long-term durability. Most ZR 129-in. models utilize the Ripsaw track.
The Ripsaw II track combines the best features of Ripsaw, Cobra and Predator for excellent performance in a wide variety of trail conditions. It offers less side-bite through the corners than the original Ripsaw and comes with a 1.25-in. lug height for optimal top speed. Its standard on all ZR 137-in. models.
PROCROSS - 6 SKIS
This trail skis 6" width delivers excellent handling on hardpack snow and good flotation in loose snow. A stiff, deep keel provides positive cornering in all conditions.
Image Gallery
Company Profile
Road Track and Trail
Contact Name Sales Department
Tel 262-662-1500
Fax 262-662-2009
Address W228 - S6932 Enterprise Drive
City Big Bend
State Wisconsin
Country United States
ZIP/Postal Code 53103