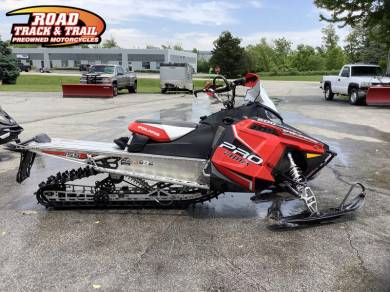 Year : 2013
Color : Red
Mileage : 5,720 Miles
Location : Big Bend, WI, US
Price : $ 3,999
Product Description
REVERSE, WALKER EVANS SHOCKS, HAND GUARDS, PRO TAPER BARS, TUNNEL BAG!

WWW.ROADTRACKANDTRAIL.COM Give us a call toll free at 877=870-6297 or locally at 262-662-1500. Used There will be more pictures available upon request. We also offer great financing terms for qualifying credit. Call us for buying or trading your motorcycle, atv, or snowmobile

2013 Polaris 600 RMK 155BOONDOCK, CLIMB, SIDEHILL. FOR ME, EVERY DAY IS ABOUT DOMINATION.


RMK. Make it light. Make it simple. Make it work.
Features May Include
PRO-RIDE CHASSIS
Worlds most advanced snowmobile chassis light, rigid and perfectly balanced for precise handling even in the nastiest terrain.
POWDERTRAC RUNNING BOARDS
The new PowderTrac running boards have been developed for maximum snow clean out and maximum strength. Built from extruded aluminum with bonded cast lugs, they boast an open area of over 50% and integrated traction that is machined in for sure footed performance.
PRO LITE SEAT
Mountain snowmobiling has changed and so has its seat. The RMK features a new seat design. Shorter by 5.5" allowing you to easily swing a leg from one side to the other along with a 3.75" wider, flatter area for more comfortable seated riding.
RIGHT HAND CONTROLS



A new, redesigned throttle block and a separate kill switch perch that can be positioned independently for improved ergos and ability to tailor your controls.
600 CLEANFIRE ENGINE
This liquid-cooled Cleanfire engine with semi-direct injection (SDI) delivers outstanding throttle response and instant acceleration. These powerful, efficient engines produce the impressive power-to-weight ratios that deep snow riders demand. Cleanfire engines start easily and reliably and they calibrate automatically as the temperature and elevation change. These engines deliver impressive fuel economy in real-world riding situations, which, for Polaris riders, means aggressive, up-tempo riding, not low-rev lab conditions.
STEERING OVERSTRUCTURE
The Pro-Ride RMK Chassis is purpose-built for Deep Snow Domination. This isn't simply a RUSH Chassis and long tunnel. The RMK steering post angle and height are designed for stand-up deep snow riding.
LIGHTWEIGHT SPINDLES
Spindles feature extruded aluminum construction that is optimized for strength and lightweight. Designed with steering geometry that incorporates reduced steering effort and predictable turn-in characteristics.
GRIPPER SKIS
The standard in deep snow skis. Deep keel design offers great traction, wide design offers great flotation. Ski top dimples give great traction when youre climbing around on them. No need to add aftermarket skis.
Image Gallery
Company Profile
Road Track and Trail
Contact Name Sales Department
Tel 262-662-1500
Fax 262-662-2009
Address W228 - S6932 Enterprise Drive
City Big Bend
State Wisconsin
Country United States
ZIP/Postal Code 53103