2013 Polaris 800 Rush Pro-R SOLD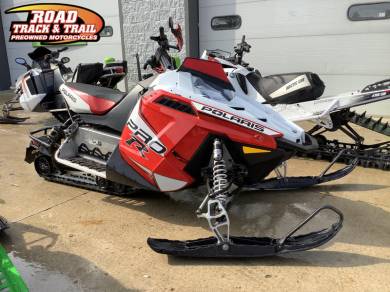 Year : 2013
Mileage : 3,465 Miles
Location : Big Bend, WI, US
Price : $ 4,699
Product Description
REVERSE, HANDGUARDS, MIRRORS, BAR HOOKS AND WALKER EVANS RESERVOIR SHOCKS,

2013 Polaris 800 RUSH PRO-RTHE ROUGHER THE TRAIL THE BETTER. MOST CAPABLE. MOST CONFIDENT. MOST COMFORTABLE.


The sled that's built to perform. From Old Forge to the Iron Dog. Unmatched acceleration. Race-proven durability. The RUSH is built for domination.
Features May Include
PRO-RIDE CHASSIS
The world's most advanced chassis - light, rigid and perfectly balanced. The RUSH is built on the proven PRO-RIDE Chassis that is 300% stiffer for precise, intuitive handling. The ideal choice for a nimble handling sled thats perfect for tight trails or rough trails.
PRO-RIDE PROGRESSIVE-RATE REAR SUSPENSION
For years, the coupled skid was believed to be the best performing skid available. We felt differently. We moved the shock outside the skid frame. Developed the first truly progressive-rate suspension. Virtually eliminates spine-tinglers. The progressive-rate suspension with its resistance to bottoming, allows us to run an uncoupled rail with great weight transfer and a more fun ride.
RACE-PROVEN INDEPENDENT FRONT SUSPENSION
Unbeatable combination of PRO-RIDE steering and patented variable caster design eliminates bump steer. Lighter steering, sharper cornering. Developed in conjunction with the Polaris Racing program. Its performance and durability were proven in extensive on- and off-track testing, and the new IFS delivers significantly enhanced handling with flatter, more precise cornering and 20% reduced steering effort.
PRO-STEER SKI
The new Pro-Steer Ski features a reshaped keel and shortened skag for reduced steering effort. Redesigned ribs atop the ski increase torsional stiffness for more precise steering, and bosses added atop the ribs provide traction to prevent slipping when a rider steps on the ski in deep snow.
PRO-RIDE ADVENTURE SEAT
A wider surface right where a rider plants for seated riding provides enhanced comfort during long days on the snow, and the seat design allows easy transition between seated and standing positions.
ONE-PIECE HANDLEBAR
The new one-piece handlebar features clean, durable construction. It enhances ergonomics with full-length grips that improve comfort and control, and the heater elements extend to the ends of the bar for greater hand comfort.
800 CLEANFIRE ENGINE
This liquid-cooled Cleanfire engine with semi-direct injection (SDI) delivers outstanding throttle response and instant acceleration. These powerful, efficient engines produce the impressive power-to-weight ratios that performance riders demand. Cleanfire engines start easily and reliably and they calibrate automatically as the temperature and elevation change. These engines deliver impressive fuel economy in real-world riding situations, which, for Polaris riders, means aggressive, up-tempo riding, not low-rev lab conditions.
WALKER EVANS NEEDLE SHOCKS
Premium shocks with 16-position compression adjusters and remote reservoirs offer the best in tunability and fade-proof performance. Unique needle design uses hydraulic force at the end of the stroke to eliminate harsh bottoming.
Image Gallery
Company Profile
Road Track and Trail
Contact Name Sales Department
Tel 262-662-1500
Fax 262-662-2009
Address W228 - S6932 Enterprise Drive
City Big Bend
State Wisconsin
Country United States
ZIP/Postal Code 53103