2015 Polaris 550 INDY LXT 144 Red SOLD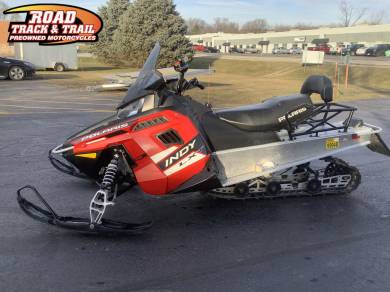 Year : 2015
Color : RED
Mileage : 10,776 Miles
Location : Big Bend, WI, US
Price : $ 3,999
Product Description
ELECTRIC START , REVERSE, 2 UP, STUDS, LUGGAGE RACK , FAN COOLED.

2015 Polaris 550 INDY LXT 144


The 550 INDY LXT 144 and 550 INDY 144 are built on the PRO-RIDE Chassis, and both deliver a smooth, comfortable ride, with responsive handling and additional long-track flotation and snowmobility.
The 550 INDY LXT 144 is a touring model with several comfort and convenience features, including a 2-up seat that provides one or two riders with a comfortable, exciting trail riding experience. This sled is nearly 75 pounds lighter than earlier touring models built on the IQ chassis, and it delivers superior performance and an enhanced fun factor.
Standard Features May Include:LEGENDARY PERFORMANCE
The INDY is built on the proven PRO-RIDE Chassis that is 300% stiffer for precise, intuitive handling. The ideal choice for a nimble handling sled thats fun to ride.
Coil-Over Rear Suspension
Designed for better flotation and deep snow performance with improved on-trail ride. By eliminating the torsion springs and redesigning the torque arms, this skid weighs substantially less.
PROVEN VALUE
Proven, dependable two-stroke engine with NiCaSil-lined cylinders provides trail cruising power in a lightweight package.
CVTech Powerbloc 50/Invance Clutching
All INDY models powered by the Polaris 550 fan-cooled engine use the new CVTech Powerbloc 50 drive clutch paired with the Invance driven clutch. This clutching delivers smooth engagement, enhanced low-speed drivability and quieter operation. These durable clutches have a maintenance-free design and are easy to tune while installed on the sled.
Start your sled with the turn of the key. Nothing beats the ease and convenience of electric start.
SIMPLY FUN
The 550 INDY LXT 144 is 75 lbs. lighter with the PRO-RIDE chassis.
Whether youre riding two-up or solo, enjoy the convenience of the large cargo area - which can accommodate a 5 gallon pail. The 550 INDY LXT features a fixed backrest and passenger hand grips for added comfort and security.
Handlebar & Steering Post Angle
INDY 550 design - 15 degree flatter steering post angle developed for sitdown and standup riding comfort and flexibility.
Image Gallery
Company Profile
Road Track and Trail
Contact Name Sales Department
Tel 262-662-1500
Fax 262-662-2009
Address W228 - S6932 Enterprise Drive
City Big Bend
State Wisconsin
Country United States
ZIP/Postal Code 53103