2016 Polaris 800 Switchback Assault 144 TD Series LE SOLD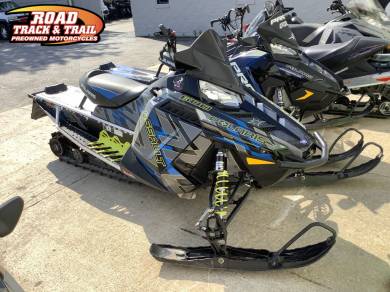 Year : 2016
Color : YELLOW BLUE
Mileage : 3,434 Miles
Location : Big Bend, WI, US
Price : $ 6,999
Product Description
ELECTRIC START, REVERSE, BUMPER, WALKER EVANS, PRO TAPER , HOOKS, PIDD GAUGE, SHIPPING IS AVAILABLE.

2016 Polaris 800 Switchback Assault 144 TD Series LESMOOTHEST RIDING. MOST VERSATILE.


The Limited Edition 800 Switchback(R) Assault(R) 144 Terrain Dominator Series sled includes:
Custom Tri-Color Wrap w/Lime Squeeze Accents - Black Tunnel, Black Rail, Black Spindles, Black Ski Toes, as well as Lime Squeeze Fishbones & Springs
Polaris Interactive Digital Gauge
Burandt Lock & Ride(R) Flyer Bag
Low Black Windshield & Handguards
Features May Include:
Tipped up rails and rail reinforcements give this Assault a more nimble feel on-trail and added durability. A 15" x 144" x 2.0 Series 4 Track for added flotation and off-trail performance.
The term Crossover Technology applies here: part RUSH and part RMK. Trail-ready foot stirrups combine with wide running boards, ideal for sitting or stand-up riding. Fishbone tunnel reinforcements standard.
This liquid-cooled Cleanfire engine with semi-direct injection (SDI) deliver outstanding throttle response and instant acceleration. These powerful, efficient engines produce the impressive power-to-weight ratios that deep snow riders demand. Cleanfire engines start easily and reliably and they calibrate automatically as the temperature and elevation change. These engines deliver impressive fuel economy in real-world riding situations, which, for Polaris riders, means aggressive, up-tempo riding, not low-rev lab conditions.
High-rise aluminum design and adjustable bar clamp creates an optimum riding position that can be tailored to your riding style. Bar hooks and race-style master cylinder round out the purpose-built controls.
The throttle block and a separate kill switch perch can be positioned independently for improved ergos and ability to tailor your controls.
Walker Evans Needle Shocks
Premium shocks with compression adjusters and remote reservoirs offer the best in tunability and fade-proof performance. Unique needle design uses hydraulic force at the end of the stroke to eliminate harsh bottoming.
Image Gallery
Company Profile
Road Track and Trail
Contact Name Sales Department
Tel 262-662-1500
Fax 262-662-2009
Address W228 - S6932 Enterprise Drive
City Big Bend
State Wisconsin
Country United States
ZIP/Postal Code 53103