2018 Polaris 550 Voyageur 155 ES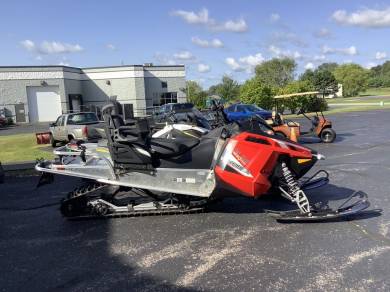 Year : 2018
Color : RED BLACK
Mileage : 591 Miles
Location : Big Bend, WI, US
Price : $ 5,999
Product Description
CALL FOR AN APPOINTMENT, NEED 1 DAY NOTICE, ON SITE IN STORAGE, ELECTRIC START , REVERSE, MIRRORS, KIMPEX JACK SEAT FOR PASSENGER, CIG LIGHTER, WIDE SKI, BUMPER, FAN COOLED, LOOP.

2018 Polaris 550 Voyageur 155 ESLIMITLESS POSSIBILITIES


The 550 Voyageur 155 snowmobile is for riders that primarily ride off-trail and use their sleds for both utility and fun. The articulated rear suspension paired with the RMK front end, along with the PRO-FLOAT skis, enable the rider to easily maneuver through deep snow.
Features may include:
The INDY is built on the proven PRO-RIDE Chassis that is 300% stiffer for precise, intuitive handling. The ideal choice for a nimble handling sled thats fun to ride.
Articulated Rear Suspension
The 155 rear suspension features an articulated rail for the best off-trail snowmobility and to prevent trenching when backing up. The rail tips up at the rear so the track can ride over obstacles and is easier to back up.
PRO-RIDE RMK Front Suspension
Nimble yet stable, the adjustable RMK front suspension delivers superior ride and handling on or off-trail.
High-Flotation 155" Track




This 15 x 155 x 1.6 Cobra track features deep lugs with a cupped design to deliver outstanding off-trail performance. The lugs provide great deep snow traction and their stiffness ensures great on-trail performance as well.





Proven, dependable two-stroke engine with NiCaSil-lined cylinders provides trail cruising power in a lightweight package.

CVTech Powerbloc 50/Invance Clutching





All INDY models powered by the Polaris 550 fan-cooled engine use the new CVTech Powerbloc 50 drive clutch paired with the Invance driven clutch. This clutching delivers smooth engagement, enhanced low-speed drivability and quieter operation. These durable clutches have a maintenance-free design and are easy to tune while installed on the sled.





Start your sled with the turn of the key. Nothing beats the ease and convenience of electric start.





The strong, lightweight PRO-Float Skis provide outstanding off-trail flotation and unmatched on- and off-trail steering and control. PRO-Float skis are 9.5" wide and offer a combined surface area of 410 sq. in., more than 45% greater than Polaris PRO-STEER skis. These skis feature a unique dual, stepped keel design that provides more responsive deep snow handling as well as outstanding handling on the trails. The upturned rear edge accommodates backing up over obstacles, and the serrated top of the ski provides traction for a riders boot.





A wider surface right where a rider plants for seated riding provides enhanced comfort during long days on the snow, and the seat design allows easy transition between seated and standing positions.





RydeFX shocks provide a great foundation for ride and handling with the PRO-RIDE chassis.





Durable rear cargo rack large enough to hold a 5-gallon pail. Features 65 lb. total hauling capacity.





Less wind = a warmer ride. Designed for excellent coverage, this tall clear windshield directs wind and snow up and around the rider.





Hinged tow hitch for greater versatility, better towing.





Lightweight, aluminum front bumper features extra protection for wherever your Adventure takes you.
Image Gallery
Company Profile
Road Track and Trail
Contact Name Sales Department
Tel 262-662-1500
Fax 262-662-2009
Address W228 - S6932 Enterprise Drive
City Big Bend
State Wisconsin
Country United States
ZIP/Postal Code 53103